Shop-n-Spree: Shopping Paradise
Set a course for fast-paced fun in Shop-n-Spree: Shopping Paradise! Your tropical island home has fallen on hard times, but you've come up with a plan to turn things around. With the help of the local community, you set out to build and run a series of amazing internationally-themed malls! Serve customers, upgrade stores, and create new items as you turn the island into the world's premier shopping destination in this exciting time-management game!
Unique gameplay
Fast-paced fun
Amazing internationally-themed malls!
Game System Requirements:
OS:

Windows XP/Windows Vista/Windows 7/8

CPU:

1.0 GHz

RAM:

512 MB

DirectX:

9.0

Hard Drive:

149 MB
Game Manager System Requirements:
Browser:

Internet Explorer 7 or later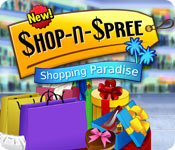 NEW299
The Big Fish Guarantee:
Quality tested and virus free.
No ads, no adware, no spyware.

Reviews at a Glance

Shop-n-Spree: Shopping Paradise
0
out of
5 (
0
Reviews
Review
)
Customer Reviews
Shop-n-Spree: Shopping Paradise
49
49
Shop n' Spree: Weeeee!
Here's my review of the demo, although I already bought the game. All in all, a great game if you enjoy time mangament games, and even if you don't, it's also sort of like a hog game, a la Gardenscapes. Your job is to clean and restock your store and fill customers' orders in a timely fashion. Pros: +The story is mildly interesting this time around, and I thought the multi-cultural aspect was kind of sweet (we'll see how it pans out later). + The graphics are nice and bright. +There are two modes of gameplay, timed and untimed! Nice addition there. (I played in timed mode, so I'm not sure how the customers will react, i.e. if they'll still pitch a fit if you deliver your items too slowly.) +There are many ways of picking up items. #1: standard pick 'em up, place 'em down. #2: drag the item to the customer #3: pick up up to four items at one time, to fulfill multiple orders. Very handy! #4: Right click on an item and it will automatically go to a customer. My favorite method is the third. It gets things done much quicker. +Another pro is the way the bonus bar works. I assume it gets harder as you go along, but I got a 53 bonus on my very first level. + I enjoy working to collect the stars needed to open new departments in the mall. (Plus then you get to work with a whole new selection of items.) So far, I don't see any cons. The music is so unobtrusive that I didn't even feel the need to turn it down.
August 21, 2012
Shop-n-Spree
During the hour demo, I played both the normal (timed) and casual (untimed) modes of play and had no difficulty in reaching the master level. Although there are mulltiple ways to get the product to the customers, there is only one way to get the items to the wrapping and/or assembly stations. So if you get into the rhythm of "right clicking" and then have to stop and do the "click and grab and drop", it can be quite frustrating. You also get to play mini games to bolster magic boxes and stars. Stars are used to upgrade workers, the stations and buy new malls. The two that I played were a simple puzzle and a fill-in with preformed shapes. The colors are bright and the sound is good (ie music is not annoying). You also get the added bonus of hearing "thank-you"! The play is not as simple as the first impression since you do have to watch out for whether or not to gift-wrap (red or blue) as well as if the item needs to be assembled and then possibly gift-wrapped as well. The venues also change. After playing one, for instance tropical fruit, it is closed for restocking. You then play one of the others.
August 21, 2012
What have they done to my game?!~!
I saw the title Shop-n-spree title & got overjoyed because I loved the first two. I downloaded & began to play. I like being able to pick up multiple items but other then that it's less of a hog & more of a time management. Before it was a nice mix of both but now it feels more time management. You don't really to have to search & find but you have to wait for items to be restocked & you can wrap items or have them mixed or redone. It's neat that they added new things but they added to many & I feel it's overwhelming. The more I played the less fun I was having. I was hoping it was going to be like the last one but with new places to go & new items to find with maybe a couple of upgrades. But the items most of them are repeats from the first two. It saddens that I have to write this & I applaud the company for upgrading the game but alas it did not catch my fancy.
August 22, 2012
Not as good as the other 2!
I was so excited to play this game as I love the others in the series but this one is just not the same. There is no hidden object element and it just isn't challenging! Very disappointed!
August 22, 2012
Loved It! Great sequel in the Shop n Spree Series!
I just loved this game! I have enjoyed each of the Shop n Spree games, and this is no exception. The premise of this game is that the Island that is your home is almost completely Bankrupt. To save the Island, and bring the tourists back, they decided to turn it into a shopping Island. You start out with one store, and have to turn it into a mall by adding departments. I thought the mini games in this one were much harder than the last two games, you really have to pay attention to win them. The sound was great, the music fun, and the graphics were terrific! Overall, a wonderful game for all TM lovers! Enjoy.
August 21, 2012
Not at all like the others
I was so excited to see a new game in this series. I loved the first one, and the second one was very similar. This one is just such a different type of game. It doesn't have the hidden object aspect that made the first two enjoyable.
August 22, 2012
If it ain't broke, don't fix it!
Was hoping for a new Shop N Spree game for ages, so delighted when I saw this one. Played it, didn't like it. Too much faffing around with the new assembly table - would have been better sticking to the old format - much more enjoyable
August 25, 2012
High hopes
For the last couple weeks I have been anxiously waiting for this game to come out. From the first two games I had high hopes, maybe to high, and it was a major let down. It's boring not challenging enough. The restocking and assembly are annoying. The only thing I like about this game is that you can pick up multiple products at once, but everything else is just dumb.
August 21, 2012
I miss the first two!!!
When I saw that another Shop-n-Spree had come out I was thrilled! I loved the first two and bought both, but after 20 minutes of playing the demo, I realized this was going to be nothing at all like the others. I'm sad! I thoroughly enjoyed the previous games and I am not at all happy about the new changes with the stations.... If you've played the previous games and enjoyed it, you're going to be disappointed. Definitely NOT purchasing this one.
August 24, 2012
If you liked the first you'll like this one
This is a good game with some interesting twists to keep you moving quick with add ons, wrapping, assembly, etc. Always wondering what new stores will pop up and with about 5 malls -- always something new. Thanks for the right click short cuts! Was waiting for a better TM game and this one is it. I like that you can pick where to go during the levels, and that the upgrades don't always "recommend" your choice...that gets boring. Anyway, I like this one--finally! Only problems are clicking vs dragging as the game uses both and sometimes the clicks are less accurate than I like...good thing there's a sales table.
August 21, 2012
The Apple logo is a trademark of Apple Computer, Inc.