Lost Inca Prophecy 2: The Hollow Island
Join Seraphine in this amazing adventure to save the world from its doom in Lost Inca Prophecy 2: The Hollow Island! The entire world is in danger! Volcanoes are erupting and the earth is shaking! You are the only one that can prevent the Prophecy from happening. Enjoy the incredible matching fun and unique mini-games in this great Match 3 game!
Tons of Match 3 and minigame Levels
2 different game modes
Amazing Gameplay and Story
Game System Requirements:
OS:

Windows XP/Windows Vista/Windows 7/8

CPU:

800 Mhz

RAM:

512 MB

DirectX:

9.0

Hard Drive:

48 MB
Game Manager System Requirements:
Browser:

Internet Explorer 7 or later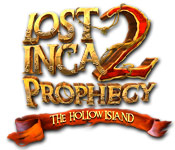 NEW299
The Big Fish Guarantee:
Quality tested and virus free.
No ads, no adware, no spyware.

Reviews at a Glance

Lost Inca Prophecy 2: The Hollow Island
0
out of
5 (
0
Reviews
Review
)
Customer Reviews
Lost Inca Prophecy 2: The Hollow Island
46
46
"Motion sickness" kills a lot of the fun
My reaction when I saw the title, was "Great! I loved the first "Lost Inca Prophecy", so this should be wonderful!" I played the demo, but probably will not purchase. The graphics are beautiful, the music is nicely melodic, the storyline is fun; but the board "floats" as you play. For those who enjoyed the first "Lost Inca Prophecy", this is in the same adventurous spirit. You receive up to three gold stars for each level, depending upon how well you did in completing it. You can choose to replay a level or continue to the next. There are nifty power-ups that will be awarded along the way in each level. There are mini-games in the same theme as the game itself. My only problem is that the board floats as you play and only part of it is visible at a time. It constantly moves as you make matches; and for me, it became very bothersome. If we could give half-stars, I would give it 2-1/2. If the board did not float, it would deserve 4 stars.
August 22, 2012
So far, excellent
Based on the first few stages of Level 1. You start out by having to save the world from a catastrophe. The level starts with a jigsaw-like puzzle where you have to switch the rectangles to make the picture. Then you get into the match 3 where you can choose "switch" or "chain". Graphics are crisp and clear, and very picturesque. No timer, which is always a bonus for me. So far the stages are easy, but from experience I would bet that they would get more challenging as you go along. I used a game credit, but I would have purchased it anyway. I am going to really enjoy the rest of this game.
August 22, 2012
Different!
This was similar to the first one, with an interesting storyline, great graphics, ability to change modes of play, which is a great option, and nice music. Unfortuinately, the game board floats around the whole time you are playing the level. I'm guessing that this was developed to make the game more challenging, but in my case it just made me seasick :( Definitely give the game a try because it has a lot of pros, but the one con did it for me and I won't be buying.
August 22, 2012
A Little Different Match 3/Puzzle
Interesting storyline merges earth science and fantasy. Mini games open the Level - and again at midpoint Played through the hour trial, which was good - 1st half was very easy, 2nd half got a little more challenging, but gave power-ups. Got to part 12 out of 13 for the entire first level. No idea how many levels there are to finish the game. Like the little mini-map off to the right side to give a clue as where to find the exit door. Large playing field where you are guided by the matches you make - no maze type channels. Good deal if you buy it on the Tomorrow's Release Today (double stamp) deal. Not quite sold on it yet - might buy it on Daily Deal Sorry, not worth a credit for me.
August 22, 2012
Really annoying game. Too helpful
So I don't really play a lot of match 3 games. I have played some that I did like. Howeverthis game got old quickly with it's super hand holding tips. I know that it is common to have a match suggested after a little while but this game is too fast to suggest a match. I then tried to ignore the flashing tiles that I could match. That got really annoying because I was already trying to ignore the repetittous music. I thought the the graphics were nice but I just gave up. Another game for the "not even if it was free category"
August 22, 2012
Motion sickness bag, please!
What beautiful graphics and a really good storyline....but...I played for only 10 minutes and I still feel sick. The changing field of play is way too sensitive...if you move up even one line while making matches, the whole scene shifts in that direction. It's really a shame, as I love adventure match games and I enjoyed just looking at the artwork..I just can't play it.
August 22, 2012
Really fun M3/puzzle/search game. I loved it.
This is one of those great games that is well done, not too difficult, and just a fun way to pass some time. It has an interesting, brief storyline that sets up the game that reminded me a little bit of Tomb Raider and Jewel Quest. The game itself is a combination of match 3, puzzle, and search. You can play the M3 either by switching tiles or creating groups, and there are other features common to M3 games, like matching 5 tiles activates a "bomb" tile. You have to make a certain number of matches to get the key that unlocks the board (which finishes the round), but what's different about this game is that the board moves as you make matches, so you have to navigate back to the keyhole in order to use the key once you have it. Reminded me of the way the 4 Elements gameboards move. It was fun. There's also a mini-map in the upper right that shows you where you are in relation to the keyhole. The puzzle games are straighforward. The pieces are out of order and you click to match the right piece in the right spot to complete the picture underneath and in the search game you're shown a small section of the picture and you have to click on where it appears in the bigger picture. I've played other games where these are much more difficult, and really enjoyed being able to find things more quickly. Overall, an enjoyable game to pass the time that has variety, and is not so hard that it gets frustrating. It's a "buy it" for me.
August 22, 2012
No thanks
I like some match 3 games, but I didn't like the fact that the puzzle area moves around. It's hard to see where you want to focus on problem areas. OK for some, not so much for me.
August 22, 2012
A great game if you don't mind a moving board
This is a "moving board" game, like 4 Elements, in the sense that the board is much larger than the game window, and it will move in the direction you have made your last match. You can play in switch or chain mode. There are (so far) two kinds of mini-games, both fun. Graphics and music are both very good. The game is timed, but the timer only works to give you a star for finishing with time left. It does not end the level. You get one star for finishing the level, one for having time left, and one for breaking 100% of the tiles. You can exit the level after breaking 80% of the tiles, which helps if you have trouble finding the unbroken ones. I found that after 20 or so levels, I often could not get both the "time left" star and the "100% done" star, but then I'm a slow player due to arthritis. Personally, I really enjoy the game, and after 2 hours of play it is quite difficult enough. I know some people will not like the board moving automatically, but I would recommend trying the game for a while even if the first reaction is negative, because most people will get used to it and lose the vertigo-like sense it can give at first.
August 22, 2012
CHEAP IMITATION
I knew I had played something like this before. This is a cheap imitation of Vesuvia, which is a fantastic Match 3 game such as this but 100 times better. You can actually see the board with tools you can purchase. In this game the board is way too big for the screen and you can't make it smaller. The tools you get are not very good. This game is very irritating. I purchased it and am so disappointed in it. It is almost impossible to reach 100% percent. The music is annoying and pressing. Very hard on the eyes.
August 26, 2012