Lost Inca Prophecy 2: The Hollow Island
Join Seraphine in this amazing adventure to save the world from its doom in Lost Inca Prophecy 2: The Hollow Island! The entire world is in danger! Volcanoes are erupting and the earth is shaking! You are the only one that can prevent the Prophecy from happening. Enjoy the incredible matching fun and unique mini-games in this great Match 3 game!
Tons of Match 3 and minigame Levels
2 different game modes
Amazing Gameplay and Story
Game System Requirements:
OS:

Windows XP/Windows Vista/Windows 7/8

CPU:

800 Mhz

RAM:

512 MB

DirectX:

9.0

Hard Drive:

48 MB
Game Manager System Requirements:
Browser:

Internet Explorer 7 or later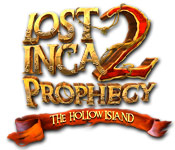 NEW299
The Big Fish Guarantee:
Quality tested and virus free.
No ads, no adware, no spyware.

Reviews at a Glance

Lost Inca Prophecy 2: The Hollow Island
0
out of
5 (
0
Reviews
Review
)
Customer Reviews
Lost Inca Prophecy 2: The Hollow Island
46
46
In Your Face
Every single level, the Book closes, then opens again like a 3D monster attacking you. The music got old very quickly. Your character looks like Lara Croft, and your Helper resembles Yoda. You must solve puzzles to "prove your worthiness" to be the new Hero. The first puzzle is an easy switch the squares to make a picture, and the tiles lock into place when they're right. The second one is spot a section of the picture from a small sample, again, very easy. The floating M3 boards are a nightmare! You cannot grab the board and slide it over to see possible matches. Every level has a lock you must open to finish. I got the key at around 80% of the boards completed. The hardest part was getting the board to float to where the lock was visible. Once you open the lock, the level is finished. I never went higher than 90%, but you can replay the level if you want to try for 100%. Power ups are the standard ones in every Match 3 game. The graphics are bright, colourful, and clear. The story is no more far fetched than others we have seen, but it wasn't enough to hold my interest.
August 22, 2012
Too Much Movement to be Enjoyable!
While the music is eclectic and it seems to have a storyline to follow, the graphics are dull. Based on the 9 levels of the trial, I can clearly state that the floating board IS NOT an advantage. When you've cleared all the tiles on the area you are in, you have to make useless matches just to have the board move to an area where you can work. The game play is fast and you can make matches while the board is still in motion from the prior match...that is, if your stomach can handle the seasickness! While it states that it has a timer, I didn't see one. It started to add some challenge with chained cells and locked gates, but the floating board makes this a NO GO for us!
August 27, 2012
Boring Match 3
to many clicks before the game starts the same when you exit, sorry no game for me
August 29, 2012
Great fun!
I don't mind the floating gameboard.... but I don't have astigmatism or motion sickness issues. Other things yes, but not those. I'm really enjoying this game. Too lazy to check, but is this from the same developers as Paradise Quest? Many similarities! Also a great game. I have a free game coming, and this might just be my next serious obsession. But I would pay the dollars for this one. Fun and different!
November 8, 2012
Lost Inca Prophecy 2: The Hollow Island
[Fast-Paced, Heart-Pounding, Three-Matchin'] The user plays young woman Seraphine, who is a researcher in the field of geology - she's noticing strange things. For example, sometimes during the day, it will go dark. All the dormant volcanoes suddenly burst to life. Her mentor says that these signs mean the Earth will be soon tipping off its access, our gravitational pull is failing, and if something isn't done soon, we'll all go hurling into space. Seraphine flies to Lost Incan lands, where her plane crashes after the earth's magnetic field does a whoopsy-daisy. Here, at the crash site, a ghostly voice speaks to her. "Solve the puzzles! My contemporaries built them for you... you shall find what you seek while you complete the puzzles and so on and so forth." And so we begin. The sound effects and music are top of the line, first off. A few games don't really get that jungle-y beat down, it's part drums and part animal and if you're doing it right, then the heartbeat should be pounding along with the percussion. The puzzles turn out to be a mix between Match Three and a maze... you want to match over green, specially picked out tiles. Once you've solved eighty percent of it, you have to find the exit. The whole puzzle is too big for the screen, so sometimes it does take a while, trying to maneuver the playboard just to exactly the right place. Usually I'm not really into most Match 3 games, but the atmosphere really helped it go along for me. From what I could make out, there were twelve chapters, like "Chapter One: The Plane Crash. You first switch picture plates to complete "the image of the chapter," and then come twelve different levels of the Match 3, before you win your way to the next level. I've gotta say though, I did stop feeling the time go by, and my hour was over much too quickly. While I won't be buying this game, I recommend it highly to Match 3 lovers, or even players who are just interested in trying a Match 3 game.
August 24, 2012
Board kept moving
This is a Match 3 game and there are to ways you can play it. You can choose to play switch or chain. After a match was made the board would move. I did not like that. It was hard to see the bottom or top of the board at any given time. There are only 13 levels that I can see. There should be more levels. I stopped playing with 10 mins left on the demo. I would not recomment this game.
August 23, 2012
Moving Screen NOT fun.
I agree with others that the moving screen spoils this game. Not only is it annoying but sometimes i had trouble finding where i still had to make a match and also to find the lock to put the key in. With a STATIC screen i would have bought this game straight away. Now i have to think about it. I did not like the "help" suggestions either, but i ignored them most of the time.
August 22, 2012
need good screen to eye cordination
I found this game fun and challenging. I love match 3 games so I would probably buy at one time or another.
August 22, 2012
Floating Board kills game
First review ever. I loved Inca Prophecy 1. HATED this one and stopped after 10 minutes of demo. The floating board is very irritating and has no real purpose in this game. Too bad. I really like Match 3 and wanted to like this one. Can't recommend it at all.
August 22, 2012
Nope.
Okay game that could have been outstanding. Pros: - Graphics and artwork are excellent. Loved the lush, colorful scenery, and the good resolution. - Storyline excellent. Good sci-fi theme, with the magnetic field switch theory. Cons: - Music was awful after about 3 minutes. Same loop, heavy beat that was really annoying. - The floating board. This is not the kind that moves as you progress, ala 4 Elements, but seems to move in response to where you make matches almost at random. I'd rather see the whole thing, thank you. - Fewer options. If I recall, the first IP had more game mechanic options. This one only has two - swap and chain. - No relaxed mode. The timer is fast, and I almost lost the second M3 level already. No go for me! I really wanted to like it, but the floating board and short timer were killers. Might think about it as a DD, but not for a credit.
August 22, 2012