Lost Inca Prophecy 2: The Hollow Island
Join Seraphine in this amazing adventure to save the world from its doom in Lost Inca Prophecy 2: The Hollow Island! The entire world is in danger! Volcanoes are erupting and the earth is shaking! You are the only one that can prevent the Prophecy from happening. Enjoy the incredible matching fun and unique mini-games in this great Match 3 game!
Tons of Match 3 and minigame Levels
2 different game modes
Amazing Gameplay and Story
Game System Requirements:
OS:

Windows XP/Windows Vista/Windows 7/8

CPU:

800 Mhz

RAM:

512 MB

DirectX:

9.0

Hard Drive:

48 MB
Game Manager System Requirements:
Browser:

Internet Explorer 7 or later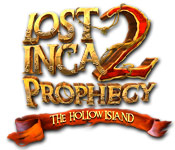 NEW299
The Big Fish Guarantee:
Quality tested and virus free.
No ads, no adware, no spyware.

Reviews at a Glance

Lost Inca Prophecy 2: The Hollow Island
0
out of
5 (
0
Reviews
Review
)
Customer Reviews
Lost Inca Prophecy 2: The Hollow Island
48
48
"Motion sickness" kills a lot of the fun
My reaction when I saw the title, was "Great! I loved the first "Lost Inca Prophecy", so this should be wonderful!" I played the demo, but probably will not purchase. The graphics are beautiful, the music is nicely melodic, the storyline is fun; but the board "floats" as you play. For those who enjoyed the first "Lost Inca Prophecy", this is in the same adventurous spirit. You receive up to three gold stars for each level, depending upon how well you did in completing it. You can choose to replay a level or continue to the next. There are nifty power-ups that will be awarded along the way in each level. There are mini-games in the same theme as the game itself. My only problem is that the board floats as you play and only part of it is visible at a time. It constantly moves as you make matches; and for me, it became very bothersome. If we could give half-stars, I would give it 2-1/2. If the board did not float, it would deserve 4 stars.
August 22, 2012
Different!
This was similar to the first one, with an interesting storyline, great graphics, ability to change modes of play, which is a great option, and nice music. Unfortuinately, the game board floats around the whole time you are playing the level. I'm guessing that this was developed to make the game more challenging, but in my case it just made me seasick :( Definitely give the game a try because it has a lot of pros, but the one con did it for me and I won't be buying.
August 22, 2012
A Little Different Match 3/Puzzle
Interesting storyline merges earth science and fantasy. Mini games open the Level - and again at midpoint Played through the hour trial, which was good - 1st half was very easy, 2nd half got a little more challenging, but gave power-ups. Got to part 12 out of 13 for the entire first level. No idea how many levels there are to finish the game. Like the little mini-map off to the right side to give a clue as where to find the exit door. Large playing field where you are guided by the matches you make - no maze type channels. Good deal if you buy it on the Tomorrow's Release Today (double stamp) deal. Not quite sold on it yet - might buy it on Daily Deal Sorry, not worth a credit for me.
August 22, 2012
Nope.
Okay game that could have been outstanding. Pros: - Graphics and artwork are excellent. Loved the lush, colorful scenery, and the good resolution. - Storyline excellent. Good sci-fi theme, with the magnetic field switch theory. Cons: - Music was awful after about 3 minutes. Same loop, heavy beat that was really annoying. - The floating board. This is not the kind that moves as you progress, ala 4 Elements, but seems to move in response to where you make matches almost at random. I'd rather see the whole thing, thank you. - Fewer options. If I recall, the first IP had more game mechanic options. This one only has two - swap and chain. - No relaxed mode. The timer is fast, and I almost lost the second M3 level already. No go for me! I really wanted to like it, but the floating board and short timer were killers. Might think about it as a DD, but not for a credit.
August 22, 2012
Lost Inca Prophecy 2: The Hollow Island
[Fast-Paced, Heart-Pounding, Three-Matchin'] The user plays young woman Seraphine, who is a researcher in the field of geology - she's noticing strange things. For example, sometimes during the day, it will go dark. All the dormant volcanoes suddenly burst to life. Her mentor says that these signs mean the Earth will be soon tipping off its access, our gravitational pull is failing, and if something isn't done soon, we'll all go hurling into space. Seraphine flies to Lost Incan lands, where her plane crashes after the earth's magnetic field does a whoopsy-daisy. Here, at the crash site, a ghostly voice speaks to her. "Solve the puzzles! My contemporaries built them for you... you shall find what you seek while you complete the puzzles and so on and so forth." And so we begin. The sound effects and music are top of the line, first off. A few games don't really get that jungle-y beat down, it's part drums and part animal and if you're doing it right, then the heartbeat should be pounding along with the percussion. The puzzles turn out to be a mix between Match Three and a maze... you want to match over green, specially picked out tiles. Once you've solved eighty percent of it, you have to find the exit. The whole puzzle is too big for the screen, so sometimes it does take a while, trying to maneuver the playboard just to exactly the right place. Usually I'm not really into most Match 3 games, but the atmosphere really helped it go along for me. From what I could make out, there were twelve chapters, like "Chapter One: The Plane Crash. You first switch picture plates to complete "the image of the chapter," and then come twelve different levels of the Match 3, before you win your way to the next level. I've gotta say though, I did stop feeling the time go by, and my hour was over much too quickly. While I won't be buying this game, I recommend it highly to Match 3 lovers, or even players who are just interested in trying a Match 3 game.
August 24, 2012
Board kept moving
This is a Match 3 game and there are to ways you can play it. You can choose to play switch or chain. After a match was made the board would move. I did not like that. It was hard to see the bottom or top of the board at any given time. There are only 13 levels that I can see. There should be more levels. I stopped playing with 10 mins left on the demo. I would not recomment this game.
August 23, 2012
Moving Screen NOT fun.
I agree with others that the moving screen spoils this game. Not only is it annoying but sometimes i had trouble finding where i still had to make a match and also to find the lock to put the key in. With a STATIC screen i would have bought this game straight away. Now i have to think about it. I did not like the "help" suggestions either, but i ignored them most of the time.
August 22, 2012
Love it or hate it
Other reviewers have hit the highlights of this game, so there's no point in me covering the same territory. I did like the simple jigsaw puzzle at the beginning and wish there had been more of those. The matching was just okay for me, partly because it wasn't always easy to tell what the icons were supposed to represent, which took some of the visual enjoyment out of it. Graphics and animations were excellent. But...I just don't like the floating game board. As you make a match, the board shoots up, down, left, or right. And you cannot see all of the board at the same time. You could find it entertaining, but for me it's annoying. A key appears once you are 80% done with matches to allow you to unlock the level. But be aware that if you want all three gold stars, you need to complete 100% of the matches, not just 80%. The key/lock gimmick was nice if you could find the lock, because remember, the board is floating all over the place. Try it. You might love it. Or you might get motion sickness. I think I'm kidding.
September 9, 2012
Moving Board
Graphics and sound were clear. The board moved to the center of the most recent activity which does add another degree of diffilculty. It also adds a sense of vertigo. I was queasy after 40 minutes of play. Helps/tips were quick, powerups useful. I also came across two mini games. The first a puzzle type, the second a memory or find the spot--pretty simple and basic. If you do not mind the moving board, it could be a good game for you, but not for me.
August 22, 2012
Really annoying game. Too helpful
So I don't really play a lot of match 3 games. I have played some that I did like. Howeverthis game got old quickly with it's super hand holding tips. I know that it is common to have a match suggested after a little while but this game is too fast to suggest a match. I then tried to ignore the flashing tiles that I could match. That got really annoying because I was already trying to ignore the repetittous music. I thought the the graphics were nice but I just gave up. Another game for the "not even if it was free category"
August 22, 2012