Mystic Diary: Missing Pages
Stop a wicked magician from becoming immortal thus causing an imbalance and destroying the world. Follow cryptic clues and avoid elaborate traps to find your magician brother hiding deep within a Victorian-era castle and prevent him from using the Mystic Diary to build an evil machine to gain eternal life. Embark on an adventure in the world of magic and mystery in this hidden object puzzle adventure!
Game System Requirements:
OS:

10.8/10.7/10.6

CPU:

1.0 GHz (INTEL ONLY)

RAM:

512 MB

Hard Drive:

167 MB
Game Manager System Requirements:
Browser:

Safari 4.0 or later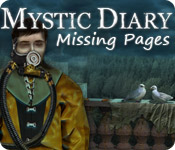 NEW299
The Big Fish Guarantee:
Quality tested and virus free.
No ads, no adware, no spyware.

Reviews at a Glance

Mystic Diary: Missing Pages
0
out of
5 (
0
Reviews
Review
)
Customer Reviews
Mystic Diary: Missing Pages
46
46
Average Game. Not really exciting!
Current games are so well developed, with special effects and stories that hold the player's attention. This game looks like the old-fashioned, when there were not many resources. - Cutscene from the beginning has no sound or VO. - Graphics are not very sharp, the soundtrack is weak - just the sounds of footsteps, wind and sound games. - Only one level of difficulty and has sparkles. - No map, but it has a journal. - Each HOS has only one interactive item, they are not difficult and hint fills fast. -The same HOS twice - one to find different objects and another 12 to find the same type of object, such as keys, light bulbs, etc ... - Many mini games. It has a few kind of new and somewhat challenging, although it also has some well-known and very easy (pull the ropes, chemical mixing, the three clocks...!). if you are not sleepy, and have nothing better to do, try the free trial.
June 23, 2012
Play the demo, enjoy and leave it at that
2 stars is harsh for this game and 3 stars is too generous. The artwork is dark but decent. I was looking for something relaxing and this was just that. However it stops short of being a complete game. The rest of the game after you play the demo is about 1 hour... I used my freebies to get this game and thank god I did or I would be asking for my money back.
June 23, 2012
very easy game
i played the "normal level" and it was pretty easy. i tried the "hints" on HOS and it worked; i tried it throughout the game and it did not work; i did not try it during the mini puzzles because the "skip puzzle" button did not take very long to activate. it took me a little over an hour to play and i kind of wish i didn't purchase it because of that reason alone. i prefer games that are a little more challenging. graphics are great.
June 24, 2012
Could Be Better
This game has an interesting storyline and is a nice mixture of HOG and adventure but the game lacks any type of direction on what to do after the very brief tutorial. The hint button only helps you when you choose a specific item and most of the time the items you find are for scenes you haven't reached yet. I found this game very frustrating and will definitely wait to buy this when it goes on sale for $2.99
June 23, 2012
Could have been better
I downloaded the trial it wasn't that great. I play alot of hidden object games and this is one I will not buy.
June 25, 2013
A so so Game
I really don't like putting a game down but I have to be honest and say that I just sort of went through the game doing the motions of HO and hunting for items. The HO"s were good and did matched the atmosphere of the locations. I can't put my finger on it, which doesn't help in a review but the game struck me as having the potential to be a great game and fell short. The story was interesting but basically never really developed as the game went along. Collecting diary pages all saying basically the same thing. Some of the puzzles were very different and I liked that part. No voice overs, no photos of characters (2). Sorry but after playing some great games in a row, this just did not catch my interest. Oh yeah, the ending just happened, I mean poof end of game. I really didn't like that.
August 26, 2012
Doesn't compare to other Mystic Diary games
I enjoyed the demo and bought this game, partly because the previous MD: Haunted Island and MD: Lost Brother were quite good. They are much longer, more complex and just better than this one. I encourage people to try the previous two MD games, both available on Big Fish Games. While I enjoyed this game, I am quite disappointed at the short length and lack of complexity, challenge and details.
June 24, 2012
Not great, but not awful, either.
This game lies teetering on the brink of being worthy only of a price around $2.99, and I'm glad I used a gift from a wonderful person to get this game. I'm not sorry I did, but I'm glad I didn't pay $6.99 for it. It's just not worth it, in my opinion. For one thing, the game is short. I finished in about three hours, and I only skipped two puzzles, because I am just horrid at the two I skipped, and I took a break or two to take the dogs out..lol...so don't expect much length of play, because it isn't there. If you want to spend a couple of hours meandering around in a game, get this one. The options menu offers volume in music, sound effects, and environment. I didn't care for the music very much, but I rarely do, so don't depend on that for much. The sound effects were unpleasant, in my opinion. The sound that you hear when you find an object in a hidden object scenes was rather strident to my ears..a bit harsh..so I turned in way down. The environment sounds are good. There is a diary that you keep throughout the game which will offer clues and the "missing" pages are added to it during the game to give insight into why your brother has gone off the deep end. There is no map, and there is some back and forth, so pay attention to where you are and how you got there. Hidden object scenes were pretty good. The scenes were clear and offered a list of items to find or "find this many" scenes...like finding 12 eyeballs..that sort of thing. The graphics were okay and the colors were nice. The hint button worked in the regular way in the hidden object scenes and offered little help outside of the scenes. If you had something in inventory and you didn't know where it was to be used, you can drag the item over to the hint button and it will tell you where the item is to be used. There are no hints about where to go next or anything like that. The puzzles/mini-games were lacking clear instructions and you are left to do some trial and error on the way to solving these. They are the regular type you find in many games - get marbles into the right holes, turn pieces to make a picture, and a few that I have no idea how to describe. They weren't bad..just didn't have clear instruction and that can lead to a wee bit of frustration when you have no idea what you are to do. All of the puzzles/mini-games are skippable except for one that includes deciphering morse code clues to open something. As easy as it sounds, I had to go to the walkthrough to find out how to solve it and it was so simple that I kicked myself for not figuring it out and making it more difficult than it needed to be. That is the only time I felt the need to leave the game and use the walkthrough. The ending of the game is pretty lame..pretty anti-climactic and almost makes you wish you hadn't tried rescuing anyone..lol. So - if you need to fill a punchcard or have a couple of hours to fill, get this game. It's not great, but it's not the worst I've played, either. I do recommend it because the hidden object scenes are nice and play moves along nicely.
June 23, 2012
Good Enough
BASED ON COMPLETED GAME This game starts out well. There is no special intro before the main menu, but it is dark and eerie and draped in music and sounds of the most ominous portent. Intro to the game itself is intriguing, with one magician brother seeing trouble for not-so-magical brother in his crystal ball. This game follows the formula set down by the other two Mystic Diary games, as well as being a loosely defined sequel of both games. In fact, the story in this one is EXACTLY the same as the first. We must rescue our brother from his own mad plans, and find some way of warding off the evil he unleashes. This time he enacts his foolishness in a Gothic castle, which you get to explore in order to find the mystic diary and save your brother. The story is not really present for most of the game, as you just keep moving forward, helping spirits and occasional animated objects as you can. Some magical objects and individuals direct the action of your quest and you need to be constantly checking your diary for the information they have given you. The game?s graphics are ho hum, not actually bad, but not up to today?s standards. Everything is visible though, without squinting. I like the music, it is a bit creepy without being over the top. There are no voiceovers, and apart from thunder when outside, ambient sound is at a minimum. The game play is straight forward HOPA. The mini-games and HOPs are evenly balanced, with each HOP scene visited twice. The first time there is an interactive word list, the second is a search for multiples. The puzzles remained doable for most of the game, but I found myself having to skip the last few. The skip is very long, so this was disappointing. It made the finish of the game an anti-climax. Hint also took a long time to refill, and it showed only where an inventory item could be used, so if you didn?t have the right item, or had not yet accessed the right scene, you received no help at all. Nearing the end, I had to use the walkthrough. In all, an average game, nothing memorable about it, but not bad either. I found the time passed very quickly while I played, so it?s obviously absorbing. That?s good enough for me.
January 2, 2014
It was ok
I didn't make it very far. The hint button didn't work as every hint button I've ever come across worked so that was a bit tricky, therefore I couldn't get where I needed to be because I had no idea had to work my way there nor how to access items I needed. Maybe this game is for the more expert in the field but I have been playing this genre for quite a while and I couldn't get past, well, much. Give it a go, that's what the trial is for, This Glam-ma is disappointed it's not for her.
May 12, 2013
The Apple logo is a trademark of Apple Computer, Inc.
The Windows logo is a trademark of Microsoft, Inc.