Eternal Journey: New Atlantis
Exclusive
Travel from the deepest trenches of the Atlantic Ocean to the awe-inspiring wonders of Mars as you solve the greatest archeological puzzle known to man: the origin of Atlantis. Through stunning production values and cunningly designed puzzles, Eternal Journey: New Atlantis will draw you into an experience unlike any other hidden object adventure.
Beautiful animated cinematics
Over 200 hidden objects
For a more in depth experience, check out the Collector's Edition
Game System Requirements:
OS:

Windows XP/Windows Vista/Windows 7/8

CPU:

1.6 GHz

RAM:

512 MB

DirectX:

9.0

Hard Drive:

542 MB
Game Manager System Requirements:
Browser:

Internet Explorer 7 or later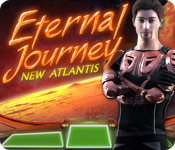 NEW299
The Big Fish Guarantee:
Quality tested and virus free.
No ads, no adware, no spyware.

Reviews at a Glance

Eternal Journey: New Atlantis
0
out of
5 (
0
Reviews
Review
)
Customer Reviews
Eternal Journey: New Atlantis
146
146
Riveting!
I just finished Eternal Journeys and loved it! In fact, I'm kind of sad that it's over. It was pretty riveting and when I realized I was almost at the end, I actually made myself slow down. I really wish there were more games like this. Loved the storyline and hopefully the story continues ... it sort of hinted at more in the end. Graphics, sound music, cutscenes ... all great. There weren't as many HOS as I'm used to with other games but that was ok. You do lots of running back and forth finding objects to complete a puzzle to get more objects to finish another puzzle or get to another room, etc. The interactive map was a huge help. The puzzles weren't challenging at all .. a couple of them were pretty boring. Overall, loved the game, loved the storyline and would definitely love it if more of these types of games were available.
August 30, 2012
Excellent Game with Storyline
One of the best hidden-object/puzzle games I've played. Highly recommended.
August 30, 2012
great game it keeps you going if you like the 1000 doors game you'll love this game. Great story line
One of the best games so far. I like the hog and adventure games and really thought this one was one of the better games
August 29, 2012
Enjoyed this game
I found this game refreshing because most of it was set in the future on space station on Mars. Normally I am not a big sci-fi future fan, but I also get tired of so many games set in an era around the 1800s. This is one game where I actually watched the cut scenes instead of skipping over them, because I found the story interesting. There seemed to be a pretty equal part of hidden object, mini game, and adventure rolled into this one game. Another great thing about it is that there is a map that makes traveling from one area to another much faster and it will show places where you need to still complete a task. It would be easy to make the game harder on yourself by not using the map if wanted. The mini games were relatively simple, nothing too challenging. Voice-over and cut scenes were nice. Story line was okay and I didn't feel blasted with notes and books telling me all about it like a lot of games do - there were a few things like this, but easy to skip without affecting game play. Overall I enjoyed it. I would say it's good for all levels.
January 28, 2013
Different...
I got this game, even though I'm not a big fan of the futuristic type games, based solely on the fantastic reviews it has gotten. And I wasn't disappointed. It was a lot of fun. the puzzles were fun and the game wasn't bogged down with too many HOGs. I liked the story and the graphics. The only thing that was sort of negative was that it felt kinda short. It probably wasn't any shorter than the other games of normal length, but I actually used the map to jump from area to area on this one and I think that made it go a lot faster. If you want it to last as long as possible, and you can remember how to get around a very twisty turny ship without getting lost, I suggest you don't use the map to jump.
February 20, 2013
Exceptional Sci-Fi Adventure
A lengthy sci-fi adventure game. Pros: -carefully constructed and unique story with good 3D cutscenes (if you love sci-fi, it can really suck you in) -interactive map, showing where things could be done -good ratio of HOS to adventure play -good sound effects and better-than-average voice acting maintained the atmosphere -beautifully conceived graphics from the stark Mars landscape to very detailed space station to underground train -Marcy, the companion cat gained about midway through game Cons: -popups -may have too many HOS for some people -puzzles were usually too easy Excellent and enjoyable story and gameplay throughout.
August 25, 2012
Not Your Usual Atlantis
I was looking for a game about Atlantis for a friend who is an Atlantis freak so was expecting a game which took place underwater with bubbles and tipped over artifacts and a mermaid or two. That is not this game! This is more like a science fiction film, with surreal, high resolution graphics. Although it begins under a dome at the bottom of the ocean, something goes amiss, and many years later the heroine finds her self on Mars in a deserted space station. Holograms appear with secret information. Travel takes place by speeding train, a scenic elevator ride to the surface of Mars and through an airlock into outer space. The empty space suits lying around are foreboding...what happened? Believe it or not, the lack of the 'human element', even an animated one in the scenes began to get to me..the scenes are devoid of characters and I missed the little mice and spiders running across the floor. I'd recommend this game for a science fiction person who enjoys empty spaces and high resolution graphics.
January 12, 2013
what a good game
Just a good game to play for the fun of it. The graphics are good and the music is enjoyable to listen to. Some voice over. Good story line. The HOS are normal and easy. The puzzles are also good and easy. Nothing new. Enjoyable game just a little predicable and easy to play. No real challenge to me. Maybe I play too many games because this one was kind of slow to me and did not spark a real interest. I'll go with the SE and not the CE.
June 26, 2013
Great Game
I really liked this game. It was different and challenging. From underwater to Mars. Cut scenes were well done, HO scenes were also well done. There was a map provided so when you had to go back and forth (and you did alot) you could just click on the map. I really enjoyed this game. A good play.
August 25, 2012
An enjoyable (and unique) romp through space and time
This is my first review , and only the second Big Fish game I have completed to date, which is saying a lot. I own quite a few BFG games at present, but find I haven't had the drive or motivation to sit many through to the end, this game being one of the rare exceptions. This review is based on completing the full SE version of the game. I played on expert level (no sparkles and a long hint reset, which was never used.) The graphics are enjoyable, certainly among the better offerings from this perspective in my BFG experience. The locations are highly detailed, sharp and interesting. The animation and cut-scenes help move the story along and add to the overall ambiance for the most part. The story is unique, moving at a pleasant pace, without rushing until near the very end, when things pick up and feel even a bit rushed. Music and sound effects are average, but well-suited to the game and theme of the story. This game plays very much like an adventure game, with scattered HO scenes and puzzles, nothing too difficult, (I believe I only used skip once when I didn't want to spend another 20 minutes working out a solution that required a lot of trial and error.) Thumbs up from me! It reminded me of an older PC game (Cydonia?) also set on mars, and even a bit like Rama. I hope to see more games with a science fiction storyline and theme in the future.
January 25, 2013