Redemption Cemetery: Grave Testimony
Escape a cursed island inhabited by lost souls in Redemption Cemetery: Grave Testimony! After a strange twist of fate, you find yourself stranded on an eerie island. As you search for a way to cross the treacherous waters, an otherworldly boatman appears and tells you the only way to return home alive is to help three of the poor spirits trapped on the island. Travel through history and right the wrongs of the past to earn your passage home in this thrilling Hidden Object adventure!
Travel through time
Spooky atmosphere
For a more in depth experience, check out the Collector's Edition
Game System Requirements:
OS:

Windows XP/Windows Vista/Windows 7/8

CPU:

1.4 GHz

RAM:

1024 MB

DirectX:

9.0

Hard Drive:

658 MB
Game Manager System Requirements:
Browser:

Internet Explorer 7 or later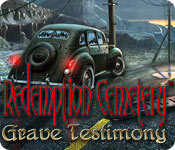 NEW299
The Big Fish Guarantee:
Quality tested and virus free.
No ads, no adware, no spyware.

Reviews at a Glance

Redemption Cemetery: Grave Testimony
0
out of
5 (
0
Reviews
Review
)
Customer Reviews
Redemption Cemetery: Grave Testimony
57
57
Unmissable!! Take advantage of the weekend sale!!
I played and bought the CE, and recommend!! Take the opportunity and the discount of the day to also buy the CE because it is more complete and this game is one of the best I've ever played. Below my review of the CE, which also applies to the SE. Excellent and entertaining story of gangsters on a mysterious island. Cutscenes that really worth watching: funny characters, who are real people, excellent VO, great graphics, excellent soundtrack. This highly interactive game is extremely well developed: scenery has movement all the time, not a game like the others that when the cutscene ends the scene freezes. Very appealing ! Some different and new mini games, not challenging, like "the candles", and some similar to the usual, but with something new, like "fix the light box". Others are very cute, like the carriage and cowboys ! Good amount of highly interactive HOS - you have to find an object to be able to find the next, and some things are hard to find. Besides the traditional hint, you have a crow to help you to pick objects out of your reach ... but it only helps when you have a rune, so ... be sure to get the runes along the way. It has activities all the time, the game is very dynamic and things found are soon used (some have to be combined with another in the inventory), without too much back and forth. A familiar theme - haunted, with different detail - funny gangsters.... Highly recommended!!
August 31, 2012
Wake UP! Redemption Cemetery Just Had A Shot Of Adrenaline!
GAME COMPLETED SEVERAL TIMES From the moment you open the game, Grave Testimony lets you know you?re in for something different. Having witnessed the gangland shooting of three people, you are grabbed and knocked out. You wake up to discover you are being buried alive in ?Redemption Cemetery?, this time a creepy swampy island. That?s when things really start to get interesting. Again, escape is only possible through putting three lost souls to rest, starting with your would-be killer, and again we have a helpful raven to assist. But this is no cookie cutter game. There?s the highest quality hand drawn graphics, good sound, and smooth gameplay we expect from ERS, of course, but this is something more. This game plays quite differently. There are two different types of HOs, list and the more complex silhouettes, where you must find one item before you can find another, until you finally get the inventory item you need. Interspersed with, and in, the HOs are dozens of very simple puzzles. These could be as easy as an eight piece jigsaw. There are harder puzzles as well, but they are fewer than you would normally see in a HOPA. I liked this addition. You must keep your mind flexible, because you are never too long at any one thing, and it kept up the pace of the game. An unforgettable adventure!
April 20, 2013
Unique and challenging Hidden Object Game
This is definitely a step up from the other HOG I have played. They tend to all be the same but this one was more interesting and challenging. The Hidden Object Scenes are very different as you have to first find a silhouetted object, then find where that object goes in the scene. There are lots of other puzzles and some of them really make you think. The story line is interesting and life like. The creators have put a lot of thought into this game to make it different from the rest. I love this game.
August 31, 2012
Warning: Incomplete Ending for SE
I was extremely dissapointed that in order to fully complete this game it is necessary to play the collectors edition. My review is based on playing the SE version. In addition to the incomplete ending, this game was way too easy. No need for a walkthrough with this one. The mini games were so easy a 5 year old could solve them. The HOS were interactive and big junk piles. They were also easy. The cut scenes were good, using real actors and the graphics were OK. I don't recommend buying the SE unless you don't mind feeling as if you only played 3/4 of a game.
September 1, 2012
Get the Collector's Edition!
Folks, today you are in luck, BFG offers you CE games at a special discount. If you passed up on this gem, then today's is your chance to get the CE version. This was a fantastic game which offered an execellent time to be had!. The opening scene was what got me and once I got out of the grave after being buried alive by some thugs, I was hooked and just could not wait to continue the journey. There is so much to do in Redemtion Cemetary and I have to say, these devlopers get better and better with each game they put out. The Graphics were stunning, beautiful artwork, live video feed of actors and great voice-overs. Game features include three play modes and depending how experienced you are, you have a choice of sparkles or no sparkles. You have a journal and a Mystical crow that will retrieve things for you, provided you find the crow runes to activate him. Unfortunately there is no map. This is an excellent HOPA with unique HO scenes that are interactive and have mini puzzles to solves within them. Inventory items also are combined to use. There are mini-games that were not overly challenging, but were some were unique and fun to play. As I said, if you passed up on the CE, then either use today's discount for the SE or better yet, definitely go for the CE. Great Game and Great time to be had.
August 31, 2012
"AN ABSOLUTE DELIGHT TO PLAY"
This was one great game to play. A lot of twists and turns. The dynamics were great. I especially enjoyed the different types of hidden object scenes. I found the "live" actors to be enjoyable - if not sometimes startling, so at rare times this is not for the very squeamish! This was a delightful story and sometimes quite funny. I found this to be a fairly long game although I did not complete it in one setting - by the way I played the CE version which was well worth the money. This weekend you can get a super price for either version and what a good way to finish off your marks - as you get three of them for a CE - for the month and get another free game!.The art work was very good. I really enjoyed the mini games which had some innovative ones to play instead of only the usual! There really was nothing about this game that I actually didn't like. If there was anything bad, it was overshadowed by all of the really good things. An enjoyable time can be had by all and I highly recommend this game. From this developer how can you miss!
August 31, 2012
Boring
This was just too easy. The ending was very abrupt, I discovered you have to purchase the CE version to finish the game, would not have purchased if I'd known.
September 4, 2012
Another Redemption Blockbuster!
I thought at first this was a new game to me then I realized I had played before. I truly enjoyed as I have all the Redemption games. Just as I think they can not get any better, they one up the last. Try this game and the others for hours of enjoyment. Now I think I think a replay is in order. I wish you great gaming.
August 31, 2012
Interesting storyline or lines?
I enjoyed the demo & was about to make a crucial move when, of course, the demo ran out. Lucky for us, we are having a sale this weekend :) Yes, I must know what's going to happen, not just next, but the whole story. This game includes real people, which I like. We have options of; modes including regular, hard, & expert. Music is the type of true mind game thrillers. Hints take about a minute. There is a diary but no map. As expected, this dev. gives us great graphics. The IHOGs I came across are finding the silhouete & using it to find the other items. In your inventory, you can add items together. Also, there is a crow to help with necessary items that are out of reach. He only helps if there is a crow "medallion" in it for him. BTW, the setting is from back in the 40's with gangsters, witnesses that go missing, etc. Not too much running back & forth, or at least the game is interesting enough that I didn't notice. A buy for me. Thanks ERS & BFG!
August 31, 2012
No challenge here
I have enjoyed this series but am pretty sure the game developers dropped the ball on this one. This game had no challenge. The puzzles were really easy....something that elementary kids could do. I certainly didn't need to consult any cheats to figure one out and I doubt many others would either. This whole game took about 4 hours to play. I'm disappointed.
September 1, 2012
The Apple logo is a trademark of Apple Computer, Inc.