Redemption Cemetery: Grave Testimony
Escape a cursed island inhabited by lost souls in Redemption Cemetery: Grave Testimony! After a strange twist of fate, you find yourself stranded on an eerie island. As you search for a way to cross the treacherous waters, an otherworldly boatman appears and tells you the only way to return home alive is to help three of the poor spirits trapped on the island. Travel through history and right the wrongs of the past to earn your passage home in this thrilling Hidden Object adventure!
Travel through time
Spooky atmosphere
For a more in depth experience, check out the Collector's Edition
Game System Requirements:
OS:

Windows XP/Windows Vista/Windows 7/8

CPU:

1.4 GHz

RAM:

1024 MB

DirectX:

9.0

Hard Drive:

658 MB
Game Manager System Requirements:
Browser:

Internet Explorer 7 or later
Mild Blood
Mild Violence
Use of Tobacco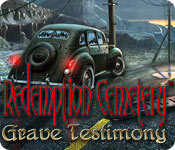 NEW299
The Big Fish Guarantee:
Quality tested and virus free.
No ads, no adware, no spyware.

Reviews at a Glance

Redemption Cemetery: Grave Testimony
0
out of
5 (
0
Reviews
Review
)
Customer Reviews
Redemption Cemetery: Grave Testimony
64
64
Lots of Fun but Puzzles too Easy
I have to admit I had a lot of fun with this one, mainly because of the different twist on the HOG scenes (and the fact that there weren't tons of them). Puzzles are my favorite, especially when they really tax the ol' brain. Unfortunately, there were only a couple that were a challenge at all. Most were way too easy but some took a while to complete, so I did like that aspect. I enjoyed the music. If a good game has good music it adds quite a bit for me. (I'm a big music lover!) I can see where some players would be disappointed because of the low challenge level. But it's still a really fun game, so I have to recommend it. I played the SE and felt I got my money's worth.
May 2, 2013
3.5 stars
I bought this game on accident, confused it with another but decided to keep it anyways and Im glad I did because I really enjoyed it. Let it be known, I haven't been a huge fan of ERS for awhile but this game was quite enjoyable. It has 3 subplots and each story is an hour give or take so this game took me a little over 3.5 hours. Not bad. The storyline in this game is weird. I still can't figure out what gangsters really had to do with it because not all the stories were mafia related but I enjoyed the 3 stories and kind of kept an open mind on the rest of what was going on. Unlike some other reviewers, I felt like the SE had an actual ending. Yes, it was not an efficient ending BUT compared to other SE's I own by ERS this is a definite upgrade. After saving the 3 souls, I felt accomplished so I didn't really care about the rest because as I said the beginning was confusing so the way it ended made perfect sense. I give this 3.5 stars but rounded to 4. The music repeats and gets annoying. I did like the "new" hidden object scenes but it also had the list. They were spread out quite nicely. I enjoyed the 3rd story the best. I thought the artwork was the best done in that chapter. There was lots to do. I would have liked the puzzles to be a little harder. They were alll so easy even on the most advanced mode. It was like here turn these 2 knobs and WAA LAA you've solved it! which is why I knocked it down to 3.5 stars. Other than that though, it was a pretty enjoyable game. Kudos.
March 1, 2013
Too short and abrupt ending
This game took about 3-4 hrs to play. Puzzles were all really easy and usually took less than a minute to solve. Ending was sudden and abrupt- I was thinking- that's it??
September 4, 2012
Very beautiful... but way too easy
This game is very beautiful graphicwise, but it offers no challenge whatsoever. The sounds are creepy and some reviewers didn't like this, but they suit the game. To me, the music is on the heavy side and I finished by turning it off. The story is OK: you have to free some tortured souls in order to get their soulstones and leave the island. So you have three chapters in the game. HOS are good, some interactive, some looking for objects... their degree of difficulty is low. Minigames are so easy that I sometimes felt being treated as an idiot by the dev's... really. No map, but you don't need one. A notebook to keep track of things. Hints offer no help; just tells you to go look elsewhere. So, I enjoyed the graphics, but I don't like live actors in a game. They spoil the fun... give me beautifully created graphic characters. All in all, I had a good time playing this game, but the total lack of challenge really put me off.
October 13, 2012
ARGH
The storyline in this game is pretty decent. The gameplay itself is not 5 star, but entertaining. I enjoyed the demo enough to buy the SE. The animated graphics are well done, as usual for this company. Not so big on the live people in it, but that's not unusual in HOG anymore. (I think they must drag in family and friends to do the acting- sorry if that's harsh.) Ending is a bit abrupt - not the first time that's happened. But this, I have to say: -ENOUGH with the screaming! I'm not a huge fan of background noise and love it when I can turn the environmental sounds down, but usually I can tune it out. But every 30-60 seconds in the background of this and at least one other game from this company (Gothic Fiction, I think), there's a scream. The same scream. Over and over and over again. This was only spooky the first 5 times I heard it, guys. Then it just got really extremely aggravatingly annoying. I ended up just turning the sound completely off. On 2 different games! So, overall - If you liked the first Redemption Cemetery game, you'll probably like this one enough to do the SE. But I can't honestly recommend doing a CE of this game unless it's on sale. And I hope you like hearing people scream.
November 20, 2012
The puzzles are just too easy.
For me it is all about the puzzles and in this latest installment of the Redemption Cemetery series the puzzles are its biggest disappointment. They are ridiculously easy and I only remember there being one that even made me think at all, some even making me laugh derisively at how simple they were. The storyline is good, in keeping with the theme of the series: to somewhat alter history and I liked the idea of three totally unrelated episodes in it. The graphics are typically good from this stable and the music is not intrusive or too repetitive. There is the right level of hidden object scenes interspersed with shadow object scenes. It is really only the level of the challenge that lets this game down and why I do not recommend it.
October 3, 2012
an ok game
i have played better games. the graphics were good and the hints were good and recharged at a little slower pace than the games i have been playing, but not too long. the same with the skip button. you are collecting soul stones so the people's souls can rest. the playing is not hard. no map. a journal, but it is not much help, really. it does copy down important numbers and figures for later use. the different areas aren't too large since there is back and forth. that is good. it is a good game for beginner's just trying this genre. not too complicated, even though a few of the mini games got me.
October 31, 2012
No Challenge
The puzzles were too easy - didn't need to seek any help on any puzzle. Disappointed as I was through this in just a couple of hours. The graphics were good and the storyline quite appealing. Maybe good for beginners to this genre or younger players.
September 12, 2012
The gangsters were well done, but...
The opening scenes were great --totally scary and full of surprises... debatably one of the best openings I've seen in a HOG. The cut scenes were awesome. I started getting into the story. I had to find three soul stones to get out of the cemetery. I was deep into the game before it all started to change for me. About three fourths in, the game seemed to stall a little bit. I found myself hunting for one item at a time, back and forth. Then I came to the ending, and...there wasn't one. If the entire game delivered on the promise that the beginning made, it would have been something special. I could be wrong. The lack of ending may have given me an attitude. Maybe the collector's edition is different.
July 25, 2013
Good game, but not the best in the series
This game was beautifully made, but I felt like the storylines were weaker than in some of the other games. For example, in one story line a ganster asks you to save someone, but I never really felt like he was sorry for what he did or anything like that. He just asks you to save someone but never says why he regretted his part in her fate, or anything. If you just play for great visuals, you will enjoy this game. If you like the stories, you will probably enjoy the game, but not as much as others in the series. Of all the games in the series to date (July 2013), my favorite was Curse of the Raven.
July 4, 2013