The TimeBuilders: Pyramid Rising 2
Great Pharaoh Touti and his friends are back for an epic adventure that will take you on a journey along the Nile in Time Builders: Pyramid Rising 2! When the priest Hapu discovers an ancient papyrus scroll foretelling the cataclysmic end of Egypt's eighteenth dynasty, he learns that in order to save the kingdom, eight majestic temples must be built, and quickly, before the four moons cycle ends. Are you ready to face this ultimate challenge?
Awesome graphics
Unveil the mystery of the Egyptian Gods
Game System Requirements:
OS:

Windows XP/Windows Vista/Windows 7/8

CPU:

1.4 GHz

RAM:

256 MB

DirectX:

9.0

Hard Drive:

460 MB
Game Manager System Requirements:
Browser:

Internet Explorer 7 or later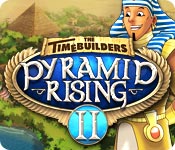 NEW299
The Big Fish Guarantee:
Quality tested and virus free.
No ads, no adware, no spyware.

Reviews at a Glance

The TimeBuilders: Pyramid Rising 2
0
out of
5 (
0
Reviews
Review
)
Customer Reviews
The TimeBuilders: Pyramid Rising 2
41
41
It was OK!
Nice Game with very nice Graphics and funny Gameplay. I would have given it a much higher score but the Time level was not very generous, especially for people with Arthritis in their hands, everyone forgets about us! I cannot finish many levels. Should have an untimed option also.
September 9, 2012
It's an OK game
I bought the game because I really liked the previous two games in this series. So far, I've played for about 1.5 hours and I am about halfway through the game. Story: Not as engaging or interesting as the previous games. Touti is all grown up and is now the Pharaoh. The priest finds a scroll that says the 18th dynasty will fall of a certain number of temples are not built in 4 months. They run around Egypt building said temples. Oh, and the architect is sick so you take hims place. That's about it. Game Play: not as smooth as the previous games. I felt like I was doing a ton more clicking that was needed. For example- to collect rent you click on the house, the priest makes the rent appear and you have to click on the money to collect it. One cool improvement- your workers stand around after a task is finished instead of returning to the sanctuary. This is an advantage when you have to harvest trees multiple times. No time is wasted waiting for the worker to get to the tree. You earn a certain amount scarab beetles for making gold (15), silver (10) or bronze (5) time. Challenge: It's OK. I found the first few levels very easy. A few levels in you get the option to use your scarab beetles to purchase a bonus for each level. The game tells you that you will need these bonuses to make Gold time and suggest that you buy the most expensive bonus for 30 beetles. Sound/Visual: The music is very, very similar to the first game. The graphics on the map are pretty plain. The graphics in the game are comparable to the first game. Overall, there is nothing dazzling about this game. It's a pretty standard TM game.
September 1, 2012
Not as good as the first
Loved the first! This one has some annoying features I hoped would be gone after Beta test. Bouncing rocks and money delay play until clicked again. First game they were banked automatically. The 'temples' are tabletop models of the 'my city' structures reused from first game, including housing. Most problematic: must desecrate sarcophagi to get treasure. Why not just keep the treasure chests?
September 1, 2012
Not as Good as the First One
I really loved the first Pyramid Rising, and love the Time Builders series overall. However, this one just sucks the joy out of the game for me. As I type this, my hand aches from all the clicking. My husband walked by my screen as I was finishing all of the levels, and he commented on how busy the screen was and how much work there was to be done on each level. If you have any carpel tunnel or arthritis, this may not be the game for you. Another issue was the story line. (Spoiler Alert) In this story line, we see that one character stole from a temple, which made the gods angry and they made another character sick as punishment, and the cat ran away (which upsets me that no one would go and search for the cat). The first round of Pyramid Rising caused me to like each character, and laugh at how silly they were. This installment makes me want to throttle some of them. The last issue I'll bring up was the game play itself. Frankly, this game is hard on certain later levels. I don't mind hard, but I would like to have chosen a level of difficulty instead of having to plow right through the entire game without at first understanding the strategy applied to each level. For example, there were so many nomads and bandits to pay off, or barter with, it was hard to really think through moves or barter with the time ticking away. I wish there had been a casual mode so that people who are slightly OCD (yep, that's me) could analyse what the goals were for each level before beginning bartering. Overall, I still like Time Builders, but they need to rethink some key components of their game play, or I'll demo the game and won't buy another. I would still recommend this game, but only if fellow Fishes understood the frantic level of game play, and the toll increased clicking does on the joints.
September 4, 2012
So-So
I liked the first pyramid builders. Having to click twice to obtain money or stones becomes a bit annoying and tiresome. The character is there, runs back to the temple and you have to click the item. ANNOYING.
September 6, 2012
Hit and Miss
This game is all over the place. The levels don't slowly increase in difficultly, some of the early levels were way more frustrating than the later ones. All of the 'hard' levels have a trick or specific order to complete tasks that allow you to complete the level in half the available time. Figuring out the specific pattern is part of the fun/frustration. Like all games of this type, the gameplay if very repetitive and click intensive. The plot is loosely tied to each level objective, and often switches motivations without any explanation. You won't be playing this one to see how the story ends. For me, this was a free game I slugged through because I wanted the 100% completion, not because it was fun.
October 7, 2012
Not as challenging as I'd like it to be
The game is fun but I beat it too quick and it wasn't challenging. If it was more difficult, I would have given it 5 stars.
September 15, 2012
Great fun. Annoying Facebook push--I don't even have Facebook.
Negative: The levels aren't very challenging, but that's okay. It's not why the two stars came off. I don't use Facebook. This game ALWAYS wants to post on Facebook. It takes me out of the game and loads Facebook website for me. I should take more than two stars off of this, but I'm trying to be nice. That is my NUMBER ONE COMPLAINT. STOP FORCING ME TO FACEBOOK!!!!! Positive: The game is absolutely fun. You really don't need scarabs to beat any level. I've not once spent any scarabs and I have gold on all levels. Storyline is silly fun and the visual characters are hilarious. Get rid of the negative and you have a five star rating easily!
March 4, 2014
Great for young Kids
But overall not challenge and not that interactive. Only made it to the fourth level before I gave up. Great for small kids though.
September 13, 2012
i'm spoiled by better-designed games
having played and loved all the "My Kingdom for the Princess" games, this looked promising when i first saw it: it operates on the same basic principles. unfortunately, because i've played MKFTP, i find it clunky and cumbersome to have to click an obstacle to select it and then click an action icon (in a completely different place on the screen) in order to get my workers to remove the obstacle - to my mind, just clicking the obstacle should be enough. and that's as in-depth as my experience with this game gets, because the way this game works was sufficiently clunky to me that i played it for about 30 seconds before quitting and deleting it. if you haven't played My Kingdom for the Princess, i strongly recommend trying that instead. again, it's the same basic premise, but the mechanics of MKFTP are much more elegantly designed and very natural to use.
October 12, 2013
The Apple logo is a trademark of Apple Computer, Inc.