Grim Tales: The Wishes
Be careful what you wish for... When her young son begins to wither and age before her eyes, your sister desperately requests your help. You arrive to discover that a deadly bargain has been made. You must set things right before your nephew pays the terrible price in Grim Tales: The Wishes!
Save your nephew
Fantastic gameplay
For a more in depth experience, check out the Collector's Edition
Game System Requirements:
OS:

10.8/10.7/10.6/10.5

CPU:

2.5 GHz (INTEL ONLY)

RAM:

1024 MB

Hard Drive:

789 MB
Game Manager System Requirements:
Browser:

Safari 4.0 or later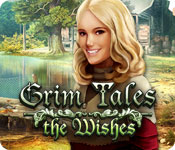 NEW299
The Big Fish Guarantee:
Quality tested and virus free.
No ads, no adware, no spyware.

Reviews at a Glance

Grim Tales: The Wishes
0
out of
5 (
0
Reviews
Review
)
Customer Reviews
Grim Tales: The Wishes
137
137
Not as good as the first
I have to agree with another poster that this game was a let down. I own The Bride, and The Legacy and bought this one just 15 minutes into the trial based on those. Although it's very similar to the previous ones, it seems as if they got tired of this theme and just winged it this time. The map is interactive, I like that, and each location had a list of tasks although some you werent able to complete just yet. The icon that tells you there is something to do in a location is marked even though you cant yet perform anything there. Just that there are things to do there before that location is cleared. (instead of "there is something you can do now", if that makes any sense). A great many of the tasks require you to obtain a medallion to open this or that. That in itself is ok, but there are WAY too many of them, probably 30 or so instead of the type where you do a puzzle to open a door or lock. It seemed as if the entire time you were looking for medallions, find one, open the box to find another, travel to that location to use it etc... It really got tiresome toward the end. Not a bad game, but somewhat of a dissapointment.
January 25, 2013
Illogical
This could be a great game, but I didn't like the logic of some puzzles. You arrive to your sisters house and to enter it you must find a wolf medallion and use it as door key... What??? Didn't like it because of these moments. But you can try it for your self.
August 28, 2012
STOP THAT DANG TICKING CLOCK Lol...
I like using sound with the games and it makes it a much better experience but hells bells there's a dang ticking clock over and over and over and over again. I can't deal with that. Game makers should realize that a constant ticking clock will drive players nuts. So, turn down the sound and play? Sure. No sound? Boo.
September 9, 2012
Repeated puzzles...
It seems that the series share the same Pros and Cons, while I think this one is a little bit better than 'the legacy'. But the problem of repeating puzzles become worse. For example, one need to play a Bejeweled like game 3 times under similar requirement...
November 2, 2014
well i didn't like it
I play alot and was very disapointed with this one, mainly because the map did not show all of your task and there were to many at one time, to hard to keep up and to many medallions to keep up with. Graphics, story and such were fine, hos were good, puzzles not so great. Wish i had used my credit on something else. It was a long game but it got old, to much to keep up with.
January 22, 2013
eh.
The puppet helper who goes into the lower corner is extremely annoying because he won't sit still. His constant movement is distracting and kept catching my eye. Very annoying and I only played the demo. If I bought the game I'd have to stick a piece of paper over that character cuz it would drive me nuts. The voiceovers are lame so I had the sound turned down. I don't think the graphics were up to Elephant's usual standards. I did like the story line (as much as I got in the demo) although I"m not one to closely follow stories in games--I'm there for the gameplay not to read a novel. I didn't buy this, but might as a DD someday. I think there are much better games available.
December 29, 2012
Disappointing!
I think I?m giving up on the Grim Tales series because of this installment. Elephant is one of my favorite developers, esp. the Surface series, but this is not. I enjoyed Grim Tales: The Legacy, and I enjoyed this to an extent, but it wasn?t really worth the time it took up. Sorry if I?m in the minority here, but here?s my take: DISLIKES: -There just was not much of a plot. There just wasn?t any depth. Sadly, I think the premise actually was good?but it was simply lacking depth in execution. - Some of the acting was terrible, and the characters (esp the boy) spoke sooo slowly that I almost gave up on it in the beginning. I somehow felt like I was being patronized in the beginning of the game in terms of my intelligence level! -There were multiple mistakes that I noticed, much more than I normally encounter in games ? not just grammatical errors (there were those, too), but errors within the gameplay that were inexcusable and clearly the result of sloppy programming and low quality control. The game is long, so it?s hard to remember all of the specific problems that occurred, but one of them was a glitch that actually prevented me from finishing one of the mini-games ? and I love mini-games, so this made me very sad (it was the planet one, BTW; I know that other players had this problem too). -Almost all of the game was silent (e.g. no music). I know that Elephant tends to be sparse on music, but even the ambient sound effects were sparse, and the music was even sparser than normal. And no, the incessant, loud, and highly annoying clock-ticking that seemed to be present for about half of the game does NOT count as ambience. It was so loud and constant ? and really obvious since there was no music and most of the scenes were silent ? that it ended up feeling like water-torture. LIKES: -Fluffy the cat as your helper, although the Fluffy you meet and that is in your inventory looks *completely* different than the Fluffy that you see interacting with a scene when you ask him to. Quite noticeable and distracting. So even something I liked (and that?s only because I like cats) was done sloppily. -The HOS, oddly enough. I didn?t love them, mainly because I like but don?t love HOS and prefer them to be only in smallish quantities. But Elephant does them well, and I like that they are clear, bright, and easy. -The graphics, for the most part, were very good. As just one example, the sleeping kitten in the laundry basket HOS was very well drawn and just insanely cute (it made me wish we returned to HOS for once!) BOTTOM LINE: I was going to buy Grim Tales: The Stone Queen, but reviewers said that it isn?t as good as previous installments. If it?s even worse than The Wishes, then I won?t even trial it. That being said, if you have spare punch card coupons, it?s not a terrible option. It just did not live up to my expectations based both on the inflated reviews and my expectations from Elephant.
February 21, 2014
Sorry I paid for this game
I thought this game looked as though it would be a fun one, but it turned out to be one that took me from place to place in search of the proverbial "keys" to open up chests, portals, etc., in order to take me to even more places in search of more keys. The puzzles were not interesting, and the storyline turned out too be to dark for my interest. (demons, for Pete's sake...so morbid) There's enough problems in this world, than for me to purchase a game that has even more. I want to have fun...How 'bout it, Big Fish? Let's have some FUN, lighthearted games, please, and leave the demons out! : )
August 13, 2012
Hidden object Game
I found the game rather tiresome. Too much up and down the stairs, through tunnels and swamps. It's a good game if you don't have anything else to do for awhile.
August 17, 2012
Disappointment!!
Story was a complete disappointment. Finding keys to open ALL the different boxes became VERY tedious!
May 19, 2014
The Apple logo is a trademark of Apple Computer, Inc.
The Windows logo is a trademark of Microsoft, Inc.