Sherlock Holmes VS Jack the Ripper
Unmask the mysterious identity of England's most violent and notorious killer in Sherlock Holmes vs Jack the Ripper! The year is 1888 in the Whitechapel district of London's East End and a sinister series of crimes have taken place. The bodies of several women have been found and the police have been unable to find any leads. Sherlock Holmes, England's greatest detective sets out to find clues in the dark and gloomy streets of Whitechapel, following a macabre trail to shed light on the true identity hiding behind the terrifying nickname!
Solve one of England's greatest mysteries
Discover the darker side of London
Play as either Holmes or Dr. Watson
Interact with over 30 characters
Game System Requirements:
OS:

Windows XP/Windows Vista/Windows 7/8

CPU:

1.4 GHz

RAM:

512 MB

DirectX:

9.0

Hard Drive:

2005 MB
Game Manager System Requirements:
Browser:

Internet Explorer 7 or later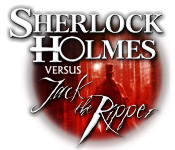 NEW299
The Big Fish Guarantee:
Quality tested and virus free.
No ads, no adware, no spyware.

Reviews at a Glance

Sherlock Holmes VS Jack the Ripper
0
out of
5 (
0
Reviews
Review
)
Customer Reviews
Sherlock Holmes VS Jack the Ripper
68
68
I actually kinda liked it.
I lost my taste for adventure games with the 2nd Siberia. Having to talk to the same person seven times before I could proceed to the next part of the game, I mean was this some kind of joke? Boy was I P..., I mean angry. I have only played the demo, and there dosn't seem to be any type of irrational things to do. Once I remembered how to move around, I started to injoy the game. I have always been a big fan of Sherlock Holmes, and I'm obsessed about Jack - the - ripper stuff. I'm so injoying this game.
September 12, 2012
Very factual to the real-life Ripper cases
This is a full-blown adventure game, not a casual game. The game is longer (12 hours or more), the story is more developed, and puzzles are harder than the usual casual games. You have to manually save your game. There is every little hand-holding throughout. There is NO BUILT-IN HINT SYSTEM. Graphics are better than typical casual games, so you need a more powerful computer. You can move around freely in first-person perspective, and you can switch between first-person and third-person view any time, which means this is a graphically demanding game. There is a BIG inventory system that includes objects, documents, notes, and transcripts of every spoken word of the all the dialog in the game. Yes, subtitles are included too. In short, this is a BIG-BOY (OR GIRL) adventure game like most other games in the Sherlock Holmes series. It is a lot more involved and challenging than most games on this site and not for the casual gamers. If this sort of games appeal to you, you will have a great time with this one. From Frogwares in 2009, this game should be commended for actually sticking to many of the known facts of the Ripper murders. There are no Royal Conspiracy theories here, and none of the long debunked Ripper theories. Many of the details in the cases are quite factual: killer's mode of operation, timelines of the events, and eyewitness testimonies, etc. Clearly, this game is made not just for those who simply want to play a game. It is made for people who are into true-crime subject matters as well.
November 29, 2014
Well, I tried...
I really wanted to like this game, but it is not for anyone unfamiliar with this type (as I apparently am). I found myself wandering the first 48 minutes, having no clue what to do, unable to get information from anyone. Movement was very odd - no matter which style you chose (1st person or 3rd). I felt like an idiot, bumping into walls and passing between people having a conversation. The only 'clues' were the very rare hand or magnifying glass - which only resulted in an insignificant comment from Holmes. I thought I may become accustomed to the movement before the demo was up, but I was hopelessly lost, with a confused Watson at my heels. When I finally decided to give up, there was no way to do so that I could determine - what is up with no onscreen controls for menu, inventory, journal, map, etc? I had to hard exit to quit (ctrl/alt/del). Probably very enjoyable for anyone who has played this type, but definitely not for me. I do need to add: HEED THE WARNINGS about the graphic beginning! It is bloodless, but audibly horrifying! Guess they wanted to make sure you knew this guy was a "ripper"...eeeww!
September 12, 2012
Average game, great setting
This game is based on the story of Jack the ripper, the infamous killer who murdered many women in the poor district of Whitechapel, London. You will play alternately as Mr. Holmes or Dr. Watson, to collect evidence, talk to suspects and witnesses, solve puzzles... until you identify the culprit. Generally speaking, this game has a good potential not completely exploited. It deserves not more than 3 stars. The most positive aspect is the setting of district Whitechapel, absolutely great. The game exploits the 3D engine rather well, and when you walk in the foggy and dirty streets (choose 1st person to enjoy best), you can feel a strong sense of depression, misery and desperation. Astounding, a really live experience. On the negative side, the game experience is not at all involving. Long dialogues, where you are only requested to click the mouse, certainly add depth to the story, but also give you the impression to watch a movie instead than playing a game. Also, puzzles are easy, and in at least two occasions I "solved" them just clicking here and there. The other aspects, like music or game controls, are average. I recommend the title only if you are a true "aficionado" of Sherlock Holmes games
October 20, 2012
Sherlock Holmes: Lost in London
I had such high hopes. I loved Hound of the Baskervilles. This, however, isn't even a quarter as good. The visuals are stunning but the game play is stilted, no tutorial, no hints and after 27 minutes no puzzles. Everyone makes square corners when they walk. Just not up to the quality I've come to expect of Big Fish. You can play either 3rd person or 1st person. First person means you can play one of the 2 (Holmes, Watson) without the help of cues. Not even the 'walk this way' footprints. It's a sad little game, if you can call it a game. Map doesn't even show you where 'you' are.
September 12, 2012
"What are we doing Holmes?"
Far too many unmarked areas. Why doesn't the map show where you are? Spent half an hour trying to get out of the police station courtyard before I realized the yellow dot wasn't me. :-((
September 15, 2012
Lost in the Fog
If any one purchases this game, get the collector?s addition . Then you can tell what is going on. The scenes are very dark. The puzzles sometime do not make sense . I found myself wondering as I wandered through White chapel what to do next. I found no exit button, no way to save a game I had to restart this game 5 times before I was stuck in an alley for good. Could not finish it. Very Disappointed
September 4, 2013
No fun in this Game!
The graphics made me dizzy and its a slow process. The game doesn't have anything fun about it except for the title, it seems like it should be great but its boring.
September 26, 2012
very hard
I didn't like that game it was complicated and hard to understand. I didn't even finish my demo.
September 19, 2012
my head is still spinning
couldn't get through the first 10 minutes. It gave me motion sickness. Good luck
September 12, 2012