Syberia - Part 3
Exclusive
[Note: If you own the original Syberia, this is the same adventure.] Continue the journey in Syberia: Part 3. Kate Walker is in search of the last remaining heir of a manufacturing estate, Hans Voralberg, who has mysteriously disappeared into the wilds of Syberia! Kate is unsure whether to continue her journey which has taken her so far away from home, but the experience is bringing out an adventurous spirit within her that she never realized she had. Follow the trail to Komkolzgrad and get closer to solving the mystery.
Guide Kate through beautiful sceneries
Plenty of new encounters with colorful characters
A wonderful soundtrack, completed with great voiceovers
Check out our Blog Walkthrough
Game System Requirements:
OS:

Windows XP/Windows Vista/Windows 7/8

CPU:

600 Mhz

RAM:

128 MB

DirectX:

7.0

Hard Drive:

313 MB
Game Manager System Requirements:
Browser:

Internet Explorer 7 or later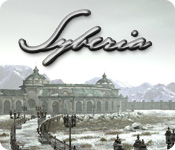 NEW299
The Big Fish Guarantee:
Quality tested and virus free.
No ads, no adware, no spyware.

Reviews at a Glance

Syberia - Part 3
0
out of
5 (
0
Reviews
Review
)
Customer Reviews
One of my all time top 5 adventure games
I am an old style gamer and started with the magical Myst in the early 90s - no internet, no walkthru's, just you and the wonderful world created by some outrageously talented developers, artists and scriptwriters. Somewhere in my heart, I still long for those days when a game took weeks to complete and I completely got sucked into the atmosphere, the sounds, the characters and the storyline. Since then there have only be a view like it here and there. Nowadays, once one gets stuck for a few minutes, off to the walkthru or strategy guide it is and a game hardly lasts longer than a weekend. Syberia is one of the few and though it came out nearly 10 years ago, it has lost none of it's magical vibe. The story is just too wonderful and told very well, the game as a whole, with it's graphics, the music, the voices, just all of it is special and spell-binding. As I said, it's definitly one of my top 5 adventure games of all times and I wished I wouldn't know the story, so I could play it over again and gaze in total wonder and amazement at the gorgeous sceneries that are so true you feel like you are right in it and part of it. The puzzles/tasks flow well with the overall game, seem fitting, are challenging without being overwhelming = just right to keep your attention all the way. This was done before anybody knew what HO stands for so no hidden object scenes, just good old fashion wonderful adventure play for hours. I don't know how they did the splitting into different games, but the original came in two instalments. Anybody that ever even slightly liked adventure type games cannot miss this. Try it from the first one, as it needs to be played together and in sequence otherwise the story doesn't make sense. I usually don't write reviews, but couldn't help feeling saddened, that an absolutely outstanding offering like this doesn't have a single review, so here is my take: I very highly recommend this game. Have fun on the way to Syberia!
September 4, 2012
Without a doubt the best adventure game ever
From The Barrockstadt till you leave Aralbad, help Kate and Oscar to get on with their journey. No HOS, no help, no maps, no nothing... just plain old good exploring and searching around for answers and solutions. If you arfe really, really stuck, you can use the blog walkthrough of BF, but it really would be a shame to use this help, because I think it is so much more rewarding to figure the things out for yourself. Some of the scenes may have a dark and oppressing mood... other are more light... anyway, the road goes ever on. Those of you who played the previous episodes know what they are up against: complex puzzles and an easy pace of gameplay. So, this is definitely not for those who seek easy and fast playing. No, you have to ENJOY this in a relaxed mood. One piece of advice: don't buy this episode if you haven't played the previous ones, because it is an on-going story that isn't over yet with this 3rd episode.
September 4, 2012
Part 2, not 3
Nothing like a poke in the eye, first thing in the morning. I played Syberia 1 & 2 a couple of years ago, and was hoping Benoit would do more in that thread, for instance, how Kate gets home. Alas, the header of this file is mis-typed, so what was advertised as "Part 3", is actually Part 2. If you haven't played it, give it a try, it's good work!
September 4, 2012
NOT PART 3
This actually makes me very upset. This is not and i repeat NOT part 3! They simply rereleased it and changed the name to part 3! I am very disappointed that bigfish would even do that. This is a wonderful game and if they do decide to make a part 3 I will be one of the first to buy it, but to just rerelease it and call it that is wrong!
September 18, 2012
Never Has There Been A Game Like This.....
So much has been written about this game that I find it difficult to believe there are some who have not heard about Siberia. Most of us own the original that came out several years ago and it is interesting to see that BFG has come up with the idea of re-issuing this game in sgments. For those who have not delved into the world of large file adventure games, Siberia may prove to be daunting at first. It is a slow and difficult game to play but rest assure, if ever you want to experience the enchanting and thoughtful story behind Siberia, do not dismiss this game. If there ever was a story that completely enthralled me, a story with characters that still have a special place in my heart, even after so many years, this is the one to try. For beginners, may IO recommend that you take adventage of the many forums, walkthroughs and strategy guides available. At first it may be a trial and error but soon enough, once you get a hang of the game mechanics, I guarantee, that you will soon find yourself completely immersed into a story that will lift up your spirits and thrill you to no end. The Siberi,a Series remains a classic amongst PC games and remains my top favorite game to date.
September 4, 2012
Syberia Part-3
Well I loved it, But I already played this game before, Only it was called Syberia 2. I just paided to play the same game over again. Oh Well!!! Live and Learn.
September 8, 2012
My Favorite Adventure Game of All Time!!!
I'm not sure why Big Fish is re-releasing Syberia II as Syberia Parts 2 & 3, but I've owned this game on CD for a couple of years now. It's gripping, yet touching storyline has left me sad because the creators never did come out with Syberia III. Anyway, I know you'll become just as immersed in the game as I was. Graphics and scenery are crisp and imaginative and draw you right into the plot. Voiceovers and dialogue are superb, as are the sound effects. You feel as though you're right there traveling in the cold and desolate lands of Syberia. I used a walkthrough just once, only because I wasn't paying attention and overlooked something. I highly recommend this game, but it's important that you play Parts 1 & 2 first so you can fully understand and appreciate the characters and the story.
September 4, 2012
Excellent!!
I played this game years ago on my old desktop computer and I was so involved with the story, adventures and the outcome that when everybody's asleep, I'd play it all night then my husband and I discuss about it like it is really happening (I know, it's pathetic) but that's how good this game is! I still have the discs and from time to time, we still play it at a faster pace. If you love adventure, this game is for you :)
September 4, 2012
Sadly Mis-titled
I was that excited to see a Syberia 3 that I didnt bother looking at the reviews-If I had of I would have soon realized from them that this game is actually Syberia 2 and I have played it already-But for those that havent ...the Syberia series is trully a masterpiece in gaming!!!!
September 11, 2012
Suberb Game
I own the full version of Syberia that i got about 2 years ago and it is the best game ever if you like the large file games. It is just beautiful. The graphics, the story, everything about it. It is very time consuming and quite difficult in places, I had to use a walkthrough a number of times but most of it was completely logical. Oscar is such a great character, he really is brought to life in this game and some of the other characters you meet in the story are so well done and engaging. It really is the best I have played, it does feel like an interactive movie. I hated the fact that I finished it, I have been hoping for more ever since from the makers as I haven't ever found anything else comparable.
September 5, 2012
The Apple logo is a trademark of Apple Computer, Inc.