Mystika: Between Light and Shadow
The magic world of Lumina needs a new hero! It's up to you to face Tenebria, the queen of the dark world in the original Match 3 game, Mystika: Between Light and Shadow! Your adventure will lead you to incredible places such as eerie caves, mystic castles and scary crypts. Collect powerful spells, rescue your friends the "Luminos" and banish monsters to make your way through this enchanted world. The journey of your life is about to begin.
Match 3 with a touch of Hidden Object
6 different worlds
Many achievements to unlock
Game System Requirements:
OS:

Windows XP/Windows Vista/Windows 7/8

CPU:

600 Mhz

RAM:

512 MB

DirectX:

9.0

Hard Drive:

35 MB
Game Manager System Requirements:
Browser:

Internet Explorer 7 or later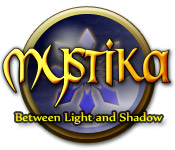 NEW299
The Big Fish Guarantee:
Quality tested and virus free.
No ads, no adware, no spyware.

Reviews at a Glance

Mystika: Between Light and Shadow
0
out of
5 (
0
Reviews
Review
)
Customer Reviews
Mystika: Between Light and Shadow
62
62
Ok entertainment
It's kind of cute and charming, not much of a story line at all. The power ups were uninteresting and really only the first two were useful. The 'monsters' were random, I have no idea why they were included they added little to the experience of the game. Not one of my better downloads, I played it through, no regrets.
October 2, 2012
Would be much better with no story and no "monsters"
I love Match3 games, and this one is - CUTE. The graphics aren't bad, and the games aren't too easy. The storyline is less than incomplete, and would be better left off completely. But my complaint is the "monsters". They're just annoying. I'm trying to solve the puzzle efficiently, and every few seconds I have to break away to click multiple times on a bat or a spider. Very irritating. This is why we need female game creators - someone who would understand that we choose this genre because it's a relaxing puzzle, and not a shooter.
December 30, 2012
Ruined by bats and turtles
I almost bought this one. The match 3 play is good - except for one aspect - and the hidden object part is all right. That one aspect is the game sending a bat flying and/or a turtle crawling over the match 3 area in the middle of the game play. You have to stop playing the M3 and click rapidly on the creatures until you kill them. If you ignore them long enough, they commit seppuku or something and fall off the screen. But they're hard to ignore, especially the turtle. It doesn't matter if you kill them or ignore them since they always come back a few seconds later either way. I found this feature so annoying that it ruined the game for me.
November 20, 2012
Meh.
This game is just like every other match-three-clear-the-box game. There's nothing new there in the game play. As such, I quickly grew bored with the game. There wasn't any real challenge in it at all. It's a good time waster, but that's about it. It did become annoying at one point because you have to sit through *everything.* You can't just click the screen to make the storyline or the end of level screen hurry up. The storyline was also very cliche; it's been done several times before. Nothing new there, either. It is better than most, though, so I'll give it that. The graphics are okay, but they're not great, either. I've given the game a three overall because it isn't the worst game that I've ever played, but it certainly isn't the best.
September 7, 2012
Just not very interesting
It was a cute, easy game, but I didn't enjoy trying to zap the animals (even though it wasn't that difficult). The game just seemed repetitious and not much fun.
September 6, 2012
Average Match 3 game
If this game ever became 'catch of the week' or 'deal of the day' then I may consider it as it is this is a bog-standard match 3 game. Yes there is extra touches such as having to kill bats and turtles/tortoises in order for your blocks not to go back to gold. But apart from that I couldn't really see any difference between this and any other standard match 3 game. Also I have no clue as to where the HO sessions come in. I mean in other hybrids the match 3 element is instead of playing the HO scene (such as Sisters of Anomalies (think that is the right name)), but in this game there were seemingly randomly thrown in there to add a bit of variety. Now I am all for change, but it would be better if it seemed to make sense and not just 'thrown in' on the whim of the designer. To me the story also seemed a bit lame. I am not a conniseour of match 3 games and my extent is just the Jewel Quest series and the bejeweled games and out of these two I tend to just play the Jewel Quest series now. I think that to me like the Mahjong games as it is just a the same game concept it is hard for developers to come up with anything special and until they do will just stick with the jewel quest series.
September 3, 2012
typical match 3
nothing new here...won't buy. they all seem alike to me.c'mon big fish find us a GAME!
September 3, 2012
I've Played Better, I've Played Worse
I'm in my late 50's, married, a full time housewife, have 17 children that are grown and 15 grandchildren with 2 more expected in the next few months. The entire premise is rather stupid not to mention the fact that anything centered around magic is forebidden by my church so I'm willing to bet that my church would be strongly against this game. Shooting bats & turtles isn't my cup of tea" so-to-speak. The music isn't foot stompin' bluegrass so I turned it off before it put me to sleep. I had to force myself to play the entire full hour of the free trial because I actually wanted to quit after about 10 minutes. I buy and play a LOT of Match 3 games but I absolutely positively will NOT be buying this game. I do not recommend this game for adults or for children. This game could work against the morals & values that parents are trying to teach their children.
September 3, 2012
Not bad for a M3
I played this game to the end. Not overly long, but was quite entertaining. Whilst playing there are bats, spiders and turtles to click on to stop them locking up the tiles with chains. Found it quite annoying really, and it didn't add anything to the game either! Not the best M3 out there by far, but worth a go if you enjoy this genre. The music was fairly nice, although like most it was on a loop, so got a bit boring. The stupidest story line...aren't most of them? A few HOS in between the M3 boards, but didn't add anything to the game. You earn power ups, but I couldn't actually work out what two of them did!
February 23, 2013
Just Okay.
Hmmm. Not a bad game, but not a good one either (my personal opinion only). Very cartoon like graphics, music okay, game play not bad. I'm not a real fan of M3 games, but I do like to branch out occasionally. This one appealed to me because it was a combo M3 and HOG. However, the HOGs were extremely simple. I don't mind M3 once in a while, but constantly does wear on the nerves. Especially when a bat or bird or whatever keeps popping up, and you have to keep clicking on it to get rid of it...annoying. Did not like the fact that you can't choose if you want a tutorial and/or a custom cursor. Don't give us options for game play if you aren't really going to let us have a choice. I would recommend this game for a beginner, or an older child, but definitely not for me. Too bad, I was hoping to use the special this weekend, but not this time. Thanks for the reviews.
September 3, 2012