Hot Farm Africa
Travel to Africa to help your father manage a struggling animal park in Hot Farm Africa. Help him manage this theme park to turn it into a successful venture full of tourists eager to watch exotic animals. Tourists are the main income for the farm so treat them well. Buy new habitats and upgrades for a wider animal selection. Build park facilities to make your guests' stay more enjoyable. Manage your finances wise to grow the small farm into a wildlife safari!
12 exotic animal species
5 different natural habitats
Upgradeable animal environments
Game System Requirements:
OS:

Windows XP/Windows Vista/Windows 7/8

CPU:

1.6 GHz

RAM:

512 MB

DirectX:

9.0

Hard Drive:

158 MB
Game Manager System Requirements:
Browser:

Internet Explorer 7 or later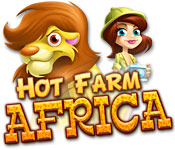 NEW299
The Big Fish Guarantee:
Quality tested and virus free.
No ads, no adware, no spyware.

Reviews at a Glance

Hot Farm Africa
0
out of
5 (
0
Reviews
Review
)
Customer Reviews
Give it a decent try ... It's more fun than anticipated!!!
I was really leary after reading the first few reviews, but it's not that bad of a game. Granted it's important to pay attention to the tutorial, but it does walk you through the first few steps. I messed up when it came to upgrading; so I will start over and pay more attention and possibly look for a help button. This must be a new developer. I like the storyline, original gameplay and music, the graphics are so-so, but all in all it's a fun game. Not quite sure if I'll buy right now, but I do intend to buy. There's lots of new, good Time Management games out. Thanks BF and keep 'em coming!
September 5, 2012
An okay game that I plan to purchase!
I can see there could be several improvements to this game...but regardless, I plan to purchase this game. It is the type of game that I really enjoy. Tired of the hidden object games. So a refreshing change!
September 5, 2012
Once really learn to play, it's a great TM game!
Once you master the controls and clicking and get past the first stage or two this game gets much more fun, more interesting and a bit more challenging. Ignore comments about clicking not working - you simply need to be PRECISE. Certain items brighten when you go to grab them (so if not brighter - not in right spot). When watering trees a white circle shows around tree base when in right spot (so if no circle, not quite right spot). GENERALLY click on the clouds just above animals and people rather than lower on the animal or person. I DO recommend this game for time mgmt folks. Just be precise on clicks, watch which upgrades you do first, try for bigger boats and group tourists with like animals, and use the drinks to keep folks happy in line. I've not bought it yet, but I may, but the level needing the vet was the last level I got thru. I hope some of this helped!! Here's some specifics that may help further? Animal exhibits start off sparse at first, but as you upgrade more shows up, and extra things show up like a gator in the water in the hippo area - no longer just hippos. You start with hippos and monkeys and can buy more animal exhibits later. With only 2 boat seats to start, it can be hard not to lose tourists, but you can upgrade boats and add drink stands later to help keep happy standing in line. Can add souvenir stands, a vet, etc. So lots of other upgrades and options. As for guy popping up when almost out of time (that some here mention#, it's in the corner and no big deal. There's a countdown timer, but popup helps me because I sometimes forget to watch the timer. It's NOT anything worse than games where timer areas start flashing red or do fast beeping. A few tips? #already got generally click clouds#. _Do the short tutorial. _Having tourists to see same animal gets more money, ALSO makes boat return faster. Boat stops at animals tourists on boat want to see - zooms past others #if 3 all want hippos, 1 stop - if 3 want hippo, monkey and giraffe then 3 stops#. _Game sometimes suggests when to upgrade or add new things. On some it doesn't matter much if you wait a level or two, EXCEPT the Vet. Get him WHEN suggested because you'll need him that level. _When getting bigger boats, is helpful to wait for another tourists if spot still open, especially if can get one to see same animal. _When threats like hyena arrive, handle SOON or can lose animal #easier to spot if look for red triangle#. #nice that your animal get scared off by hyena and not eaten tho) _In addition to bar for tourist happiness, the animals have them as well - watch them so don't have to RUSH to feed them before filling boat, etc. Good Luck!
September 7, 2012
I never played farm like this.
Interesting concept, and nice graphics. I played a lot of 2d farm sims, this 3d graph is something fresh for me
September 5, 2012
Fun game, not difficult to learn
I don't know why others had a hard time learning to play, I found it very easy except for the upgrades, that needed more explanation but I figured it out. Graphics could be better but overall it was a fun game. Please give it a chance, don't be dissuaded by the negative comments, just pay attention at the beginning.
September 8, 2012
2 Short!
I really liked this game the graphics were good. It was just toooooo short a game! What disappointment! =( it was not worth $6.99
September 14, 2012
It was alright
The graphics were a bit boring and it was hard to click on the food and the animals. Was fun for the game play but really needed a bit more pizazz. I wouldn't buy it.
September 6, 2012
Some May Like
...but not for me. Cute idea & good graphics, generally. Hard to see clickables against backdrop The, uh, movement? of Cursor wasn't crisp enough for me, And by the way as U learn how to play "Hurry, you are running out of time Maybe if the "feel" of the game were more comfortable to me, I might try harder to learn it... BUT, BFG has TONS more appealing games for me/us out there :)
September 5, 2012
slow, slower slowest!
slow game, bad graphics. nice idea but bad executed. pity!
September 5, 2012
Not so good
I wanted to like this game, but it was just to messy.
September 5, 2012