Haunting Mysteries: The Island of Lost Souls
Exclusive
Free the trapped souls and reunite a love long lost in Haunting Mysteries: The Island of Lost Souls! Trapped on a seemingly deserted Island after a malevolent force brings down your plane, you must discover what brought you to the Island and how you can escape its hold. Help the Island's former inhabitants as you make your way across the Island. Search stunning Hidden Object scenes and solve mind-bending puzzles as you uncover the truth in Haunting Mysteries: The Island of Lost Souls.
Explore a mysterious island
Free the trapped souls
For a more in depth experience, check out the Collector's Edition
Game System Requirements:
OS:

10.7/10.6/10.5

CPU:

2.0 GHz (INTEL ONLY)

RAM:

1024 MB

Hard Drive:

367 MB
Game Manager System Requirements:
Browser:

Safari 4.0 or later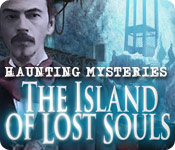 NEW299
The Big Fish Guarantee:
Quality tested and virus free.
No ads, no adware, no spyware.

Reviews at a Glance

Haunting Mysteries: The Island of Lost Souls
0
out of
5 (
0
Reviews
Review
)
Customer Reviews
Haunting Mysteries: The Island of Lost Souls
39
39
It's not stunningly amazing, just a good HO game.
This is a good HO game. The storyline is nothing new and nothing exciting either, but, it exists so you will be able to help this game's ghostly heroes with their after life wishes. You start by being on an airplane, you get into a sudden storm, evil eyes looking at you from within the clouds, your airplane crashes to the sea, miraculously you survive, and you discover an island with ghosts that seek your help. Lame script, I wouldn't go to watch this movie. The graphics of this game are good, I enjoyed playing the HO scenes, You find objects and you use them in the various scenes. Hint button recharges fast skip button available and puzzles are OK, this game is not to difficult, and its good for spending time.
June 20, 2012
Haunting Mysteries: The Island of Lost Souls
(imo, based on demo) - This started pretty slow for me. The game initially came up in a window, then transitioned to full screen, sort of - with a black bar across the top of the screen. First time that's ever happened for me, & maybe a resolution adjust will fix it, i don't know. The intro scene of crashing my plane was just flat, but as soon as i got out of the plane it was a different world of enthralling graphix, which i think look great. I really like the atmosphere attained by the combination of art, lonely sea sounds, & the real sense of being stranded alone on this haunted, unmapped, ghost inhabited island. The music could have been left out tho - it doesn't enhance the feel of the game, & cuts out noticably. Transition between scenes is sluggish, which is a bit irritating for me, but i've seen worse. HOscenes are junk pile & some items are pretty tough to see. No map or journal. Hints are simplistic, ie: "Theres nothing to do here now". There are achievements, and (*possible spoiler*) there are haunted souls to find throughout the game, but keep your eyes peeled 'cause they're blended into the surroundings well & appear as ghostly faces, which i found quite by accident. I've not heard of this dev, but wouldn't be surprised if they're pretty new to casual games, since the whole thing does feel a bit rough. However, it's a worthy effort on their part, & i'd look for more & better offerings in the future. I'm finding this ghost story enticing enough to keep playing, & am further drawn in by the presentation of the ghosts themselves, which are quite well done, with very good voice acting. I missed the CE of this somehow, but don't think i'd go there regardless because the game isn't as smooth as a CE should be. But overall the SE seems good, with ghosts, hauntings, nice artwork, & a decent story, & i foresee good stuff yet to come beyond the demo time. I'd recommend giving it a try if you like ghost stories & spooky places to roam. I do, so i'm going to go press Buy Now & save some lost souls. Have fun gaming, folks!
June 21, 2012
Nice game!
The storyline is good (as the title says: free the lost souls on an island...). I played in expert mode. The sound is good. The graphics are clear. Sparkles indicate the HOS. The puzzles are quite easy. It would have been nice to have a map, but there are not that many locations, so it's ok. It's not a very long game (I needed 3 1/2 hours), but I nevertheless spent a good time!
June 21, 2012
Gets progressively more difficult! Awards & achievements in SE
TITLE?Haunting Mysteries: The Island of Lost Souls VERSION?Standard Edition (full game) DEVELOPER?Fuzzy Bug Interactive GENRE?Hidden Object Puzzle Adventure (supernatural) STORYLINE?You're flying north of Scotland when an unnaturally strong storm suddenly forms and forces you to crash land on an uncharted island. You soon discover the island is uninhabited as well, with the exception of a myriad of spirits trapped by an evil ghost bent on fulfilling an unrequited love. In order to escape the island, you must free the spirits and banish the ghost, presumably to you-know-where. OVERVIEW?I bought this on a whim when it was offered to me at discount after acquiring another game. Many Fishies who reviewed it indicated they thought it should have been a CE. That, plus the attention to detail I noticed in the graphics shown in the screen shots intrigued me. I was pleasantly surprised to find a familiar storyline extremely well done, brilliant graphics, and a game that became progressively more difficult. GAMEPLAY?Point 'n' click adventure with HO scenes and puzzles. The HO scenes start out relatively simply?zoomed in views with larger objects?and progress to incredibly difficult?full rooms with small, well-hidden objects. Similarly, the "haunted souls" are, in the beginning" easy to spot. Near the end, there were several scenes where I couldn't find the soul to save my own life. Puzzles were mostly familiar, but saved by the gorgeous graphics and level of difficulty. INTERFACE?Journal: None. Map: None, and while there is some backtracking, it's not onerous. Hints: You'll need them! See the rest of my review. Specials: 32 awards to be won, and 40 "haunted souls" to be found. The "haunted souls," while remaining in one place, tend to morph in and out as shadows move, candles flicker, etc. Strategy Guide: N/A. TECHNICAL?Didn't accept my trackpad's tap setting; I had to actually click. GRAPHICS?Incredible use of color, texture, and light and shadow to accent the mood of each scene, to aid in hiding items in the HOs, and to add to the player's immersion into the game. CUTSCENES?The "storytelling" cutscenes were mainly each spirit just shimmering while the voiceover filled you in. There was good in-game action animation (when putting a key into a lock, for example). MUSIC?I heard two themes repeated ad nauseum, and often abruptly cutting off to dead silence. This is an area where the devs could use improvement. And, really, you don't have to have a melody playing all the time. But at least give us some ambient sounds, some moodiness. Go back and play Myst to see how it's done really well. SOUND?Same complaint as "music." Other than waves crashing onto shore when you were near ocean, there was often dead silence. Ambient sounds add a LOT to player immersion. VOICEOVER?Absolutely perfect. Other devs should play this game just to see how voiceovers should be done. SUMMARY?If the music and sound had been on point, I could have given this game 5 stars. The devs took an old story and retold it beautifully with the help of brilliant voice acting, excelled in the graphics department, and developed a game that grew progressively more difficult from beginning to end. If they step it up in the music/sound area and give us some unique storytelling, I can't wait to see what they do next.
March 20, 2013
Just creepy enough
Liked this game very much. Enjoyed the traveling to Scotland. Loved the voices of the characters. Help Lillian get free from the hands of evil. Hints not of much use. Graphics beautifully done. I did not find all the lost souls, hidden too well. Would have liked the story to last a bit longer, not many places to explore. But for an afternoon of fun try this game.
June 23, 2012
Well Done!
This game is a real treat. I felt it was very user-friendly in its mini games and object/ghost interaction. Not too many hidden object games, and the back and forth wasn't obsessive.
July 10, 2012
very good but short
the graphic and the story were good but overall lenght of the game wasn't long enough. I'm finding that the games nowadays are only allowing you to complete one task at a time. The inventory you carry is mininal and that makes it the overall game too easy. imho ('12)
October 1, 2012
Really great game
Great graphics and story. Some puzzles left me confused, but I still liked the game.
July 13, 2012
Enjoyable Game
Fun to play. Many different scenes and mini games.
January 23, 2014
Spooky Fun Game
A very fun spooky game from the very beginning. Love the 3D quality of it.
September 20, 2013
The Apple logo is a trademark of Apple Computer, Inc.
The Windows logo is a trademark of Microsoft, Inc.