Alchemy Mysteries: Prague Legends
Follow orphan Eva on a trip to mystical Prague in Alchemy Mysteries: Prague Legends. After a relative's mysterious death, Eva inherits an ancient house in Prague. Knowing nothing about her past, she goes looking for answers. There she uncovers secrets about the house, her family and an insidious plan of the black alchemist. A wonderful and dangerous adventure is about to begin. Are you ready?
Mysterious atmosphere in old Prague
Alchemy items and secrets to find
Fantastic puzzles to solve
Game System Requirements:
OS:

Windows XP/Windows Vista/Windows 7/8

CPU:

1.0 GHz

RAM:

512 MB

DirectX:

9.0

Hard Drive:

514 MB
Game Manager System Requirements:
Browser:

Internet Explorer 7 or later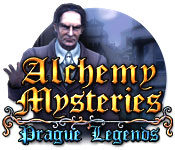 NEW299
The Big Fish Guarantee:
Quality tested and virus free.
No ads, no adware, no spyware.

Reviews at a Glance

Alchemy Mysteries: Prague Legends
0
out of
5 (
0
Reviews
Review
)
Customer Reviews
Alchemy Mysteries: Prague Legends
41
41
A Good Adventure Game
I use to love these types of adventure games and it has been a while since we had one from these developers. Albeit, everything about this game may look dated to some but it has an appeal on its own. I love the 3D like graphics and animations which reminds me of some of the older Adventure games I use to play. I remember these developers and they do have flare when it comes to storylines. Based on the demo trial, I enjoyed the game play as well as the storyline. This time our adventure takes us to the beautiful city of Prague where our Heroine has inherited a house and embarks on an adventure that will reveal the mystery surrounding the truth about her family. You have options for cursor, scroll screen, wide screen and there are 2 modes of game play. There are voice-overs and game features include a journal, task list, interactive map where you can jump to places as well as follow progress and a hint system that only shows you sparkles. Game play is mostly adventure with HO scenes and some puzzles thrown in. The HO scenes are interactive and offer something extra; sometimes you need to leave the scene to find one paticular item on the list. This game does have merits and is challenging as you need to use your brain cells in order to figure out where to go and what to do; especially in the advance mode. I expect hard core adventure players will have a blast with this one. Once again, the game looks dated, there are some samll glitches in the game play and some of the instructions (due to language) are vague. However I really enjoyed my hour of game-play and look forward to continuing on. The story I found intriguing and I really do love getting lost in Proague.
September 7, 2012
Pretty cool game
Great storyline: Eva is coerced into going to Prague by being told she inherited a home from a distant relative. Once there, she is faced with numerous challenges and danger as she tries to find out more about this distant relative. Great characters and VOS. Interactive map (yea!). HOS interactive, and some parts are other places. Puzzles a bit hard, and long skip button. Had to do a walkthrough to figure out how to use that magic lamp thingee. A lot of seek and find, which I love. One weird thing, tho: from the original scenes, when you return to the house, the colors became muted, and even the graphics changed. Strange. The ending gives a hint of future games in this series. Good length: 5.25 casual play.
September 9, 2012
Different that other HIdden Object games, but still good!
Yeah, it's different than other HIdden Object games, and the puzzles are easy to solve, in my opinion. And if it's too difficult, the skip button charges pretty fast. The hint button is very helpful, and the journal is a good help too. I wasn't too fond of the voices though. I either read it myself or skipped it. The game is kind of adventure-y too. But I enjoyed that. The story was nice too.
September 10, 2012
great for me!
First, I don't care about negative reviews in this game. For me, it's truly fun game. Sometimes, I get bored playing games with so many HOS. This game can balance it. It's not usual so I don't get bored easily. Thanks dev, I love it and god job!
May 17, 2013
Alchemy Mysteries
An interesting story plot with a lot of turns, the graphics are very good and the hint button helps in two ways to tell the direction (even if the hint button still needs to refill this works) and the hint itself. An excellent game very imaginative.
November 26, 2012
One of the Best
Had all the elements of a FUN game.
September 8, 2012
So Different, Not Your Normal HO.....more adventure
The lead character is female, who has grown up in an orphanage and comes to Prague to collect an inheritance and try to find information of her unknown family. There is mystery, intrigue and a touch of sci-fi. Not your usual HO game. Plays like an adventure game. Screen moves right to left reminiscent of panoramic yet does not make you dizzy. HO is interactive; you will actually leave a scene to acquire an item to complete a task in the HO. Items in HO are not cluttered, but some are rather small and prove difficult to see. There is a click penalty. There is a button available to Skip HO! Knocks HO to a totally different level of play (and interest). There is voice over acting and text to follow with. Graphics appear a bit blurry, rather ?rustic? looking; I think this is to create an atmosphere. Two modes of play casual and adventure, NO sparkles in adventure mode. You are able to ?fill screen? in the options, change curser etc. Your map lets you teleport, and legend in bottom right will explain what is available to do or not. Journal records information for later use. Music is soft and background, not intrusive. Some unique puzzles that I?ve not seen before and there are 18 in the main menu intro that will be unlocked as you finish them, so you may play again at a later time. While we have had games lately that have had extraordinary graphics, this particular game holds you with its unique type of play, and intriguing story.
September 7, 2012
Creepy, dark, and just a bit of evil fun!
This game is pretty good, all in all. Now, if you are expecting the crisp, bright, clear graphics in some top-level games, you'll be disappointed. However, the graphics, colors, textures, and environments are perfect for the story line. You are an orphan, lured to Prague by news of an inheritance, and you didn't even know you had relatives! The story moves along well as you fight evil magic to save the world, and yourself. There are characters in the game, both real and from "the beyond" who will both help you and try to destroy you. With the rather dark and creepy story developing as it does, bright colors and more cheerful scenes would not have been appropriate. Hidden object scenes were typically junky, but most items were fairly easy to find and, to make it a bit more interesting, you carry items in your inventory that help you clear hidden object scenes. As usual, you are rewarded with something from each scene that moves the game forward. In saving the world, there is a lot of running around to do, but a map that allows you to "jump" from place to place, with active areas marked as so, makes it a piece of cake and you don't have to worry about getting lost. Each scene in the game will rotate 360 degrees, and it's very smooth. You can even choose "smooth rotation" in the options menu. There is no dizziness or "sea-sick" kind of feeling. If you get stuck, the hint system is very helpful. It will tell you where to go and, if applicable, tell you what you need to use from your inventory to accomplish a task. I call that a great hint button, and I used it a few times, as I did get stuck and wasn't sure what to do next, but the hint system fixed me right up. I finished the game in an evening..about three hours, and skipped two puzzles. All the puzzles are skippable in a pretty short time, and some are quite interesting. I found all of them fun, but a couple - I just couldn't get, so..the handy skip button, and there is no penalty for skipping. I also didn't run into any penalty for over-clicking. I clicked all over one scene as quickly as I could, just to see if anything would happen and nothing did. My only real negative point to make is that picking up an item from inventory did get frustrating. When you mouse over an item in inventory, it "rises" up and you click on it, but you don't always come away with the item. Oftentimes, it would sit back down and I would have to click several times to get an item from my inventory to where it needed to be used. I turned down the music, as I almost always do, but not because it was annoying or anything. It's just something I do when I play. Game play was pretty smooth, moved along logically, and kept me busy from one scene to the next with very little lag in activity. The voice-overs in the game were good and there was a good amount of dialogue, but it was skippable. I don't skip dialogue, as it usually will help fill out the story and add valuable information, but you don't need to read it all..or listen to it all..to complete the game. Overall, a game that kept me engaged all evening..not to the level of something like Mystery Case Files or games like that, due to less-than-perfect graphics, but I think the developers did a good job of creating a good environment for a creepy, cool story with amulets, bad guys, magical creatures, ghosts and ghouls, and..maybe...a love interest? Try the game for yourself. I think you'll enjoy it, too.
September 7, 2012
Prague Legends
An entertaining adventure of an orphaned woman who is suddenly a heiress to a mansion in Prague in a very ominous setting. Even the assistant who meets her seems menacing (but not to the heiress). Brilliant artwork - Prague is a beautiful city and the graphics show it. Live actors (though their performance is bit stunted) in the street is a good touch. Cool puzzles; minute detail for animation (little flies crawl on the wall). The sudden appearance of ?things? (read parts of beings, like talons) lends to the suspense. Disappointed in the long load between some scenes where you are staring at black. Interesting IHOGS: sometimes you have to find parts of an object in the scene and put them together; other times, you will use something in your inventory in the IHOG; still other times, you will have to go out and find part of an object in one of the environments before putting it into the IHOG. The environment is very large so you will need pencil and paper to keep track of what needs to be done in which locations. A well-crafted game.
September 7, 2012
Interesting game
Found this to be different than the usual HOG. Hints recharge fast. It seems you can even skip the ho's when you want. Never tried, though. Don't know why anyone would say objects are "blurry." They do explain some are until you find what goes where.
September 7, 2012