Jar of Marbles II: Journey to the West
Embark on an epic journey and relive one of the great works of Chinese literature in Jar of Marbles II: Journey to the West! This thrilling physics based Match 3 puzzle game chronicles the fantastic life of Sansang, a monk that defied an emperor and went on a quest for the truth in a time of war. Solve puzzles in beautiful hand drawn environments and meet Sansang's fantastic companions, the Monkey King, Dragon Prince and others.
Explore mythical China
72 levels of play
Encounter new challenges and power-ups
Game System Requirements:
OS:

10.8/10.7/10.6

CPU:

1.4 GHz (INTEL ONLY)

RAM:

128 MB

Hard Drive:

56 MB
Game Manager System Requirements:
Browser:

Safari 4.0 or later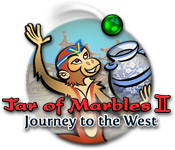 NEW299
The Big Fish Guarantee:
Quality tested and virus free.
No ads, no adware, no spyware.

Reviews at a Glance

Jar of Marbles II: Journey to the West
0
out of
5 (
0
Reviews
Review
)
Customer Reviews
Jar of Marbles II: Journey to the West
31
31
FOUND MY MARBLES!...
I have been waiting for a M3 that is new and different...this is IT!...I passed on the day it was offered because not into the marble shooter games...when I realized it was M3...I decided to just 'try it'...was I 'greatly' surprised! It has a style that is unique in matching your 'marbles' and even if you are timed it does not do the 'penalization', its just 'replay'...Once I got the hang of it I also noticed that game has good information and also thought it may get 'bored' in the long run!...not...will leave on my game manager to my 'go to game' ... quite pleasant music, great graphics...well just 'try it'...
August 28, 2012
Great Match 3 Game!
Love the look and feel of this game, the game play is very fun and relaxing after a hard day. Special FX and power-ups are especially nice. The difficulty level progresses at a good pace and the game becomes quite challenging in later levels.
August 29, 2012
Awesome Match Game
This is a fun and easy to play game. But by "easy to play", I don't mean it is an easy game. While it may start off with basic Match 3 principles, it quickly progresses to more challenging levels. As you progress through the story, following the Path to the West, you ascend a mountain and not only do the jars and marbles start to change, but you run into weather changes as well. The colder it gets, #snow in the mountains# the more likely you are to get things like locked or frozen marbles. There are a variety of Powerups to use that will help when you get stuck somewhere, or to unlock or thaw marbles, such as the Powerwheel, Cherry Bombs or Lightning, or more time. The art is top notch, everything looks great. The music is very asian and peacefull, one might even say, zen-like. The sounds in general match the game play very well. Overall this is a game I can see myself, and my kids, and my wife, playing a lot of. In fact, all of us are quite addicted to the game already, after only a short introduction...
August 28, 2012
Marble shooter enthusiasts may enjoy.
More of a marble shooter game than a match 3. Sadly only a timed version which ruined it for me. The game has a one paragraph story. Those players that enjoy this type of marble shooter game & timer may enjoy the game play as it has several power up possibilities. Marbles will load a fish bowl from two dragons mouths, one from each side. The graphics of the dragons with the flames coming from the nostrils sounds better in writing about them, than they were in reality. As the marbles load, any matches will flow vapors of steam away toward the lower left side of the screen. Kind of like the dragon burned them away& builds up power. Power ups will be available later. Bomb, timer, lightning bolt & fire. 35 levels up the mountain and 35 down- yes I counted the steps. Option of switching 1st marble with 2nd which adds to game play possibilities. No signing in of your name but opening screen had Play,Options & Exit. Options page includes sliders for effects which was music and environment volume which was sound effects. The music was calm and peaceful and the environmental sounds were marbles clicking, a bit of dramatic sounds as each scene began or ended and some birds chirping. You could also use a slider scale for your screen resolution and it would automatically set to your computers needs. You could also choose to un-click the full screen option. Also from the options page you could choose to click on reset game or achievements. There are 12 achievements but I could only read the first 5 as they are locked from sliding to read the remaining. NOT sure WHY???? #1 Match 4- making of 20 matches of 4 marbles #2 Match 5- making of 10 matches of 5 marbles #3 Zen Marbles- complete 20 levels w/o power wheel #4 Bomadier- use of 4 bombs in the game #5 Power User-use power wheel 10 times Each achievement keeps count of your totals. The goal is to match all marbles with the puzzle pieces on them. Each level a piece was added to a 9 piece puzzle in the top left. You must create matches of three or more of the other colored marbles so that those marbles will be turned to smoke vapors. Marbles in the bowl must be touching to count as a match 3 or more but when dropping the marble I found the marbles in the bowl were not always quite touching but when I dropped the marble they disappeared. Hopefully this game will appeal to marble shooter lovers who also enjoy being timed. I along with many of the other reviewers wish it had a un-timed version as I may have enjoyed playing the game longer than the demo.
August 28, 2012
Lost my marbles!
Fun variation on Match 3. Very colorful with an asian theme. The music is very soothing and I needed it! The play is fast and it is not always easy to get from one level to another.
August 28, 2012
Jar of Marbles II
This games graphics and music was fine. I liked the idea of the game but found it frustrating having to do the same level over and over. I would have liked it better if there was an option to play an untimed version so I could have played at a more relaxed pace.
August 28, 2012
Different
I found it a little boring after 10 minutes of playing although the level of challenge was good the further I got into it. Its not a game I will buy but I think it may do quite well. I am sure the further you go in to the game the better it will be, but I was so bored after 10 minutes I just lost interest in the game. The graphics are nicely done the music not to bad, It just didn't have the wow factor. It didn't make me feel as if I couldn't wait to play it again. I love match 3 games but this just wasn't the same . In order to be different I think it has gone to far and lost the plot altogether.
August 28, 2012
A nice evolution
I loved the original Jar of Marbles, and this is an awesome step up. It's the same game at its heart, but feels like a much richer experience. The art is beautiful, the sound compliments it well, and all-in-all, the game has a great atmosphere. The gameplay is generally easy to understand, and the physics-based nature of the game makes for a challenging experience. It's sometimes frustrating when a marble rolls somewhere you didn't expect, but often times that leads to an even more advantageous position. Definitely worth a shot.
August 28, 2012
disappointing
I loved the first jar of marbles game. When I saw the title, I thought, "wonder what new jars and marble types they added?" What I really enjoyed about the first one was the ability to compete against myself - to improve my fastest times, but that really isn't an option in this game. This one is all about the quest and beating the clock. No picking jar types or difficulties; no choice of what marbles you use, just level after level of 'more of the same.' Some of the marbles were hard to distinguish from one another, and often the colors of the background would make them even tougher to see. All in all, a big disappointment.
August 29, 2012
Disapointment
I was so excited when I saw a new Jar of Marbles had been released because I loved the first one. This one doesn't even compare. It is less realistic, doesn't give you choices of difficulty or jars or play methods. Big Disappointment!
August 28, 2012
The Apple logo is a trademark of Apple Computer, Inc.
The Windows logo is a trademark of Microsoft, Inc.