Safari Quest
Jane is sent to Africa to find a rare white lion in Safari Quest! Soon, she finds herself on a plane bound for Match 3 adventures. Joining her are her animal friends Chippy the ape, Leo the lion, Heppo the hippo and Stripy the Zebra. The hunt for the white lion is more difficult than they'd ever imagined, but Jane has an ace up her sleeve. She can change the Match 3 mode whenever she wants, playfully solving even the most devilish puzzles. Are you ready for the adventure of a lifetime?
100 challenging levels
Freely selectable Match 3 modes
Easy to get started – hard to stop!
Game System Requirements:
OS:

Windows XP/Windows Vista/Windows 7/8

CPU:

1.0 GHz

RAM:

512 MB

DirectX:

9.0

Hard Drive:

41 MB
Game Manager System Requirements:
Browser:

Internet Explorer 7 or later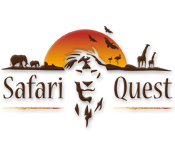 NEW299
The Big Fish Guarantee:
Quality tested and virus free.
No ads, no adware, no spyware.

Reviews at a Glance

Safari Quest
0
out of
5 (
0
Reviews
Review
)
Customer Reviews
Lions and Hippos and Apes....OH MY!
Quite the little relaxing and fun match 3 (M3) game I've played in some time. Storyline: You are Jane and you have been sent on an African Safari to find a rare white lion. But, never fear, Jane/you has 4 animal friends along to give her help. Chippy the Ape, Leo the Lion, Heppo the Hippo and Stripy the Zebra. The hunt for the white lion is harder than they thought it would be but you have a secret weapon. In this match 3, you can change game modes from swap to match to group. And there are a LOT of puzzles to get through - 100 in all! Graphics: Usual fare. Colors easily recognizable. Grass is green, etc. etc. Sound: Sound effects are fun. Background music is annoyingly electric guitar sounding and I had to turn it off. Game Play: You guessed it! This is a M3 of the highest order. First, you have your 4 animal friend helpers (see Storyline above) but I never did figure out exactly what their powers/bonuses were. In order to activate them, each animal friend is shown on the M3 board and you have to get them to reach the bottom while matching, swapping or grouping jewels of 3 or more. And, it's definitely not as easy as it sounds. Because, while doing that you have also got to remove all the "grass" tiles and the number of each jewel shown above the game board. Is that keeping you busy enough? And, you get to do all this through all 100 levels of fun. I really enjoyed this little game and I am quite picky when it comes to M3 games. I have quite a few on my Game Manager and will most likely add this to my wish list. I highly recommend this for anyone who wants a bit of relaxing fun. Try the free demo. It's only an hour and it's free. Happy Gaming.
June 8, 2014
Could have been better
I didn't find this game too bad. I mean, it wasn't a five star but neither was it terrible. I had no problems seeing the squares as some others did. I found the game to move quickly and it was nice that there were 3 different modes of play. I found the music & effects to be neither good or bad, just indifferent. The power ups were cute but not terribly effective. I am going to purchase the game because I have been so starved for something new in the Match 3 genre and this is as good as it has been for quite awhile. Since I have many games in this genre that are way more challenging, this will be a good one when I just want to play a game and not have to think too much. I recommend this game to anyone who just wants a game to lay back to. If you're looking for a challenge for your gray matter...look else where. Btw, this would have been way more fun if you had been able to actually set up a safari land with your winnings...don't you think?
September 10, 2012
Safari Quest
There are too many objects hidden beyond the screen
October 6, 2012
Fast and nice to play, but it gets boring
This is a rather typical 3-match game. You play through levels to get some sort of objective which is not really too important - the game does not put too much stress on a storyline. You have 4 animal companions with different abilities (a way to designate 4 power ups you can get by helping that animal "fall" down the game board). The game mode can be changed from swap to chain to group clicking DURING the level. Wow! that's a nice idea, because when you switch from any to match 3 you usually get some matches automatically and this adds options to the game. I was surprised by the fast reaction of the interface, really nice for a 3-match game. It IS really fun for a while, BUT, after twenty levels or so it looks like you have discovered everything the game has to offer; you got your 4 companions, and the levels become too similar to keep going...
September 10, 2012
Mixed Review
I often like simple games with multiple options (switch, chain, group) so I wasn't disappointed with that. I agree with someone who said that sometimes it's difficult to distinguish the items in the cells, especially when there were two different blue ones that looked a lot alike. FloridaGirl7264 said: "I am annoyed that I can't make swaps with the animal power ups. You have to make swaps beneath them in order to move them down the board. Other than that, I enjoyed the game and will be purchasing it." I agree with her. On week 1, level 10, I got into a situation in which the level was not solvable because you can't swap the animal power ups. I had to go back to the previous level so this level would be "reset" in order to beat it. I found the music annoying; I eventually turned my speakers off. But still it's a cute game that I probably will buy.
September 11, 2012
Easy M3 to Relax With
The pros of this game are that it moves fast, you can change between swap, chain or group modes during game play and you earn lots of bombs. You're given goals of acquiring a number of colored gems or other items in each level, along with clearing the tiles and removing the rock blocks. The graphics are bright and colorful, but the music is hardly what you'd expect on safari, more like acid rock from the 80s. If you ignore the very loose storyline and the music, the game is fun and relaxing; however, in the one-hour trial, I completed 36 of the 100 game levels. If you purchase the game you'd be through it in less than a few hours. May be a fun introductory game for beginners and younger players.
September 20, 2012
What was I thinking?
I'd played this game before so didn't understand why it was "Tomorrow's Game" today. True, the sound/music was definitely unappealing bordering on annoying. In spite of playing in Full Screen mode, it was still hard seeing where the squares were that still needed to be uncovered. Nope, this is not one I would recommend, and I really don't like timed mode although all the games I played I finished long before time was up. This might be a treasure to someone, just not me!
September 10, 2012
No Sale
Game actually wasn't bad except for their good old custom cursors. I refuse to buy a game that MAKES me use a custom cursor when I have no desire too. I want my mouse and cursor to move where I want when I want. This game didn't have as much hesitation to it as others do but any hesitation is to much. The game itself was ok enough that I would have bought it if not for that. It does let you pick what style you would like to play ie swap chain or click on groups.which is a nice feature in Match 3 games as I like swap and my husband only likes click on the groups.
September 10, 2012
boring
Found ths game to be boring. Seems like a very cheap game.
September 11, 2012
ok match 3 game
no story line,but match 3 is ok
September 11, 2012