Mystery Heritage: Sign of the Spirit
Investigate a mysterious and deadly curse! in Mystery Heritage: Sign of the Spirit! A recent death in the Williams family brings about rumors of an age old family curse placed upon them by a witch. Was this death part of the witch's revenge? You have been called in to investigate this and stop hysteria from reaching the rest of the town. Was this death the result of the curse, or is it part of something deeper? Find out in this thrilling Hidden Object Puzzle Adventure game!
Uncover a hidden family secret
Interrogate a number of suspects
For a more in depth experience, check out the Collector's Edition
Game System Requirements:
OS:

Windows XP/Windows Vista/Windows 7/8

CPU:

1.2 GHz

RAM:

512 MB

DirectX:

8.0

Hard Drive:

472 MB
Game Manager System Requirements:
Browser:

Internet Explorer 7 or later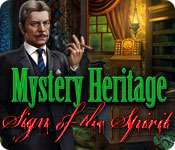 NEW299
The Big Fish Guarantee:
Quality tested and virus free.
No ads, no adware, no spyware.

Reviews at a Glance

Mystery Heritage: Sign of the Spirit
0
out of
5 (
0
Reviews
Review
)
Customer Reviews
Mystery Heritage: Sign of the Spirit
40
40
good game
played demo fun thinking of buying especially since it will give me an extra punch
September 8, 2012
Walkthrough
This was a nice detective adventure. I had to use a walkthrough a lot though. There should have been a map, which would have made it a lot easier and more enjoyable. I had a lot of difficulty trying to remember how to get to each place. I don't like a Hint that just says "nothing to do here, look elsewhere". I'd rather the Hint gave directions. I did like that I could skip the mini-games as some of them I didn't want to play. In spite of all the difficulties, it was a fun game.
November 22, 2013
Four times
I did this game four times I kept making mistakes, and getting ahead of myself, I'm pleased I stuck with it though, it was annoying, and although the story was all brought together, for me it ended bluntly, but that's JMO, it has some surprises as well
September 26, 2013
Glad I Waited For The SE
I passed up on the CE version and opted to wait until this version came out and I am glad I did. Reason being is that I I feel have outgrown the basic HOPA games that still feature outdated graphics, alot of back tracking and a story that has been used over and over again. Mystery Heritage is just that; a good but not great HOPA that we have been seeing over and over. The story is old as time, A death, a Family curse, a mysterious suicide and a detective out to find the truth. Game features three modes of gameplay which you can change during play. There are voice-overs and music that is on a loop. The graphics are crisp and visuals look like hand drawn art-work that at times look dated. There are voice-overs that are decent but no sound effects. Visually the entire game looked slightly old and the gameplay was rudimentary, your basic seek, find and use. HO scenes had no interaction and there was no map so expect alot of back-tracking. The mini- games are uniquely designed and some fun. There are no bells and whistle to this game so basially you have a spook story and a good HOPA that is really your basic Standard Edition Game that sadly lacks a challenging gaming experience. In my opinion it totally missed the mark as a CE but today, Hard-core players will be slightly bored but new-commers will definitly enjoy.
September 8, 2012
Deja Vu
I bought this game, but am not really enthused. I'm almost as sick of starting out in front of a gate with a car to investigate as I am waking up in a hospital or a jail! This one is easier than most, but very much the same. The extra punch this weekend inspired me more to buy this game than the game itself. At least the car was a neat one.
September 8, 2012
MAP & BETTER HINTS NEEDED
The two major problems I have with this game are the lack of a map and the non-directional hints, which, along with the large number of possible locations, make a guessing game out of where you might need to go next. The voiceovers and personalities of the characters are hysterical! The uncle has the proverbial tight sphincter; the gruff friar and prissy magician are for some unknown reason angry and belligerent. I really enjoyed the spooky atmosphere, but I'm on the fence about this one. I might get it as a DOTD or COTW.
July 20, 2013
Detective Stories Should Make Sense
This is on the SE of Mystery Heritage. It is weird, but I liked most of the game. It had a few too many hogs for me and a couple too close together, but I liked it anyway. Most objects aren't hard to find, There is a book, which is good until the end..... There is no map and the hint button helps most in the hogs. The rest of the time, it tells you what you already know (unless you did miss something#....."There is nothing to do here..." The story starts out good...which gets into my biggest problem with this game. This is a standard hog, not to hard, but pretty "glitchy". I even had to leave and come back a couple of times. Clicking around sometimes helps as not everything is easy to find. Also, if you can't enter or do something in an area, try leaving it and coming back. Maybe you won't have to leave the game. ****SPOILER ALERT***** #At least kind of# If you want to know why I did not buy the CE, the biggest reason can be found in the forums and has to do with the bonus section. Lets just say the Bonus helps make the story even more confusing. Soooooo....back to the biggest problem with this game...it ends very quickly and doesn't really make sense. There are too many questions and the last bit is all over the place. The questions don't seem to have anything to do with a sequel, and, if there is one it better explain EVERYTHING......grrrr. I love detective stories and this one missed the mark here. I'm not even sure who it was who "solved the case". I hate when they do this. There is another game out there that has an ending that is just there....bammo. This game is kind of like that. I guess the devs got sleepy or couldn't decide whodunit. Depressing. I recommend this game to pass the time, but would hesitate to buy another like it.
September 19, 2013
Nothing new !!!
It's a Middle of the road HOG. It's honest. Graphic are good, structure of scene ok There's no map, wich is a bad point. I'll say a recommend this game. But since we had wonderfull release in the last day, I won't buy it. It's a little bit boaring.
September 8, 2012
Oh I Believe I'll Pass On This One - An OK Game Just Didn't Grab Me
I usually do reviews on the whole game unless I'm not purchasing it which happens to be the case here but this is based on the whole demo trial time. The story: You take on the role of a detective investigating your uncle's mysterious death/suicide to find out the truth. 8 chapters and I was just starting chapter 3 when the demo time ran out. 3 play modes where you can switch between modes at any time during the game. The only difference with the hardest mode as there is no skip or hint. It states there are no glints but they are there so I just played in the advance mode to have the hint/skip available which is less than a minute to use it. There is a journal, no map, but the game does have voice overs along with text dialogue on the screen you can read. I did meet up with a couple of people during the game where you have to do a task for them to help you move forward in the game but there is no "task" list of things to do., The HOS (hidden object scenes): I did 4 scenes during the demo time with 12 items to find in each scene. Found by word list and they're not interactive. The hint can also be used outside of the HOS at it will either direct you where to go or state "nothing at this time." Puzzles: I came across 6 puzzles during the demo time: Fill row/column with same color balls, assemble a circuit board, enter a code for a suit case, move red chips to bottom and blue chips to the top of screen, place the blocks by matching the adjacent sides, place the skulls in the correct place by rotating them. The skip is also pretty quick. My overall impression: I'll start off with what I liked: The time I played this seemed to have the "adventure" side to it the traveling/back forth and you meet up with some people to do a task for them. The story while yes it's been done before and many times I didn't have any problems with the story or the voice overs. The puzzles while I'm not really a fan of these I did them all but the skull one as I don't much care for the "rotating" type of puzzles. What I didn't like and where this went down the hill: I just wasn't too impressed with the graphics especially the HOS as I found them to be too dark. To my surprise only a couple of hints here. I also didn't much care for the music as while it started off pretty good but quickly went into an endless loop and was getting on my last nerve. This game also stated there would be no glints in the harder mode but they were there. I do like to figure out on my own but at the same time like to have the hint/skip available when needed and not having to go back/forth between modes. Oh and there is also a witch in this game and what I played of this she would just appear and then disappear and not even say anything (insert the alien emoticon from Big Fish forum here). I'm not sure what was up with that? Maybe she does more later in the game but I'm not spending $6.99 or a punch code coupon to find out. Overall, I just found this to be an OK game as it's definitely far from the worst I've downloaded but have played much better. I'm sorry Big Fish and developer but the best I can do for this is 3 stars as it just didn't grab me and really have my attention to purchase it. As always give it a whirl and decide for yourself.
September 8, 2012
Its O.K.
This particular type of HO game is not for me that is why I do not play a lot of this type. I do not like having to go from scene to scene collecting all kinds of inventory before you can move on, that is why I gave a "poor" rating for fun, because it was not fun for me personally. The graphics are crisp and clear, the voice overs are understandable and the HOs are good, I do not listen to music during any games so I can not comment on that. But for those who like this type of game your going to enjoy it.
September 9, 2012
The Apple logo is a trademark of Apple Computer, Inc.