Mystery Heritage: Sign of the Spirit
Investigate a mysterious and deadly curse! in Mystery Heritage: Sign of the Spirit! A recent death in the Williams family brings about rumors of an age old family curse placed upon them by a witch. Was this death part of the witch's revenge? You have been called in to investigate this and stop hysteria from reaching the rest of the town. Was this death the result of the curse, or is it part of something deeper? Find out in this thrilling Hidden Object Puzzle Adventure game!
Uncover a hidden family secret
Interrogate a number of suspects
For a more in depth experience, check out the Collector's Edition
Game System Requirements:
OS:

Windows XP/Windows Vista/Windows 7/8

CPU:

1.2 GHz

RAM:

512 MB

DirectX:

8.0

Hard Drive:

472 MB
Game Manager System Requirements:
Browser:

Internet Explorer 7 or later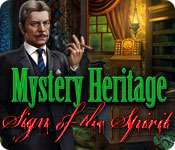 NEW299
The Big Fish Guarantee:
Quality tested and virus free.
No ads, no adware, no spyware.

Reviews at a Glance

Mystery Heritage: Sign of the Spirit
0
out of
5 (
0
Reviews
Review
)
Customer Reviews
Mystery Heritage: Sign of the Spirit
40
40
Never given a 3 star before
I will not be buying the CE of this! there is no map, too many places to try and recall. No collectables and no continuing trail to follow. You have to go from place to place with an owl that says 'there's nothing here, look elsewhere'. One tends to lose the thread and then it becomes necessary to get the walkthrough from Bigfish to lead you back to where you can go on yourself. There are very few games and those can take forever to get the things in the right places. Too many HOS and all of them fairly dark. Nup! There are better games out there. Don't waste time on this one
October 2, 2013
Detective Stories Should Make Sense
This is on the SE of Mystery Heritage. It is weird, but I liked most of the game. It had a few too many hogs for me and a couple too close together, but I liked it anyway. Most objects aren't hard to find, There is a book, which is good until the end..... There is no map and the hint button helps most in the hogs. The rest of the time, it tells you what you already know (unless you did miss something#....."There is nothing to do here..." The story starts out good...which gets into my biggest problem with this game. This is a standard hog, not to hard, but pretty "glitchy". I even had to leave and come back a couple of times. Clicking around sometimes helps as not everything is easy to find. Also, if you can't enter or do something in an area, try leaving it and coming back. Maybe you won't have to leave the game. ****SPOILER ALERT***** #At least kind of# If you want to know why I did not buy the CE, the biggest reason can be found in the forums and has to do with the bonus section. Lets just say the Bonus helps make the story even more confusing. Soooooo....back to the biggest problem with this game...it ends very quickly and doesn't really make sense. There are too many questions and the last bit is all over the place. The questions don't seem to have anything to do with a sequel, and, if there is one it better explain EVERYTHING......grrrr. I love detective stories and this one missed the mark here. I'm not even sure who it was who "solved the case". I hate when they do this. There is another game out there that has an ending that is just there....bammo. This game is kind of like that. I guess the devs got sleepy or couldn't decide whodunit. Depressing. I recommend this game to pass the time, but would hesitate to buy another like it.
September 19, 2013
Left me scratching my head...
...after the confusing ending. It's not a cliff-hanger, but I have no idea how the villian could have ended up where he did. As noted in the other reviews, the graphics and voice-overs in this game are quite good. I played in "expert" mode and there were NO sparkles!! Yea! However, the hints were largely useless ("Nothing to do here. Nothing to do here, either." until you finally luck onto the right location) and in expert mode they recharge VERY slowly. Boo! By the end of the game, you have quite a lot of locations and you can continue to move around to almost all of them, which is fun, but it would have been helpful to have a jump map, or at least a map that showed where there was something that needed to be done. It is an adventure, so lots to do between HOSs, but there are plenty of those, too. It ran poorly on my older laptop--which does exceed the game's minimum requirements, so there's really no excuse. It halted often, hung for up to a couple of minutes between screens at times, then would crank along okay for a while. It took me several nights to complete, so it felt like a long game, but I'm not sure how long it would take if it ran more smoothly. It's not an awful game, and worth it on a daily deal, but I wouldn't recommend paying full price for it. Nothing new here, and be prepared for an unsatisfying ending.
April 4, 2013
YAWN
I always oblige myself to base a review on the complete game and not on a trial. Sometimes, this forces me to sit through some tedious hours... which has been the case for this one. Sorry folks, but there is absolutely nothing new, nor interesting, nor challenging in this game. Storyline: same old hogwash about a curse inflicted by an unjustly burnt so-called witch upon a family. Setting: gothic castle, annex cemetary, etc. etc. ... owls, crows, angry dogs, etc. etc. Music: sorry, but this kind of heavy symphonic orchestra music really gets on your nerves after a while... so, I switched it off. The sounds are OK... voiceovers are very good. Graphics: good Help: none whatsoever... no map, so you keep turning around and around, until you stumble upon something that you have overlooked or just another HOS in a location where you already have played a HOS... When you are stuck, the hint button just tells you that there's is nothing left to do... the journal keeps track of what you have done, and that's it. Challenge: no challenge... lots of HOS and you will visit each and every one twice. Few puzzles or minigames: too easy to offer any real challenge. For the rest, you can rest assured that locks will be rusty or missing one or two pieces - which you will rapidly find - and so on and so forth. I had some misgivings right at the beginning of the game: you stand in front of a gate, there's a car... you need to get into the booth of the car... the key is inside the car... you open the booth and you have your first HOS... inside the car, you need to open the glove compartment, but the knob is missing... not to worry, you get the knob from the HOS in the booth... and I said to myself: Oh, seems like I have done all this before... well, that is what this game is like. No doubt some of you will like it, but I regret the money and the time spent on this one.
September 8, 2012
The MOST tedious game ever!
I just finished this game while it's fresh in my mind because there is a LOT to say about this VERY long game. I will be honest, and admit that I played this demo and accidentally purchased it thinking it was another version. The credits are dated 2012, but the artwork, gameplay, type of hints and HOS and games all seem dated by computer gaming standards from new games coming out. The story is not bad....and while the scenes were dark and some so much alike, they were still interesting. The characters are very stiff...like paper dolls sliding into the scene....and this supposed witch (ancient ancestor) was actually pretty and then has a creepy scary clown face. Nothing intense in this game other than the back and forth FOREVER! There is no map and if a game ever needed one, this one does. The storyline is confusing because you are supposed to be investigating mishaps at this "estate"....but there are at least seven buildings/locations that all look the same. When resorting to a hint, there is an owl that only hints at an action at the scene. One scene had so many directions, I had to back out of the game and find a walkthrough. There is also a diary that is not all that helpful. I would love to see the developer take this game and update it with some better characters and more helpful tools to get through it. I rated the level of challenge with four stars because you needed to be psychic to play this. Now that's a challenge! While giving it a poor score, that reflects the basic game only. If you consider this game, play the CE version and see if it is more enjoyable. This was torture!
September 14, 2013
Could not wait to finish it. Awful.
Most of the time, when I play a game like this I dread coming to the end. I get caught up in the mystery and enjoy the brain teasers. This game was way off the mark. The story was thrown together. The graphics were mediocre. The hidden object screens were repetitive. The game itself and all the brain teasers in between were boring and uninspired. I'm going to make note of the maker of this game and not buy anything else by them.
September 16, 2012
spiritless
I have not reviewed a game for a little while, as no game has come up for me to form a different view of all the others who have taken the time to write one. But I found this one of the more boring and rather old fashioned ones. So I wont be purchasing it. Happy gaming everyone.
September 8, 2012
Really rather disappointing
Enough reviews sounded good, so I tried it. Started off well, then got deadly boring. Graphics were OK if dark, but always looking for the same objects got old real fast. The game, dare I say it, was too long. And the ending frankly was terrible. Can't recommend it.
September 13, 2012
THE WORST GAME FOR RUNNING BACK & FORTH EVER!!!
Let me begin by saying that I like a rather difficult game, play on expert mode and I don't mind having to really pay attention or think through puzzles. I normally complete my game without using the hints at all. That said, I began this game with high hopes only to run myself ragged all over the place looking for the next active area. This was the worst game I've ever played regarding this pet peeve; forget the sneakers, you will need a taxi. At first, I liked the story, it was progressing well and I was enjoying the puzzles until I found out that IF YOU MISS SOMETHING you're going to do a lot of running through previous scenes and scanning them with your curser hoping to find an active area. If you think using the HINT button will help you, NOPE, Unless there is an active area in the scene in which you're "standing" all it will say is "there is nothing to do here." In no way does the game send you off in the right direction. You have to hope that you stumble blindly into a scene in which the hint button will actually point to something. If you don't find THE LEAST LITTLE OBJECT, that will keep you from progressing AT ALL until you find it, IF YOU FIND IT. ANNOYING X INFINITY. I went from enjoying the game to hating it before the end. I absolutely do not recommend this game for anyone except a masochist. No kidding.
July 17, 2013
too many bugs
too many bugs, no possible to play
June 7, 2013