The Dreamatorium of Dr. Magnus
Step into the shoes of detective Sarah Green and solve the mystery of a missing town doctor in The Dreamatorium of Dr. Magnus. The town doctor, Dr. Magnus withdrew from society following the tragic death of his wife and daughter in a car accident. In his despair, Dr. Magnus became obsessed with the idea of contacting the souls of his loved ones. He began conducting ever more dangerous experiments ruinous to his own health until he himself, disappears. What secrets will be revealed in your investigation?
Solve unique puzzles
Uncover mysterious magic
Put your detective abilities to the test
Game System Requirements:
OS:

Windows XP/Windows Vista/Windows 7/8

CPU:

600 Mhz

RAM:

512 MB

DirectX:

7.0

Hard Drive:

304 MB
Game Manager System Requirements:
Browser:

Internet Explorer 7 or later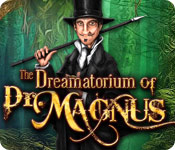 NEW299
The Big Fish Guarantee:
Quality tested and virus free.
No ads, no adware, no spyware.

Reviews at a Glance

The Dreamatorium of Dr. Magnus
0
out of
5 (
0
Reviews
Review
)
Customer Reviews
The Dreamatorium of Dr. Magnus
58
58
Definately a Casual Game....very relaxing with lots of exploring
A quiet game (very relaxing), music is soft almost nonexistent. No voice overs, no map. We are introduced to the story, yet it is slow in developing, which isn?t really an issue with this game?if you like to search and collect items and figure out what to do with them, the story plays secondary here. There are 21 achievements to collect, 25 eyes of Horus to find, recipes to concoct and LOTS of exploring. There is a fair balance of HO vs. puzzle, maybe teetering on ?puzzle lite?. 2 modes of play, casual and advanced. In advanced there are no sparkles and the hint button takes approximately 3 minutes to reload (there is a timer countdown to let you know). The art work is very well done, some beautiful even. The HO?s are not a junky mess, though full, items are clear and large (no magnifying glass required here). There is a click penalty, but if you stay at a steady pace you can avoid it. It?s a bit of a ?sleeper? game?.comes across as so so, yet is quite entertaining. Probably not the best selection for hard core gamers, but nice change to relax and browse?to just enjoy a real casual game.
September 9, 2012
There Really is More than Meets the Eye Here!
A very pleasant surprise that we have here, an adventure HOG that will require use of the grey cells which I for one am looking forward to. Our story begins with Sarah Green, a novice detective who is on her first case; solve the mystery behind the dissapearance of a Dr Magnus. This new adventure will require Sarah to investigate his home and reveal the secrets hidden there that will ultimately change her life. The main menu offers only two gameplay mode and that really is it. Once you begin your adventure, you come equiped with a notebook that will outline details of your search. There are no voice overs but you do have the odd sound effects and music; besides since you are alone, there is really no one to talk to. On the up-side, you have a list of ahcievments to acquire as well as finding 25 Horus Eyes that are hidden throughout the game. Game play is mostly adventure with HO scenes that sadly are not interactive but items did prove tricky to find. There are few minigames to solve but as I only have played the demo, I came across only one lock and for some strange reason, I need to find a manual before I can attempt to open it. Yes, the game looks out-dated, but the graphics are crisp and I really did like the art-work. There really seems more to this than meets the eyes. The challenge is in the adventure part of the game, there is no hand holding and I really do love going around and figuring out what to do next. As I moved along, I also found the story both tragic and suspicious and want to find out the secret of Dr. Magnus' dissapearance. I think this game does warrent a credit or club award. For lovers of adventure games, I think this game really has some attributes and I for one did very much enjoy my first hour of gameplay.
September 9, 2012
A delightful story
This is a delightful story which makes a welcome change to the abundancy of wicked ghosts and witches gothic stories. I don't want to divulge anything, but if you are really attentive, you should be able to guess the outcome half through the game. The graphics are very beautiful as well as the music. Sadly enough, I would have liked more of this music... large stretches of gameplay are not accompanied by music. There are no voiceovers, which would have added an extra dimension to the storyline. There are lots of plain HOS, too much to my liking and they are repeated, sometimes even immediately after you get out of one. This is something I really don't like. If the dev's want you to find two objects in the same scene, then they could give them to you right away instead of making you play the same HOS all over again. Puzzles and minigames are few and they offer absolutely no challenge. There is no map, but you don't really need one as each chapter is completely closed and there is not a lot of backtracking to do in a chapter. The hint button doesn't help you when you get stuck; It just tells you that there is nothing left to do or encircles an area of interest in case there is one. The hint button recharges at a reasonable speed. You have a journal to keep track of your investigation. There are lots of achievements to be won... be on the lookout for the "eyes of Horus" that are hidden all through the game. The length of the game is fair enough for a SE. I finished it off in 6 hours in "advanced" mode. To sum up: - good story - beautiful graphics and sound - no voiceovers - no extra help by way of map or hint button - lots of HOS... easy to do, but they are repeated - few puzzles/minigames that offer no challenge whatsoever - reasonable length. I would recommend the game for its qualites, but you can hardly call this a "WOW" game. Newcomers to the genre will most certainly love it.
September 9, 2012
What A Fun Game - A Definite More Than Meets The Eye
This review is for the whole game playing in advanced mode. This is a HOPA (hidden object, puzzle, adventure). The story: You take on the role of Sarah Green who gets her first case in solving the mystery of the missing town doctor Dr. Magnus. 5 chapters and I was in chapter 2 when demo time was up. 2 play modes: Casual/Advanced: and Advanced mode just has sparkles for the HOS (hidden object scenes) only. Gears will appear for placement of inventory items and a magnify glass for other areas of interest like reading stuff that goes into your journal. There are no voice overs as text/dialogue will be in boxes on the screen to read. Map: There isn't one but not really needed in my opinion. While this game does overall have a lot to do and places to go however to move on to the next chapter you must complete everything in the current chapter as it won't let you move forward until you do. Once you move on to the next chapter the previous chapter is closed. Yes there is some traveling back/forth but not a "wandering all over the place" type of game. HOS (hidden object scenes): I counted 23 scenes for the whole game. All found by word list. They're not interactive. Pretty clear for the most part but a couple of scenes a bit on the dark side along with some small items however I only used 1 hint for this part of the game. Hint: Takes 3 minutes. Can be used outside of the HOS. Sometimes I found it helpful. This seemed to be a hit and miss here as at times it would direct me to do something but I didn't have the inventory to do it yet. Puzzles: The usual run of the mill such as rotate the rings, assemble a newspaper (like a jig saw puzzles), arrange the books, just to name a few. Can be skipped and takes about 3 minutes as well. I skipped the rotate the rings as I don't like these. There's also 21 achievements and find the 25 Horus Eyes throughout the game. My overall impression: I must say when I first saw this game I didn't think too much of it but decided to "give it a whirl" anyhow. I'm so glad I did. What a fun game. For starters the graphics/artwork is just beautiful along with the characters. A very well done here. The story line itself was good while yes being done before however I think this could of been worked on just a bit more. As mentioned if you're attentive to the story should be able to figure out the outcome by the half way point. I just found this to be a pretty relaxing fun game as I really enjoyed the game play for the most part with a nice balance of HOS, adventure, and puzzles though I did get hung up a couple of times cause for me a couple of the areas it wasn't so obvious when something had to be picked up as I had to really move my mouse/cursor around the screen to find the areas and the items as they were pretty blended into the scene. As for game length: Took me just a little over 4 hours. Depended on your game play you may get more or less than this. Overall I give this 4 stars. I knocked this down a star as that hint I found annoying how it would direct me to do something but I didn't have the inventory to do it so have to wait for it to charge back up again. The story line while good as I mentioned could of been worked on just a bit more. Also while not a deal breaker for me since this is a SE version of a game I do think voice overs and the HOS being interactive would of really added to this game but a really good game if you are looking for something fun and relaxing. Thank you Big Fish and developer of the game. As always, give it a whirl and decide for yourself.
September 9, 2012
GREAT Change of Pace!
Loved the graphics from the start - beautiful, clear and brightly colored. The HOS scenes aren't hard but are fun because the artwork is so nice. Mini games are interesting - not extremely hard but still make you think. Putting things together and moving through the game is memory and common sense - not a lot of hand holding but easy enough to put together and do. The music is upbeat and goes with the individual scenes. All in all, appealing artwork, relaxing paced game, bright and fun. A nice change from all of the dark and evil!!!
September 9, 2012
A Refreshing Game!
My review is based solely on the hour demo. Graphics are crisp and beautiful! Music is annoying, but I usually just mute it anyway. The sound effects are not unpleasant to the ears. No map, no VO; however the HOS are a bit challenging, and in some of them, you really have to look - I loved these! Also, the HOS are not interactive. Mini puzzles are not really brain-bending, but they do present a little challenge. There is little hand-holding in this game, but the hint button will tell you there is nothing to do in the scenes; and sometimes you have backtrack to get a second HOS from a previous scene. All in all, I found this a very refreshing game, especially considering some of the new ones lately. Worth the price of a SE and/or a free coupon!
September 9, 2012
Based on Demo...Good!
I like this game. It is a typical "Find a missing person". I have Pros & Cons about it. Pros: --The graphics are wonderful. --The HO scenes are not very cluttered; some objects easy to spot, while others are partially behind something. --Extra bonus=find 20 "Eye of Horus" symbols throughout. --Achievements can be met, ie: Blue Diamond for playing 5 HOS without using the hint", etc. Cons: --The cursor was sluggish/lagging in places. (may be my computer being slow. Not sure. Didn't have a problem w/ other games right before this one.) --Maybe I'm just tired, but I used the hint a lot to figure out where to go or what to do next sometimes, ie: Not very obvious progression. (Some fish may LOVE this as a challenge as it doesn't do a lot of handholding.) All in all, except for the cursor problem, I would recommend this game.
September 9, 2012
Oh what fun!
Based on the demo (Advanced difficulty level), I'm sorry I missed the weekend sale. This game definitely made my wish list. Hope I can stay off the buy page 'til the Halloween sale, but the good time I had playing the Dreamatorium demo may overcome my willpower! And yes - it's wonderful to play a HOG Adventure that's not dark and dreary for a change. Love the eerie games, but it's great to have a break and we haven't really had a good fun break since the last Snark Busters.
September 10, 2012
Something for everyone....
GREAT game with an eccentric plot and perfect balanced mix of adventure with H0G. Very clear, beautiful graphics in an old fashioned, realistic, atmosphere where I just want to jump into the screen-style and live the game.... just the way I LOVE to play my games. You truly can not go wrong with this one there is something for everyone IMO. SO... give it a whirl.... you can not judge it based on the initial opening. Thumbs WAY UP and I truly hope we see more like it.
September 9, 2012
Over all Not bad
I played the demo which hooked me, but then was a little disappointed of the length of the game. Some of the HOG's were a little dark but over all the graphics were good, the music was'nt too annoying and there were no Cutscenes, Yea! ( I hate games that waste my time with cutscenes). You cannot use a Hint for the HOG's, only in the Normal scenes. Not a bad game, just not very long.
September 9, 2012