The Dreamatorium of Dr. Magnus
Step into the shoes of detective Sarah Green and solve the mystery of a missing town doctor in The Dreamatorium of Dr. Magnus. The town doctor, Dr. Magnus withdrew from society following the tragic death of his wife and daughter in a car accident. In his despair, Dr. Magnus became obsessed with the idea of contacting the souls of his loved ones. He began conducting ever more dangerous experiments ruinous to his own health until he himself, disappears. What secrets will be revealed in your investigation?
Solve unique puzzles
Uncover mysterious magic
Put your detective abilities to the test
Game System Requirements:
OS:

Windows XP/Windows Vista/Windows 7/8

CPU:

600 Mhz

RAM:

512 MB

DirectX:

7.0

Hard Drive:

304 MB
Game Manager System Requirements:
Browser:

Internet Explorer 7 or later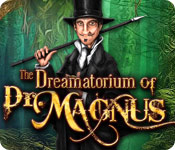 NEW299
The Big Fish Guarantee:
Quality tested and virus free.
No ads, no adware, no spyware.

Reviews at a Glance

The Dreamatorium of Dr. Magnus
0
out of
5 (
0
Reviews
Review
)
Customer Reviews
The Dreamatorium of Dr. Magnus
64
64
Relaxing hidden object game
*Beautiful graphics and music throughout the game. More on the lighthearted side, which is lacking in many of these hidden object/adventure games. *Relaxing, easy puzzles. *I am used the collector's edition games so I thought this game was a bit too short. I purchased it with a free game credit, no buyer's remorse. *Would have liked to have seen more "dreams" and done more interactively within those dreams. *Great standard edition game. Need more games like this one.
September 12, 2012
Bright & relaxed detective IHOG
*This review is based on the full game* This is a nice, long, relaxing IHOG that I really enjoyed playing. Graphics and music are good, gameplay is a bit on the easier side, but still offers enough challenge. All items needed were in reasonable distance, so no unnecessary longwinded backtracking. The story is okay; I didn't exactly die of suspense and had the ending figured out pretty soon, but that didn't bother me too much. Loading times between chapters were too long! But one thing really annoyed me: you go through the game trying to earn all achievements, and once you finish, there's no way to look at them and see what you've earned and missed. The game just kicks you out and wants you to create a new profile right away; it forgets that you've just spent a few hours playing. Grrr! But all in all, I do recommend this game after all, since I had fun playing!
June 15, 2014
the beginning of what i think will a series.
you are called in on your first case to find out what is going on with dr. magnus. you find out his wife and daughter were in a car accident and you find the wife's grave. in the mean time you are traveling-no map or way to jump from location to location-looking for answers to solve the riddle of the dreamatorium. the hint charges in 60 seconds. i think i waited longer on the skips. played casual, low sound. graphics are good. the hints only guide you. they don't tell you what to do. they do help in the HO scenes but you have to wait ohn that 60 second charge. it does show how much is left to full charge if you hover over the green hint button. the game, to me, was kind of hard, but probably not to others. sequel...i think so.
October 7, 2013
worth the money
wish all non collectors edition games had as much value
September 9, 2012
Interesting but short!
The storyline is good. The graphics are mostly clear, sometimes blurry, but the objects in the HOS are easy to find. The mini-games are easy. The journal is helpful. There is no map, but when a location is complete, you can't go back to it, so no risk of getting lost. The hint system is good, recharging quickly even in the Advanced mode. There are achievements to earn as well as 25 eyes to find. Without skipping, it took me a bit more than 1 1/2 hours to complete.... This is really short... I would recommend it with a punch credit or as a DD.
September 14, 2013
Disappointed
This game looked great.. but I feel disappointed. Hog.. I found several items which is clear and clean type of Hog.. But when i finish I get a handle for a hammer. Never found that on the list, just end up with it. Tired of Hogs though and I enjoy adventure type stories. Also, Tired of having to find keys to open the doors - I like mini-games or other ways to open doors. And, the sound affect for trying to open every locked door and drawer including a jewelry box is the same. This really annoyed me for some reason. Also, No map is a negative. I just feel like I went back in time on this one.. literally and not in a good way. games have come further than this one. I really Think there are people that will love this game and the graphics are well done. It is a "pretty" game. But, it is too boring for me. This is based on the trial only.. don't think I will ever buy it.. maybe on a 2.99 sale.
September 9, 2012
A delightful story
This is a delightful story which makes a welcome change to the abundancy of wicked ghosts and witches gothic stories. I don't want to divulge anything, but if you are really attentive, you should be able to guess the outcome half through the game. The graphics are very beautiful as well as the music. Sadly enough, I would have liked more of this music... large stretches of gameplay are not accompanied by music. There are no voiceovers, which would have added an extra dimension to the storyline. There are lots of plain HOS, too much to my liking and they are repeated, sometimes even immediately after you get out of one. This is something I really don't like. If the dev's want you to find two objects in the same scene, then they could give them to you right away instead of making you play the same HOS all over again. Puzzles and minigames are few and they offer absolutely no challenge. There is no map, but you don't really need one as each chapter is completely closed and there is not a lot of backtracking to do in a chapter. The hint button doesn't help you when you get stuck; It just tells you that there is nothing left to do or encircles an area of interest in case there is one. The hint button recharges at a reasonable speed. You have a journal to keep track of your investigation. There are lots of achievements to be won... be on the lookout for the "eyes of Horus" that are hidden all through the game. The length of the game is fair enough for a SE. I finished it off in 6 hours in "advanced" mode. To sum up: - good story - beautiful graphics and sound - no voiceovers - no extra help by way of map or hint button - lots of HOS... easy to do, but they are repeated - few puzzles/minigames that offer no challenge whatsoever - reasonable length. I would recommend the game for its qualites, but you can hardly call this a "WOW" game. Newcomers to the genre will most certainly love it.
September 9, 2012
Based on Demo...Good!
I like this game. It is a typical "Find a missing person". I have Pros & Cons about it. Pros: --The graphics are wonderful. --The HO scenes are not very cluttered; some objects easy to spot, while others are partially behind something. --Extra bonus=find 20 "Eye of Horus" symbols throughout. --Achievements can be met, ie: Blue Diamond for playing 5 HOS without using the hint", etc. Cons: --The cursor was sluggish/lagging in places. (may be my computer being slow. Not sure. Didn't have a problem w/ other games right before this one.) --Maybe I'm just tired, but I used the hint a lot to figure out where to go or what to do next sometimes, ie: Not very obvious progression. (Some fish may LOVE this as a challenge as it doesn't do a lot of handholding.) All in all, except for the cursor problem, I would recommend this game.
September 9, 2012
More Run of the Mill Than New
Game has extremely slow loads in some places, which I hardly ever experience. Story is a mystery, but it seems to be a very slow-paced game, with no mental sense of urgency. In your search, you come across recipes related to dreams that go into your journal for use later. You also come across papers which need to be deciphered by water or fire (like the disappearing magic ink we had as children). Gameplay is straightforward. The HOS have very large, clearly defined objects. My one complaint is that you come across newspaper articles occasionally. It?s too bad that they are too blurry to read, except for the headlines, because the stories seem to have some connection to the story. Graphics are nicely-sized and wonderfully detailed. The game seems to be ?run of the mill? in that there is nothing new. Still, it can be a nice game for newbies to spend an afternoon playing.
September 9, 2012
Started Off Boring... Got Better
Good Parts: Loved the achievements. They added great fun to the game. Really liked the Hidden Object Scenes. They weren't too challenging, or too easy. The hint was very useful. Great graphics, everything was very clear. Did not have to tilt my screen back/forward and had great designs. OK Parts: There was quite a bit of going back and forth, I would've liked less of this as it takes time from the game. The storyline had the right idea, but voice-overs would have made it much more effective. Bad Parts: Hint/skip took way too long to recharge. There was no strategy guide. This was really annoying because it was hard to figure out what to do for most of the game. The puzzles were way too hard. There should've been some instructions there to help. This is a game that will have it's lovers and haters, but it's a decent one. I would recommend downloading the trial.
October 23, 2012