The Dreamatorium of Dr. Magnus
Step into the shoes of detective Sarah Green and solve the mystery of a missing town doctor in The Dreamatorium of Dr. Magnus. The town doctor, Dr. Magnus withdrew from society following the tragic death of his wife and daughter in a car accident. In his despair, Dr. Magnus became obsessed with the idea of contacting the souls of his loved ones. He began conducting ever more dangerous experiments ruinous to his own health until he himself, disappears. What secrets will be revealed in your investigation?
Solve unique puzzles
Uncover mysterious magic
Put your detective abilities to the test
Game System Requirements:
OS:

Windows XP/Windows Vista/Windows 7/8

CPU:

600 Mhz

RAM:

512 MB

DirectX:

7.0

Hard Drive:

304 MB
Game Manager System Requirements:
Browser:

Internet Explorer 7 or later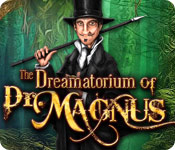 NEW299
The Big Fish Guarantee:
Quality tested and virus free.
No ads, no adware, no spyware.

Reviews at a Glance

The Dreamatorium of Dr. Magnus
0
out of
5 (
0
Reviews
Review
)
Customer Reviews
The Dreamatorium of Dr. Magnus
64
64
Somewhat Childish
GAME COMPLETED ONCE I have now tried 3 times to get into this game and it just doesn?t work. At first, I thought it would be pretty cool. It has COLLECTIBLES & ACHIEVEMENTS. And the GRAPHICS aren?t too too bad ? they are bright, and the items are big, so even though the graphics overall are FUZZY, at least on my large monitor, I could overlook that. Admittedly, I usually enjoy music in a game, but here the MUSIC is seriously ANNOYING, and I had to turn it down. But that?s not enough to reject a game. And I prefer games that are HOS HEAVY, so the ALMOST TOTAL LACK of PUZZLES was not a deterrent. I think I finally put my finger on the problem when I realised that it read like a children?s book, even though the story is not necessarily a children?s one. It?s not overly ?cute? and there are no fairies, big bad wolves or blind mice in it. But I did make it to the end of the game this time, and it was very CLEARLY AIMED AT CHILDREN. Also, there are a lot of black bar comments in this one, and they were of the ?well done you?ve found the treasure!? and ?oh! What will she find next?? kind. And the story instalments are each small and simple. And often, repeated. The gameplay would have been okay for a HO game that was light on puzzles, but the adventure component was maddening. There was almost no way to guess which would be the right place to go next. And after you have been to a location, got the UNHELPFUL ?there is nothing to do here? HINT response, and moved on, the next time you go there, there?s the item you need lying on the ground. On the other hand, the inventory bar would get so filled up sometimes, that that might have been worse. Very annoying. A lot of random clicking was the only way to get through the game ? and of course there was a penalty for that! (Ok, that?s only in the HOS) The thing is, all these things wouldn?t have fazed the average kid at all. So if that was their target audience, they?ve actually done a good job. And so it is to the kids that I say...
May 3, 2013
Way too much "guidance"
This could be okay for a young child, but I'd think most gamers would be insulted by the constant information boxes. Not only were they almost always unnecessary ("A red gem! I think I'll take it!" or "Now that I've found X I can do Y!" when it is completely obvious) but the ornate frames and fancy fonts made them even more annoying. HO scenes were generally bright and clear, but never did you actually find the object that was the "object," which was almost always incongruous, e.g. a rusty crowbar in a bed with jewelry and perfume??? Some of the scenes were quite lovely, like the old house on the lake (although it did bother me that some of the windows looked too modern and didn't match), but there was no animation such as ripples on the water or leaves moving. Too many other scenes were dark and dull and unpleasant. Pixel hunting was often required, as objects were either too small to be noticed or just looked like part of the background. I do not want sparkles but I think one should be able to spot objects by looking closely. The worst thing, though, was that our bright young detective was as dim as a 4-watt bulb. As another reviewer noted, she should have figured out what was going on halfway through the game, or even sooner than that. I did not like the ending, but was glad to finally be done with it.
September 20, 2013
Just OK
Storyline predictable. Gameplay way too short.
December 20, 2012
A bit Slow ...
Graphics were colourful and detailed, very well done. The Hint button was a bit useless ... but what I found most annoying was the profound "dumbness" of the girl who after so many clues still didn't realise what was going on. Even after seeing the "photo" of herself she still didn't get it? I'm mean come on! Surely no one can be that stupid! The answer was obvious and thus the ending was obvious also. This a Game for a raining day when there is nothing better to play. It was OK, but I certainly wouldn't play it again.
September 12, 2012
Tedious
I have been playing hidden object games for years...I bought this based on the reviews and the sale....it was disjointed, and I could not stay with it. Had to keep coming back just to make myself finish it. I never leave a game undone even when I don't like it. Seems that most reviews are positive but for me I regret buying it but it was on sale...would not play it again.
October 17, 2012
Just OK
The graphics were great and they were the reason I decided to play the trial version. The game did not flow easily. I needed to use the hint button too often to know what to do next. I did not find the story line very interesting. I played the casual mode.
September 13, 2012
having an issue
I got the girl dressed and got the key. I am now stuck it wont let me do anything, keeps telling me nothing to do in this area. What am I suppose to do next, please help.
September 17, 2012
Just Ok
This game was just ok.....not bad but not great either. There was enough to find and things to do to keep you somewhat interested but I wasn't enamored enough to want to buy it. I do like getting achievement awards which it had and looking for extra things like, in this case, was the eye of horus, so that helped in how much I liked the game. I would only recommend playing it if you're looking for something to do but otherwise, probably not.
September 9, 2012
Yawn!
Review based on the demo. The game started off okay....I do like the mystical, so was looking forward to the potion making etc..lol. After a short time however I got bored - the game is very slow! Not only that but the HOS are bog standard and very easy, as are the puzzles, so all in all a bit disappointing IMO.
September 9, 2012
Ho-Hum.....
I played the demo for one hour. I liked the award challenges as you played the game. The hidden objects were findable. I just did not find the game very interesting. The new level of game play we have all come to expect was just not there.
September 9, 2012