The Chronicles of Emerland Solitaire
Defeat the forces of darkness and defend Emerland in The Chronicles of Emerland Solitaire. When deciding to learn card magic at an old wizard's school, you couldn't have imagined that fate had chosen you as the savior of the world. When Emerland is threatened by the evil sorcerer, Sat, you must unite the races of Elves, Humans, Dwarves and Mermaids. Only together can you challenge him!
Stunning graphics
Mixture of solitaire and hidden objects
Fascinating story
Game System Requirements:
OS:

Windows XP/Windows Vista/Windows 7

CPU:

1.0 GHz

RAM:

512 MB

DirectX:

9.0

Hard Drive:

194 MB
Game Manager System Requirements:
Browser:

Internet Explorer 7 or later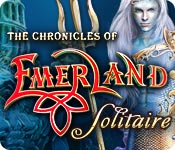 NEW299
The Big Fish Guarantee:
Quality tested and virus free.
No ads, no adware, no spyware.

Reviews at a Glance

The Chronicles of Emerland Solitaire
0
out of
5 (
0
Reviews
Review
)
Customer Reviews
The Chronicles of Emerland Solitaire
131
131
Great Game
Love solitaire and hidden object. This has both. Nice music. No objects to put into inventory, no ghosts, killers. There is a store but it takes a while to collect enough coins to buy amulets to give your companions special skills to help you. Just nice enjoyable and relaxing game.
September 16, 2012
excellent game
My reveiw is based on the demo... I really enjoyed this and and didn't hesitate to buy it.. beautiful graphics, nice storyline (defeat the evil wizard and save the four kingdoms was nothing new but nice) Gameplay was smooth no gliches that I found wasn't just solitire you had to find thngs too . points are accumilated and you earn achievments.. you level up as your training proceeds
September 14, 2012
Just a nice game
Iv'e just finished the demo. I found this game to be easyer than the others I have(I have 4). You get to undo more than any solitare game I've ever had. The wild cards are plentiful. I had quite a collection at the end of the first level. The objects in the store are expensive and it takes a while to build up your coins. But, this game is so easy I don't expect to use them. Mind that I have only played the demo so it could get harder than the first two levels. It also has a mini hidden object game at the end of every level.
September 14, 2012
Not Your Ordinary Solitaire, A Must Have !!!
This is Not your ordinary Solitaire game by any means. The graphics are fantastic, it has an interesting story line, and was a GREAT twist on a solitaire game! I liked the fact that it did increase its difficulty as the game went on, also I couldn't wait to finish each level to get back to the story line to see what was next. VERY IMPORTANT- there is a minor glitch, during the levels, if you don't make your choice of replay / next relatively quick the game will freeze with an error code and you will need to restart your game but you don't lose your progress, this was a little annoying but the game in its entirety makes up for the slight inconvenience. Also a word to the wise, when it prompts you to refer to your "magical book" , do it! I was half way through the game when I realized I could have been doing things a bit differently and having even more fun. This one was truly a surprise, which can be a "grabber", once I started, I didn't want to stop. Defeating that ugly, annoying witch became a mission I wanted to accomplish. I am not really one for traditional solitaire, but this was anything but traditional. Kudo's to the developers, great creativity, wonderful characters and an innovative story line which is directly entwined with the game. I honestly would give this game 4 1/2 stars, especially for its genre. I hope you enjoy it even half as much as I did. Well worth the purchase!
September 24, 2012
What to say about this addictive and infuriating game?
First, let me say that I truly love this game. I don't know what it is, but on Black Friday, while everyone else was busy stampeding, I played this game for almost six hours straight. Like I said, I love the game. It's a fun variation of solitaire that is (or can be) very fast paced and yet allows you to replay any hand that you lose. So it's fun and exciting, but doesn't really punish you if you're not a perfect player (like me.) But there's a catch - it may just be the Mac version of this game, but every 45 mins or so it crashes - throws you right out of the game and back to the game manager. I suppose it could be just my computer, but it is an irritating quirk of this game. It's a tribute to how much I love playing this game that I decided to keep it anyway, because I love it, warts and all.
December 5, 2012
Nice solitaire game, very relaxing
One the best I 've ever played. The sound and visual are not so great though, could be better. The game is very calm and relaxing, I recommend it.
November 15, 2012
Replay for gold
If you replay to attain the gold at each stage of a level, you get bonuses that make the game easier when determining which way to go with your run to clear the board. Since you have to replay all 10 stages if you exit a game in progress, I discovered that if I go to the store before leaving my chair, when I come back, I can then just click on 'back' and continue on with my game.... otherwise, leaving in the midst of play, my screen would lock up, no mouse.
September 28, 2012
Good but same!
Considering there are thousands of variations of solitaire available, this 'golf' type version still appears to be the most 'popular'. I say that in marks as it is only popular by default as there is not really much variety in the solitaire stakes. The premise of the 'one up, one down' card game is easy to pick-up, thus the mechanics of the game can be picked up in around 5 minutes. The game is around 80% luck and the rest skill. The storyline is good and the music fits well with the overall theme and game-play. For those that don't like witches and sorcery then I would err caution on downloading this as that is at the heart the storyline. The developers have tried to through a bit of HO in to the mix by finding things (flowers, birds etc), but whilst a nice partial distraction it doesn't really do much to the overall game play. Having downloaded 'fairway' I thought I would be bored of two of the same type of solitaire games, but as this is so different (storyline wise) from fairway, I thought I would use a 'token' on this game. One thing to note on the front screen the mouse movements were a bit jaggedy but when I was playing the game proper the mouse movements were OK. Mine is 'over-specced' for this game so I am not sure what the problem was, just thought I would mention it, but for me it didn't marr the actual game-play, just the menu screen.
September 23, 2012
Love this game
Played about 1/2 of the demo and bought it. A little bit of HOG (just finding a few things, pretty easy), option to play relaxed or timed, nice music (though I usually turn it off), fantastic graphics and just a lot fun.
September 15, 2012
Stunningly beautiful, if nothing else
This just isn't my usual type of game as I prefer the challenges of solving mysteries and using found objects to further my game, but.... WOW!!! The scenes were just beautifully drawn and made me feel so relaxed while playing. It is your basic (what I know as "Tri-Towers) solitaire where you build chains of cards in descending or ascending order (i.e. 9, 10, 9, 8, 7, 8, 9, 10, J, Q, J, 10), so game play required few brain cells. Appears to have some extra perks (buy stuff at the store, special cards and abilities, etc) which adds to the play. Again, too simplistic for my tastes, but I'd consider buying as a DD just for the gorgeous scenes alone. Might be an excellent way to teach a youngster the basics of a solitaire game while delighting them with a fairytale land to rival "Awakenings". Ignore the passe storyline, immerse yourself in those lovely scenes and 'waste' a few hours on something that just makes you feel calm and peaceful. Nice break from the usual fare of rescuing loved ones from evil spirits, so Bravo to the devs for the extra effort of making this more than a simple solitaire game!
September 14, 2012
The Apple logo is a trademark of Apple Computer, Inc.