The Chronicles of Emerland Solitaire
Defeat the forces of darkness and defend Emerland in The Chronicles of Emerland Solitaire. When deciding to learn card magic at an old wizard's school, you couldn't have imagined that fate had chosen you as the savior of the world. When Emerland is threatened by the evil sorcerer, Sat, you must unite the races of Elves, Humans, Dwarves and Mermaids. Only together can you challenge him!
Stunning graphics
Mixture of solitaire and hidden objects
Fascinating story
Game System Requirements:
OS:

Windows XP/Windows Vista/Windows 7

CPU:

1.0 GHz

RAM:

512 MB

DirectX:

9.0

Hard Drive:

194 MB
Game Manager System Requirements:
Browser:

Internet Explorer 7 or later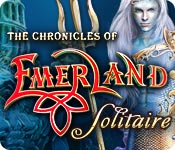 NEW299
The Big Fish Guarantee:
Quality tested and virus free.
No ads, no adware, no spyware.

Reviews at a Glance

The Chronicles of Emerland Solitaire
0
out of
5 (
0
Reviews
Review
)
Customer Reviews
The Chronicles of Emerland Solitaire
124
124
Replay for gold
If you replay to attain the gold at each stage of a level, you get bonuses that make the game easier when determining which way to go with your run to clear the board. Since you have to replay all 10 stages if you exit a game in progress, I discovered that if I go to the store before leaving my chair, when I come back, I can then just click on 'back' and continue on with my game.... otherwise, leaving in the midst of play, my screen would lock up, no mouse.
September 28, 2012
Challenge is good, but impossible is not
Being a huge fan of the Fairway series and "golf" type solitaire in general I snapped this game up after mere seconds in the demo. The graphics and music are lovely! I cannot give it a good rating, despite many good points, because even with ALL of the upgrades, once the game play reaches the level of the Mermaid kingdom and approaches the volcano I found most of the game levels to be impossible to win due to the overly complex configuration of the board lay out and too few cards in the deck. Many, many times I ran through the entire deck before clearing more than a half-dozen cards from the tableau, and I have finally given up and deleted the game because I do not enjoy a game where I have to replay one level 6 or 7 times just to finish it with less than 5 cards remaining. So, if you are competitive and insist on winning, this might not be the card game for you!
September 17, 2012
Good start ruined by final level
This game started out well - the graphics are pretty good, the music isn't intrusive, there are loads of games and they are pretty challenging. Each game increases your skill level, which gains you benefits such as extra cards in the deck. You also earn money which allows you to buy amulets to further increase your chances. On top of which you gain friends along the way, who can help remove cards from the board. You get a perfect score if you clear all the cards from the board, and must have no more than four cards remaining to avoid replaying the level. There is a story running through and there are some simple hidden object scenes between some levels, where you have to find things to allow you to progress, the card games also allow you to collect items - rope to fix a bridge for example. Unfortunately, there are some big downsides to this game. Each level is made up of a batch of 10 card games and I discovered some issues with this arrangement. Firstly, you can't select a game within the batch of 10 to replay once you have moved on. If you want to improve a level score, you have to play all 10 boards again. On top of this, if you move even a single card at the start of any of those 10 boards and then quit the game, you forfeit that level - there's no way to save progress if you get half way through a board and then have to stop. This leaves you going round and round ad nauseum trying desperately to complete a board when you should be in bed or at work, which stops being fun after awhile. My biggest problem with this game, however, is the final batch of 10. Over the 10 games you have to find 60 bits of energy to power four gems to beat the bad guy. I found the last batch of boards to be much harder than the rest of the game, having to replay them endlessly, and using up over half of the deck to find even a single match on the board. Despite this, I managed to eventually pass all 10 games with perfect scores, only to find that this wasn't enough to get me all 60 bits of energy. I have replayed the level and got another batch of 10 perfect boards with the same result! I've now decided to give up, as the game has become a chore. I've got no idea what else I can do other than get perfect scores. There IS nothing else to do. And looking at the other reviews, I'm not alone in finding this. A frustrating end to a game that took a lot of hours to get through, but once it becomes something you force yourself to do, it's not a fun game anymore and I'm cutting my losses.
July 31, 2013
Not that bad of a game just not for me
I will be different than most and say the game is ok just not for me. The sound is good and graphics are good. Just not my kind of game to play.
December 21, 2012
Chronicles of Emerland
One of the better Solitaire games. Like all games gets redundant after you have played it half-through. The game also frequently crashes. But seems to continue from the point of where you left off.
November 20, 2012
Game crashes
This game is a good time waster, when it's not crashing. Don't spend your money or credits on this.
November 18, 2012
Not "Fairway" but fun.
A high/low solitaire game that hits the right notes if you like a fantasy story to go along with your card games. Lots of bonuses to purchase and colorful graphics. You will be required to complete a tutorial which is actually the first level but is useful in explaining the bonuses and pop ups. Occasionally random hidden object scenes occur between rounds which I actually found unnecessary but were simple "find 10 of something". The card game itself increased in challenge as I progressed which was a pleasure. I personally could have done without the story line but it does contribute goals to accomplish and the card game is well constructed and interesting to play. As the title said....it's definitely not "Fairway" but if you like high/low you will probably enjoy this.
September 14, 2012
Nothing can equal Faerie Solitaire but this isn't a bad attempt
Based on the 1 hour trial I found this much more difficult than Faerie Solitaire - I rarely managed to accumulate enough money to buy a wild card, and as money doesn't seem to accumulate from one level to another I don't see how you're supposed to buy the expensive jewellery in the shop. I never managed to gain enough "heart points" to get a "companion" - perhaps I would have got further in the game if I had. The occasional "Find 10 of a kind" hidden object levels, and the "competing wizards" storyline are good, and the artwork is lovely, but I doubt I'll be buying this.
September 14, 2012
Be Warned - Lovely game but can be frustrating!
This game has lovely graphics, not too intrusive music, good voiceovers, and a reasonably good storyline (with some hidden object scenes thrown into the mix). There are two levels of play, relaxed and not relaxed. DO NOT BE FOOLED BY THE RELAXED MODE. I've played a lot of solitaire games and I'm almost all the way through this one playing relaxed mode and it has been one of the most frustrating and non-relaxing games I've played. Some of the layouts are just about impossible, very frustrating if you are expecting a nice relaxing time playing the game. Only stubborness has made me persist with this and I kind of wish I hadn't bought the game. The interface is also clunky and the layout can cause you to make mistakes, which can be annoying when you've almost finally got the thing out and you accidently press the wrong button! Basically I'm saying that if you're looking for a nice relaxing solitaire game then I wouldn't recommend going for this one.
August 23, 2013
boring to do the same over and over again
the cardgames could be fun themselves, but what really makes the game tidious and boring is, that the developers have tried to throw in a little storyline and dialouge to make it seem as there is a story. Well.... there really is no story, and the dialougue is awfull and disturbs the gaming - and since the gaming is repetitive to the extreme.... it's a no-go !! I would never buy this game - not even as a DD.
September 16, 2013