Judge Dee: The City God Case
Travel back in time to a medieval Chinese city in Judge Dee: The City God Case! Judge Dee, the newly appointed magistrate of Yiwang prefect, travels to an isolated town in his new jurisdiction to find that the mayor's son has fallen unconscious and became deathly ill. Suspecting foul play, Judge Dee starts investigating. Help him uncover the truth behind the town's dark secret, its corrupt officials and the true cause of the mysterious illness in this beautiful Hidden Object Adventure game.
Explore medieval China
Lots of hidden objects
Diverse puzzles to solve
Game System Requirements:
OS:

10.8/10.7/10.6/10.5

CPU:

2.0 GHz (INTEL ONLY)

RAM:

1024 MB

Hard Drive:

316 MB
Game Manager System Requirements:
Browser:

Safari 4.0 or later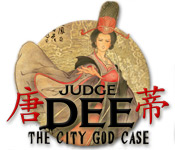 NEW299
The Big Fish Guarantee:
Quality tested and virus free.
No ads, no adware, no spyware.

Reviews at a Glance

Judge Dee: The City God Case
0
out of
5 (
0
Reviews
Review
)
Customer Reviews
Judge Dee: The City God Case
36
36
Very exotic and pleasant
Although some reviews said the game is boring, I tested it by curiosity (I went in China twice) and I'm very happy with it! I really love this universe with amazing graphics that remind me my travels in China, and the music is nice. I like also the story based on women education, no so common in this kind of game. Take the time to read dialogues and you will be suprised... The point is that this game is an hidden object game, and of course all action consist on picking objects... maybe boring if you don't like this kind of game!
November 6, 2012
Beautifull & a real story in this Hidden Object Game!
The introduction is a bit long but it is good to get into the story. The ambient sounds and graphics are very zen and refined. Three difficulty levels are well balanced. There is an original system to earn tips by solving puzzles. This is not a simple Hidden Object Game, it is better with its history and ambiance.
November 6, 2012
Something different
This was a wonderful, and I mean WONDERFUL game. I must confess it caught me wandering around, looking for the next thing I'm supposed to do, so it was really challenging at times which is great. I loved the storyline, the soundtrack, the graphics, everything!
April 25, 2013
Amazing graphics and a good story!
The graphics are amazing! And the unusual theme (China 650AD) is refreshing and exotic... And for once, we have a real story in a HOG: a Chinese judge investigation during the Tang period. A very good title to be seen and play!!!
October 31, 2012
Standout, unusual puzzle/HO game- lovely and elegant.
This is a refreshingly different game. The Chinese character of this game runs deep, from the beautiful illustrations, the wonderful architecture and costumes, the less-direct nature of the game, the sorts of mini-games (Go, tangrams), the unusual approach to sound and music. It's really a different experience, and one that is a bit perplexing at times. But in a good way! Highly recommended, especially for those who dislike dark, morbid games (I love them, myself, but to each his own).
September 17, 2012
Great game in ancient China
This is an amazing game, I just loved it! The characters are all excellent and the graphism is realy good. Just can't wait to play again. Thanks guys !
October 31, 2012
Unique Game..
I usually don't review games on the main page without finishing the whole game BUT since this was released on mac first and I can't find the forum page, I am going to do a DEMO review. This game is lovely but strange at the same time. Its lovely because the graphics are hand drawn and its just a lovely ambiance about it and you can tell a lot of thought went into this game. It has voiceovers in the intro where it tells the main story however the voices are softer than the music, so its hard to actually hear it but it does have subtitles so that helped. It has 3 modes of gameplay. Easy, Average and Hard. I started with the Hard setting BUT the hidden object scenes are timed and the mini games are as well and if you don't finish in that time, you have to start over. They give you a decent amount of time and they also list the hidden objects you need to find (butterfly, bowls etc) BUT I decided to start over on Average. Average does not time you and you can skip any puzzle without having to wait for it to fill up BUT all the hidden object scenes are silhouettes instead of a word list. The silhouettes are very tiny as were the written words on the hard version so its kind of tedious to find what you are looking for and the sound for hitting the wrong thing is AWFUL so I was very careful to search carefully and not click a lot. I don't know if there is a click penalty but the sound is penalty enough. The easy mode shows the silhouettes and the name on top of them so you can find the object quicker. Average, is a mix of silhouette hidden object scenes and puzzles. The puzzles I have ran into during the demo were the kind most of us have seen like moving the blocks around to get one out, tanagrams, some kind of reversi/checkers thing. On the hard mode, you are timed but during Average you are not. You also pick up inventory items. Some can be combined and on average/hard they give you no indication of what can be combined, its basically trial and error. I played 45 minutes of the demo and had no idea where to play any of the inventory items. I would recommend this game to people who want a challenge because this will definitely be one. I would recommend this game to people who have been looking for something out of the box or different than the norm. I would recommend this to people who like a story line and follow lots of dialogue/read. Since there were voiceovers in the beginning, I thought they would be in the game itself but sadly there isn't and there is A LOT of dialogue between the characters, so much that in the 45 minutes I played, I think I spent 20 minutes of it reading. Also, I stumbled back upon the same hidden object scenes I had previously done and was able to do them again, finding the same objects but not finding a new inventory object. I wish the developer would have turned these off after finding the objects needed because its confusing as you don't need to replay them. Also, its hard to figure out where to go and what to do. I usually like games like that but this one is a little tedious. The hint button is a "blink and you miss it moment" in the hidden object scenes and it doesn't work for the main game. (at least not in average/hard). There is a bonus section to this game that lets you replay hidden object scenes and puzzles after you unlock them from the main menu. I think this developer put a lot of time and thought into this game and it is unique but Im not sure its for me. I love the puzzles but find the hidden object scenes tedious and I can't stand the custom cursor but if you don't use it, you can't see the functions of the cursor you need to play the game. Im really on the fence with this game. Maybe someday. To those who buy, enjoy & those who demo, you can skip the dialogue easily but make sure you get past the dialogue at least to see the good parts of this game.
September 17, 2012
Beautiful Chinese game
Played 20 minutes, casual First time ever I get a game where the voice overs are in Chinese and it's translated to me directly in French (tried to get it in English as for all my other games, but it seems that as I'm French, French is the only language I can access). - 3 modes, casual, relax hard (I guess, they were written in French ) - A lot of dialogues - Option to play timed or not - Note book where your tasks are displayed - Map - Icons to either talk to the character, play a game, pick up an object - Traditional Chinese games, go, built a drawing with shapes, etc... - H0 : silhouettes, you earn points by finding the objects - You score points throughout the game for achieving your goals Absolutely beautiful ancient Chinese graphics. If only for that I would give the game a chance. I think a lot of people will enjoy themselves with this game despite the very long dialogues interfering. Might spend a punch card credit on this game which is worth trying.
October 30, 2012
Nice Game, Terrible Interface
This game is nice, but could be so much better. - There are three modes of gameplay, which amount to easy, medium, and hard, with hard having timed mini-games and no help. - The story is interesting, but it bombards you with names of characters so quickly that it's hard to keep up. The game does give you a little section with bios of each person you meet, though. - The graphics are really pretty, and the music is nice and not intrusive. - The hidden object scenes have silhouettes instead of lists, but the items to find are sometimes really, really (really!) small. - My biggest problem is the game's interface. It works more like a large file adventure game, but that just doesn't work with this kind of game. You click on something, then have to click an eye to view it, or a hand to pick it up, or a dragon to play a hidden object scene or a mini-game. It feels like you're doing extra steps to do something that could take one click, really. I feel that it takes away from playing the game. All in all, this is a nice game, but I feel like there's something missing, and the interface removes of the feeling of being immersed in the game.
September 26, 2012
The Good Detective
I really like Judge Dee. I had just seen a movie on You Tube where he investigates a Monastery and I was impressed with his kindly wisdom and even-handedness. When I saw this game I bought it hoping it was more of the same and it is. The good judge makes his way through a maze of mystery and danger accompanied by his two faithful bodyguards. The graphics are very nice and right for the time period. The puzzles are occasionally tough but not so bad you start feeling miserable. The story is very interesting and makes you appreciate how very far ahead China was when we were still thinking animal skins and cave paintings were cool. I would welcome more of Judge Dee.
December 10, 2013
The Apple logo is a trademark of Apple Computer, Inc.
The Windows logo is a trademark of Microsoft, Inc.