Adelantado Trilogy: Book One
Discover the fabulous secrets that a jungle hides in Adelantado Trilogy: Book One! Help the brave and noble officer, Don Diego De Leon, to find and save the lost expedition. Befriend the natives who can be of valuable assistance to you. Help them as you restore buildings, harvest foods, and create a settlement. Upgrade your skills and earn fabulous trophies. Treasures await you in this exciting Strategy game!
Vast level maps
Non-linear missions
Plentiful side-quests
Game System Requirements:
OS:

Windows XP/Windows Vista/Windows 7/8

CPU:

1.2 GHz

RAM:

1024 MB

DirectX:

9.0

Hard Drive:

140 MB
Game Manager System Requirements:
Browser:

Internet Explorer 7 or later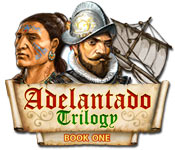 NEW299
The Big Fish Guarantee:
Quality tested and virus free.
No ads, no adware, no spyware.

Reviews at a Glance

Adelantado Trilogy: Book One
0
out of
5 (
0
Reviews
Review
)
Customer Reviews
Adelantado Trilogy: Book One
149
149
Looked great, but was really disappointing
Despite all the great reviews, I was not impressed with this game at all. I played the trial in normal mode, and the entire game consisted of: messages telling me what to click on or "build", me clicking, and then waiting for my little dude to walk alllll the way across my screen and start working. I got through almost 1/3 of the game during the trial, and it didn't get more challenging at all, although I was able to make some decisions myself (but if I didn't, it still would instruct me what to do.) I can only hope that the hard/expert mode of the game requires some skill or strategy, because the normal mode was slow and B.O.R.I.N.G. I was really disappointed, because I love the similar "road" games that it seemed to modeled after (Roads of Rome, My Kingdom, etc.)
September 19, 2012
Westward
To be fair, I only played the one hour trial. I was prompted to try this game by all of the positive reviews from other BFG gamers, so obviously some people loved it. In sum, if you like games like "Westward" give this one a shot. It is a story driven plot, with a barely there time-management aspect. Gather resources, build sawmills, etc. - that said the game isn't a "My Kingdom, etc." type of game; it is piloted more by fulfilling "mini-quests." Not horrible; not exciting.
March 6, 2013
Boring...same goals for every level.
This is nothing like Roads of Rome or My Kingdom for a Princess. Every level has the same 3 goals, most of the terrain is boringly similar. For a starter in this genre, it may be OK, but for someone familiar with the above mentioned adventure games, it will be a disappointment. But make up your own mind.
October 1, 2012
Has potential!
Loved the music and usually love the building games. But this one just didn't do it for me. The help drop downs resembled an organizational chart for a business. You weren't really "in charge" of anything--it told you what you needed and you clicked to get it.
September 17, 2012
Has Potential...
This game is similar to the German game Cultures and similar to the Westward Series imo its not at All similar to my kingdom and roads of rome type games except that its a resource game.. Beyond that its Totally Different you have to Think and Plan a Great Strategy in order to win each level.. I could have Loved this game but there were issues first of all ..the Worst part i dont like Waiting for resources or waiting for buildings to be built i understand it has to take a second or two but having to sit and wait and wait for a resource No matter how Expertly i play the game its just not my idea of fun.... Second..i did not like how builders summoned could ..at times... take a million years to get to the site even though i had houses all over the map and plenty of them... thirdly ..there were glitches that aggravated me when literal Seconds mattered such as the game not immediately registering that my hero had a certain stone so i would send my hero back to look for it and then realize He Had it but the game was Delayed to Know it Not Cool!! fourth.. You are unable to tear down buildings in this version Highly impractical and tedious fifth...i think the tutorial was fine unlike some others commenting However it continued thruout the game which i found very annoying having to click off Suggestions once the tutorial is finished just be done with it i dont need the game telling me what to do Especially when it is the Wrong thing to do.. I like the game okay aside from these issues.. and the last chapter entitled Conclusion was Def a Challange time wise.. you can finish the last chapter by the skin of your teeth... I most likely will not play this version again for the simple fact that i dont like waiting for resources... its not fun staring at the computer screen its Boring... i do Recommend it IF you demo it first and you like it i dont suggest anyone outright buy it without a spin around the block first...
April 10, 2013
Conquestadors Were Kind?!
This game was not half bad except for the story line. These people took advantage of native peoples and killed them. This is a white-wash of history. This game should come with an "offensive - beware" warning.
October 11, 2012
I've been too spoiled...
by Royal Envoy. *sigh* Actually, this IS a fun game...but the graphics aren't great. And I HATE the way you have to scroll around the screen. Right click and drag? Really? But, I have enjoyed the game and will play it to the end. Actual rating is 3 1/2 stars.
September 25, 2012
Thank goodness for forums
The game is great, however real light on instructions or "how to" information. If it weren't for the forums I never would have gotten out of many situations. You can't save the game so if you have spent 30 minutes only to find you should have done something earlier in the game you have to start all over again.
January 5, 2014
He walks too slowly...lol
I played the demo of this game & was intrigued enough by the game & the great reviews to purchase it. I played it for a couple of days & got pretty far along, but I just got bored. Part of it was not being able to choose all locations of what you need to build. Another was the constant prodding of 'build THIS now'. I deleted this game without finishing it, which is a rare thing for me. I am sure it's a great game for plenty of people, as stated in so many reviews, it just was not my cup of tea. I suggest trying the demo before you decide.
August 17, 2013
PLEASE READ MY REVIEW!!!!
If you want to play an AWESOME game similar to this one, except it has quite a bit more challenge, you will fine it to be much more entertaining, and the levels don't intend to make your rear go to sleep. You will feel more like the game is actually makeing progress towards some king of goal!! Then you really, really should play Monument Builders: Notre Dame!! Seriously this game Adelantado Trilogy Series are so boring, and the levels are so very long: that if you stop play during a level after sitting there for 30 minutes to an hour...guess what: You LOSE ALL progress, and have to start all over again!! Just not worth it to me!! Please READ MY REVIEW, and take it seriously before you purchase it, you honestly should try,Momument Builders: Noter Dame first!!! You will not be sorry!! You will end up purchasing the Monument Builders vs. Atlantado Trilogy Series after only playing them for the one hour free trial!! Thanks for reading and God Bless!!
May 13, 2013