Adelantado Trilogy: Book One
Discover the fabulous secrets that a jungle hides in Adelantado Trilogy: Book One! Help the brave and noble officer, Don Diego De Leon, to find and save the lost expedition. Befriend the natives who can be of valuable assistance to you. Help them as you restore buildings, harvest foods, and create a settlement. Upgrade your skills and earn fabulous trophies. Treasures await you in this exciting Strategy game!
Vast level maps
Non-linear missions
Plentiful side-quests
Game System Requirements:
OS:

Windows XP/Windows Vista/Windows 7/8

CPU:

1.2 GHz

RAM:

1024 MB

DirectX:

9.0

Hard Drive:

140 MB
Game Manager System Requirements:
Browser:

Internet Explorer 7 or later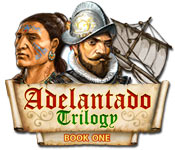 NEW299
The Big Fish Guarantee:
Quality tested and virus free.
No ads, no adware, no spyware.

Reviews at a Glance

Adelantado Trilogy: Book One
0
out of
5 (
0
Reviews
Review
)
Customer Reviews
Adelantado Trilogy: Book One
166
166
Was disappointed in this game
I played the trial and thought this would be a good game comparable to Roads of Rome games, but was very disappointed in the quality of graphics and length of wasted time in the game. After a few chapters, I got tired of being told to build something I already knew to build. The characters were too slow going between chopping trees, take to warehouse and then take to sawmill.. same with other resources. Had to wait on resources too long to be able to build something else. Overall this made the game too long and got tiresome to try and finish.. On the positive side, I did like the storyline and idea of the game, I think it needs some improvements and it will be a great game..
September 26, 2012
PLEASE READ MY REVIEW!!!!
If you want to play an AWESOME game similar to this one, except it has quite a bit more challenge, you will fine it to be much more entertaining, and the levels don't intend to make your rear go to sleep. You will feel more like the game is actually makeing progress towards some king of goal!! Then you really, really should play Monument Builders: Notre Dame!! Seriously this game Adelantado Trilogy Series are so boring, and the levels are so very long: that if you stop play during a level after sitting there for 30 minutes to an hour...guess what: You LOSE ALL progress, and have to start all over again!! Just not worth it to me!! Please READ MY REVIEW, and take it seriously before you purchase it, you honestly should try,Momument Builders: Noter Dame first!!! You will not be sorry!! You will end up purchasing the Monument Builders vs. Atlantado Trilogy Series after only playing them for the one hour free trial!! Thanks for reading and God Bless!!
May 13, 2013
Has Potential...
This game is similar to the German game Cultures and similar to the Westward Series imo its not at All similar to my kingdom and roads of rome type games except that its a resource game.. Beyond that its Totally Different you have to Think and Plan a Great Strategy in order to win each level.. I could have Loved this game but there were issues first of all ..the Worst part i dont like Waiting for resources or waiting for buildings to be built i understand it has to take a second or two but having to sit and wait and wait for a resource No matter how Expertly i play the game its just not my idea of fun.... Second..i did not like how builders summoned could ..at times... take a million years to get to the site even though i had houses all over the map and plenty of them... thirdly ..there were glitches that aggravated me when literal Seconds mattered such as the game not immediately registering that my hero had a certain stone so i would send my hero back to look for it and then realize He Had it but the game was Delayed to Know it Not Cool!! fourth.. You are unable to tear down buildings in this version Highly impractical and tedious fifth...i think the tutorial was fine unlike some others commenting However it continued thruout the game which i found very annoying having to click off Suggestions once the tutorial is finished just be done with it i dont need the game telling me what to do Especially when it is the Wrong thing to do.. I like the game okay aside from these issues.. and the last chapter entitled Conclusion was Def a Challange time wise.. you can finish the last chapter by the skin of your teeth... I most likely will not play this version again for the simple fact that i dont like waiting for resources... its not fun staring at the computer screen its Boring... i do Recommend it IF you demo it first and you like it i dont suggest anyone outright buy it without a spin around the block first...
April 10, 2013
I've been too spoiled...
by Royal Envoy. *sigh* Actually, this IS a fun game...but the graphics aren't great. And I HATE the way you have to scroll around the screen. Right click and drag? Really? But, I have enjoyed the game and will play it to the end. Actual rating is 3 1/2 stars.
September 25, 2012
A Different Kind of Game
Okay game, screen toggling can be awkward at times and the time it takes the figure to walk where you want him is frustrating.
June 19, 2014
Game was way to short finished it in a day!
The game is fun and I did enjoy it but it needed to explain things better (like when you can upgrade things) It basically was a very long tutorial in my opinion, because you could not free play you had to do what the game told you to do only! Graphics are good but I think this game could have been so much more. I know they are making other chapters I just hope they are more free play and I can't finish it in a day!
October 9, 2012
I love the idea but game needs corrections
First of all levels are long but there is no "save" option. If you quit in the middle of the level you have to start at the beginning. Story is strong. game is exating but even the relaxed mode there is no help. Some part of the jewels were hidden under the bushes. You have to check many bushes. By the way response of the game is very slow. You have to wait many many seconds after clicking . If you do something wrong there is no delete options. For example if you have limited silver but you used it wrong side, you could not make watchtower and you could not go on. You have to cancel and start agalin. Actually I love this game but I don't have enough time and patient to play it. If you have much time you can play it. You'll enjoyed many levels but ?f your time is limited don't forget you have to finnnished level or replay it.
September 24, 2012
Frustrating & Insulting In More Than One Way
I read the good reviews and decided to give the trial a go but I won't be buying the game. To start, the premise itself is a fine but how it plays out is extremely iffy -- you're playing the conquistadors and I'm honestly surprised, given the genocidal history involved, that the story involves both the Spaniards and Unnamed Cliche Native Tribe. The latter of which are, for some reason, happy to stand around and watch you not only develop on land they also seem to live on but do things like smash jars behind their houses and take the gold. But I've ignored iffy premises before (we probably all have) and the problems with the gameplay itself far overshadow the questionable ethics. 1. While there's tasks you have to complete to meet the goals there's side quests you also have to do (I tried to skip one since it wasn't in the objectives & it didn't end well). Thus you're constantly working on a task that might not be best for the resources you currently have even though you usually can skip side quests in such games. 2. The game simultaneously tries to hold your hand and steers you to destruction. Besides the constant stream of tasks you have to do it won't let you repair things out of the order it deems necessary even when you have the resources and they're the same buildings. I.e. there's two damaged watchtowers nearby and you have to do the east one before the west one to the point the west one won't even become available until you've done four additional tasks. Yet, the game gives you advice ("You should build more gardens so that you don't run out of food.") that you either can't actually use (more on that in #3) or that's counterproductive. It suggested I do that and since I was running low on food I did -- only I accidentally built a garden on top of a random patch I later realised was meant to be a stone quarry. Thus, I did not have a stone quarry when I needed one. You can't demolish buildings if you make such a mistake and must start the day over. 3. One of the major points of advice is that the buildings lose efficiency after a while so you need to upgrade them. Yet (and I had to Google this) you can't upgrade them until the fourth level/day. Before that you merely have to keep building more of the same building type in what's a very limited building space. It will also direct you to use resources on tasks that you won't find useful for a while -- and it won't let you do other tasks until you complete that one. Yet you may need those resources for more immediately useful tasks. Oh well, too bad! 4. Finally, you can't save days in progress. Since each day takes a while -- 20-30 minutes seem to be right on the least task heavy levels -- you stand to lose a notable amount of gameplay because of this. There are a lot of ways that games like this can trigger pet peeves but I think this one goes beyond that to actively bad gameplay. Apparently there's others who enjoy it, according to their reviews, but I wouldn't bother trying it. There's many games of this type and most of the recent ones are better than this.
November 8, 2012
Could have been great, but it isn't
I've played only about 20 minutes of the demo, and I'm not going to buy this, but the flaws that ruin the game are basics that are throughout, not just in the demo. The big one is that you have to play through an entire level before you can save the game, or else you lose everything you've done. And the levels are long--I had to quit playing 18 minutes in, but couldn't save the level, so if I go back to play again I'll have to start from scratch! That just makes no sense. The other flaw is that there is ONE guy going around doing everything. It's not like Roads of Rome or the other TM games where you build things--you have to sit and wait while this one little guy slowly hustles around doing things. It's irritating. One thing I had to go to the forums to figure out was how to upgrade buildings. The game pops up a window saying you need to upgrade buildings to increase their efficiency, but it doesn't say how to do that. As it turns out, you can't upgrade them until you reach a certain level--which is way beyond the point in the game where you're told they should be upgraded! Very confusing. I wanted to like this game because it's beautiful and the music is very nice...but the game is so irritating that the lovely graphics and music can't overcome the flaws.
February 25, 2013
Deadly Boring Compared to Others of this Genre
In the past month I've begun trialing Strategy Games, owning over 100 Match 3 and as many HO, and needing a change. Of the 23 games I've trialed/purchased, I found this game to be lacking in comparison to the qualities of the others. Definitely trial many of these before making the decision to buy!
February 16, 2013
The Apple logo is a trademark of Apple Computer, Inc.