Adelantado Trilogy: Book One
Discover the fabulous secrets that a jungle hides in Adelantado Trilogy: Book One! Help the brave and noble officer, Don Diego De Leon, to find and save the lost expedition. Befriend the natives who can be of valuable assistance to you. Help them as you restore buildings, harvest foods, and create a settlement. Upgrade your skills and earn fabulous trophies. Treasures await you in this exciting Strategy game!
Vast level maps
Non-linear missions
Plentiful side-quests
Game System Requirements:
OS:

Windows XP/Windows Vista/Windows 7/8

CPU:

1.2 GHz

RAM:

1024 MB

DirectX:

9.0

Hard Drive:

140 MB
Game Manager System Requirements:
Browser:

Internet Explorer 7 or later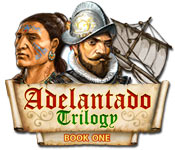 NEW299
The Big Fish Guarantee:
Quality tested and virus free.
No ads, no adware, no spyware.

Reviews at a Glance

Adelantado Trilogy: Book One
0
out of
5 (
0
Reviews
Review
)
Customer Reviews
Adelantado Trilogy: Book One
162
162
Old Technology
Remember Zelda when it was new like 15 years ago? It was pretty exciting then, but those little characters walking around stiff legged after you picked a task for them to do and then you wait for them to do it is archaic. And then there is the no save feature. Waste of credits for sure. My next move is to uninstall it.
October 8, 2012
Too much hand holding
At first I thought I would like the game. It starts out with good music & graphics and an idea that it will be a free reign type time management game. But once it gets going you realize that you can only do what the game wants you to do and it will literally hold your hand through the whole thing. Make sure you play the entire hour trial. I thought I was going to buy it in the first half hour and then quickly changed my mind as the minutes ticked by and the game play did not get any more interesting.
September 24, 2012
Not fun...boring
This was a disappointment. i played the demo for about 20 minutes and uninstalled it. There was no independent thought, just click here and there when you were told to. You were given objectives to achieve but no way to do them. Like break the barrel. How? I clicked around on everything and finally someone came out of the hut and broke the barrel but I've no idea what made that happen. Cut down trees. How? There were all kinds of instructions but not one place told you how to make these things happen. Everything was collected automatically so you had no hand in it. Just plain boring.
September 18, 2012
Boring, boring, boring
The only thing that makes this better than Farmville is that you don't have to annoy your friends by asking for items and begging them to join you. I quit after 20 minutes. It may pick up later on in the game, but I doubt it. Oh, and the Aztecs did not have totem poles.
May 6, 2013
Boring
Was just too boring to stick with.
March 31, 2014
Know what you're getting! (Not like Roads of Rome)
If you're looking for a complicated strategy/time management game, this might be it. But just know this is not similar to My Kingdom for the Princess or Roads of Rome. There's no "cute" or "fun" factor. So if that's what you're looking for, this game will just give you a headache.
September 18, 2012
For strategy players only
*This review is based on the trial* Okay, so I really wanted to give this game a chance. I'm not very good at strategy and sim games, but once in a while there's one with a cute story, such as My Kingdom for a Princess, which I play even though I can't finish the levels on my own. (By the way, I didn't think this game was very similar to MKfaP) This game and me got off to a very bad start, given that I had quite a few problems with the graphics (on my brand new computer, which all other games run perfectly on!), i.e. constant flickering of different screen parts. Well, I thought I'd ignore that for now and see what it was all about. I started the "easy mode", but I got bored so quickly, that I couldn't even finish the full 60 minutes. On the one hand, the tutorial is way too long, but on the other hand, it leaves so many questions. I had a hard time finding my way. And I really don't have the time to sit for hours watching a tutorial - that's what it felt like, even though the game thinks you're already playing. Might be a nice little game for more or less experienced simulation players, but unfortunately, not for me!
June 3, 2014
Try Before You Buy
I tried this game primarily because of the consistently good reviews it received here and, because I did not enjoy it, I wanted to write a review that reflected my experience in order to encourage others to try the game before buying it as even those of us who enjoy Time Management and builder games may not like this one. My primary disappointment with the game was the lack of an adequate tutorial with respect to game mechanics. The text referred extensively to cutting trees in the area surrounding the woodsman's house, for example, to send wood to the sawmill, but there was no direction as to how to actually CUT the trees and I couldn't figure out how to do it. Similarly, villagers came to pick fruit from bushes in the farm, but they appeared to do that entirely on their own and without requiring a click. The player was specifically directed to which buildings to build and when and, while this was successfully accomplished, it was a drag on gameplay and foreclosed independent thought and strategy. The developers simply failed to establish the foundation necessary for me to understand how to play the game. The story was advanced through scenes that I found to be superficial, choppy and incomplete. I would have overlooked this had the game been enjoyable to play but it was a missed opportunity to take the game to a higher level. Visuals tended to be on the small side but were generally comparable to certain other games on the market and were adequate. References to stunning graphics by others lead me to wonder if we were even playing the same game as I found the graphics adequate but not particularly outstanding. I did not find this game to be particularly similar to Roads of Rome or My Kingdom for the Princess, as other comments have suggested. It may be similar to Virtual Villagers, which I did not enjoy. Those who like the game seem to really like it, so I would not discourage others from trying it, but I would encourage you to try before you buy as it is not everyone's cup of tea.
September 18, 2012
Such a dissapointment
I really wanted to like this game, ive always been a fan of the time strategy games, and so i thought i'd give it a go. I saw it as along the same lines of All My Gods, Island tribe but with bigger scope for the stroy to develop, multiples characters etc, i guess is was secretly hoping it would be a take on the original settlers too. And yet i am giving up on it- something i rarely ever do with games! The reason- even on the hardest setting you are still handheld throughout the entire game. I appreciate that on the easy setting/relaxed settings that appeals to some people but i am no first time gamer and would love to just be given the goals for the chapter and thats it! I don't need to be told to repair damaged buildings or speak to 'x', build more houses etc, i can as can most others, work that out for themselves, it is after all a strategy game, would the developers of this game sit behind someone playing chess telling them every single move they are going to make? It really is infuriating as it is simply not a challenge. Even on the harder setting the timer isn't even an issue, well how could it be, do what they say when they say and bingo your in time. I had hoped the handholding would get less, but 7 chapters in and it's driven me to abandon all hope! That aside the fact you can't save a level is incredibly annoying- and will cause many to lose patience with the game having to start over due to whatever disruption came up and having to go through all the instructions yet again. It didn't bother me about not being able to demolish buildings in the scheme of the game but am just curious as to why it isn't an option? Being able to reharvest supplies and reuse land can't make the game any easier with all the prompts! The screenplay is good, the graphics are nice, the music is as most music is on these games, best turned right down but it's within the theme of the game. It can't be faulted for that approach but as far as a challenging game, or even a game i think this leaves a lot to to be desired. Perhaps if they continue to make the others on the series they will allow for a function where you get the level goals and let you be on your merry way, if not then i shall have to say this will be my only attempt at it.
September 20, 2012
Hand-holding Throughout
Great story board and cute graphics. The fun stops there. Space is limited and buildings 'deteriorate' over a chapter's time-and can't be demolished to rebuild. Many are placed by the game, leaving little or no room for new replacements, so frustration increases. No independent game-play.Do what you're told, when you're told and not before-very little choice. Workers take care of the routine but only ONE does the moving to accomplish tasks/goals and he's S-L-O-W moving. I'm an avid TM player (Roads to Rome, Build-a-Lots, My Kingdom for the Princess, etc)and won't leave a level until I hit "Expert" but in this game, I just wanted to finish a level and get it over with. Reviews say Version 2 improved on the faults in One-do the trial before you buy either one. Great potential, but it just missed the mark in One.
April 14, 2013
The Apple logo is a trademark of Apple Computer, Inc.