Adelantado Trilogy: Book One
Discover the fabulous secrets that a jungle hides in Adelantado Trilogy: Book One! Help the brave and noble officer, Don Diego De Leon, to find and save the lost expedition. Befriend the natives who can be of valuable assistance to you. Help them as you restore buildings, harvest foods, and create a settlement. Upgrade your skills and earn fabulous trophies. Treasures await you in this exciting Strategy game!
Vast level maps
Non-linear missions
Plentiful side-quests
Game System Requirements:
OS:

Windows XP/Windows Vista/Windows 7/8

CPU:

1.2 GHz

RAM:

1024 MB

DirectX:

9.0

Hard Drive:

140 MB
Game Manager System Requirements:
Browser:

Internet Explorer 7 or later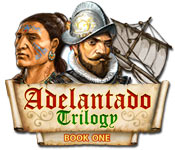 NEW299
The Big Fish Guarantee:
Quality tested and virus free.
No ads, no adware, no spyware.

Reviews at a Glance

Adelantado Trilogy: Book One
0
out of
5 (
0
Reviews
Review
)
Customer Reviews
Adelantado Trilogy: Book One
166
166
Poor Building directions!
The game won't allow you to demolish abandoned buildings; and since you can't upgrade any of them it's the pits.
October 23, 2012
So-so game - 2 1/2 stars
First a bit about me so you can understand my review. I don't care about music or graphics. If I played checkers, for example, with pieces of paper or cardboard pieces, it's still checkers to me. I usually turn off music if the game allows for it. All I care about is the action of playing the game, the mechanics. Bells and whistles do not impress me. I know, I'm abnormal. I know most people do care about these things. I am not putting anyone down for that, I'm just stating that I do not take these things into account when I review. This game took me 2 days to play. I realize that's a bit ambiguous as everyone has different times to commit to playing games. I just wanted to add that anyway as that has a bit to do with my rating. I can not afford to pay a reasonable $6.99 game but for only 2 days of playing. I read a review where it complained about the instructions and tutorial not being adequate. Mostly I disagree with this. To me, there was too much hand holding and I just wanted to play and strategize, not have the game do it for me. I will say it took me a bit to realize the logic wasn't realistic. I don't want to give spoilers so I'll just say it took me a bit to realize I need to stratagize another way due to this but that just makes for more game play so that's not so bad. If games were easy right off then one would not enjoy playing them. There is a lot of waiting in the game, kind of like the Westward series but not nearly as involved or fun as Westward. There is no way to save progress so if you started a level, you either have to finish that level or start over if you need to close the game. One thing that drove me to swear was every time a player picks up a gem, a information window pops up. I know I freeking picked up the gem, I was the one who clicked on it. One get's a mail notification when one does anything like build a building or upgrade a building. This doesn't interrupt game play but is totally useless and creates more memory and more graphics needed for the game to play. Again, I know I built a building or upgraded it. The timer is just a countdown bar. Each level has the same bar but the time one has to play, which is obvious after playing the levels, is different for each level. I'd much rather have a clock count down. Various things one finds while taking time to search for these "extras" are totally useless and are just stating something either just for the story line or to give information that is already known or obvious. I personally do not find that adds entertainment to the game. If I had the ability to make a game (sadly, I do not), I would be happy to have made this game but I wouldn't feel right selling it for $6.99. I can see tons of room for improvement as a player. I think the bonus level you get after you get gold timing on all the other levels can not be done in gold time. If someone has, I'd like to hear from her/him. I can not actually recommend this game however if knew someone liked the kind of games I liked and they said they were desperate for a new game, I would recommend but only if desperate. I do hope to see the next version and hope the maker(s) read the reviews and learn from them. I certainly do not wish to discourage this game maker. I think it has potential.
October 9, 2012
Annoyed
This game was not as great as the reviews led me to believe. I didn't play I or II so didn't know what to expect. I loved The Promised Land and thought this might be more challenging but similar. It IS challenging to complete the tasks before time runs out, but the tasks are repetitive and the rewards are boring . I was disappointed. the game kept overheating my computer and if I did not save frequently, I would lose my progress and have to do all of the annoying tasks over again. I am deleting this one before I finish!
January 10, 2014
Old Technology
Remember Zelda when it was new like 15 years ago? It was pretty exciting then, but those little characters walking around stiff legged after you picked a task for them to do and then you wait for them to do it is archaic. And then there is the no save feature. Waste of credits for sure. My next move is to uninstall it.
October 8, 2012
Too much hand holding
At first I thought I would like the game. It starts out with good music & graphics and an idea that it will be a free reign type time management game. But once it gets going you realize that you can only do what the game wants you to do and it will literally hold your hand through the whole thing. Make sure you play the entire hour trial. I thought I was going to buy it in the first half hour and then quickly changed my mind as the minutes ticked by and the game play did not get any more interesting.
September 24, 2012
Not fun...boring
This was a disappointment. i played the demo for about 20 minutes and uninstalled it. There was no independent thought, just click here and there when you were told to. You were given objectives to achieve but no way to do them. Like break the barrel. How? I clicked around on everything and finally someone came out of the hut and broke the barrel but I've no idea what made that happen. Cut down trees. How? There were all kinds of instructions but not one place told you how to make these things happen. Everything was collected automatically so you had no hand in it. Just plain boring.
September 18, 2012
Boring, boring, boring
The only thing that makes this better than Farmville is that you don't have to annoy your friends by asking for items and begging them to join you. I quit after 20 minutes. It may pick up later on in the game, but I doubt it. Oh, and the Aztecs did not have totem poles.
May 6, 2013
Boring
Was just too boring to stick with.
March 31, 2014
Know what you're getting! (Not like Roads of Rome)
If you're looking for a complicated strategy/time management game, this might be it. But just know this is not similar to My Kingdom for the Princess or Roads of Rome. There's no "cute" or "fun" factor. So if that's what you're looking for, this game will just give you a headache.
September 18, 2012
For strategy players only
*This review is based on the trial* Okay, so I really wanted to give this game a chance. I'm not very good at strategy and sim games, but once in a while there's one with a cute story, such as My Kingdom for a Princess, which I play even though I can't finish the levels on my own. (By the way, I didn't think this game was very similar to MKfaP) This game and me got off to a very bad start, given that I had quite a few problems with the graphics (on my brand new computer, which all other games run perfectly on!), i.e. constant flickering of different screen parts. Well, I thought I'd ignore that for now and see what it was all about. I started the "easy mode", but I got bored so quickly, that I couldn't even finish the full 60 minutes. On the one hand, the tutorial is way too long, but on the other hand, it leaves so many questions. I had a hard time finding my way. And I really don't have the time to sit for hours watching a tutorial - that's what it felt like, even though the game thinks you're already playing. Might be a nice little game for more or less experienced simulation players, but unfortunately, not for me!
June 3, 2014
The Apple logo is a trademark of Apple Computer, Inc.