Heaven & Hell
Angelo the angel is too lazy to work and instead of helping God like the other angels he prefers to play with his FaithBook account all day long. God catches on to his activities and he is not happy! To punish Angelo, God sends him to hell to retrieve the seven stolen artifacts. Help Angelo get back into heaven and retrieve all the stolen artifacts in Heaven & Hell!
Addicting gameplay
Earn achievements
Challenging Mini Games
Game System Requirements:
OS:

Windows XP/Windows Vista/Windows 7/8

CPU:

1.2 GHz

RAM:

256 MB

DirectX:

9.0

Hard Drive:

110 MB
Game Manager System Requirements:
Browser:

Internet Explorer 7 or later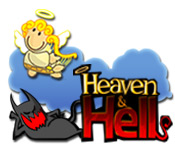 NEW299
The Big Fish Guarantee:
Quality tested and virus free.
No ads, no adware, no spyware.

Reviews at a Glance

Heaven & Hell
0
out of
5 (
0
Reviews
Review
)
Customer Reviews
Sinfully Fun
Well if you like kicking a little demon booty this is the one to do it with. This is a really fun and cute match 3 with some side splitting humor thrown in. When I first saw the title I thought hmmm I don't know about this but I went ahead and tried it and I was immediately hooked halfway through the first level and knew I was gonna be buying this one. You take on the role of a lazy angel who has been punished and sent down below to retrieve some stolen artifacts to teach you a lesson. While your there you run up on a cast of characters and you have to make your way through their prison before you can move on to the next level. The tiles your matching are the seven deadly sins and they are done very cute like little cartoon characters but they have attitude and so does the angel and I might add this little angel is full of surprises a sly and smart little thing as well. The power ups are really good you have some that will take out tiles vertically and horizontally, some take out certain tiles and some take out blocks of tiles and they come fast which is good because you can use them right away and you need them when you reach the levels with the double chains. The only thing is you can't continuously match as the tiles fall but they fall fast so for me that wasn't a problem it felt like I was able to continuously match as fast as they were falling. The music is really cute it's sorta of rock but a little funky and silly and me being a metal head I found myself banging my head some to the music so it really fits the game and it's really cute. As you work through the levels of each baddy at the end of the level there is sometimes some conversation between you and the baddy and the humor there is just too cute I have laughed at this so much. There is no evil intent or anything bad about this game so don't let the title fool you but it does prove the point that yes good does defeat evil. At the end of the each baddy stage there is a puzzle where you have to swap the tiles around to make the image come in to focus and then your able to move onto the next baddy. All in all this is really a cute and fun game that is full of quirky humor and cute characters that have attitude and I've really enjoyed playing this game and I'm so glad I gave it a try and bought it. I think the game is very well done from the story all the way to the music and I love the cute little cartoon character tiles they are just really cute with cute bright colors and just an all around fun little game to play. Thank you dev's for this little devilish gem of a game and I look forward to seeing more from you and thank you Big Fish for another game that is so fun that it should be a sin.
September 19, 2012
Great little M3 game
I love this game! It's Dante's Inferno meets Grimm Adventures of Billy and Mandy! The story line is funny: a lazy angel, Angelo, is sent to Hades to retrieve stolen artifacts. The dialog between Angelo and the little devil is great. Watch for puns and hidden meanings, like Angelo and his 'faithbook' account. The only down side for me was the slowness of the game. The boards load and clear slowly, and you have to wait for the cascades to end before the tiles will slide. Otherwise, great music - very Twin Peaks, funny story line, great cartoon characters.
September 18, 2012
Although Too Easy Everything Else Was Fantastic!
I love that this game had an actual identity vs all the other games in M3 that are all the same. The story line was funny and the music was perfectly fitting for this game. If it was harder it would have been a perfect game. For me I like the darker things in life and this was right up my alley. This is what M3 is all about to me because it has mini games, a comical design, and great music that draws you in. I just hope if they make a second one it isn't this easy.
September 18, 2012
Fun if you like to make long matches for powerups
I am writing this review after having played about 3 hours. I found the game rather boring at first, standard game board, standard tile smashing. The typical slow start for many Match-3 games. What got me to like it was the ever increasing power-ups you get for both long matches and many matches of the designated icon. These are fun to collect and fun to use. And, as a person who likes wasting time playing games (I'm retired, so it's mine to waste), I do love the bad little angel that is being punished for wasting time on his FaithBook account. And matching icons of the seven deadly sins is fun. I find the music OK if turned down to 10% volume, and I can get used to the board being locked until the cascades stop, because that forces me to focus on new powerups. What I do not like is the fact the tiles are so hard to see. Even though the game is not timed, I hate to have to search for them. They do start blinking after a while, and it's nice to have the game tell you how many are left. I do recommend this game for those who, like me, enjoy getting well rewarded for long matches and using those rewards to blow things up.
September 18, 2012
Straight Forward Match 3
I'm undecided about this Match 3. It's straight forward and not a big challenge. No timer which I like. One easy mini-game during the trial. The only offense was the colors were bright and clashing which distracted from play. If you enjoy plain old Match 3, which I do, this may be the game for you. Just a relaxing game without much challenge. Don't know how the game progresses, the challenge may increase. I would buy at a better price.
September 18, 2012
Naughty or nice?
Well,....... It has a silly storyline with trash talk dialogue. Angelo, the angel, has idle hands and has been sent to the devil to find some stolen artifacts to return upstairs. The dialogue is played for humor but it's more of a groaner than a chuckle. I got a better chuckle out of the instructions. Obviously made by non-English speaking devs, the written instructions had an accent. The grid is nowhere near big enough to see really well and but is extremely colorful. The items on the match3 board are four of the seven deadly sins. You have sloth, greed, envy and anger. There are tons of bombs and a cross (plus sign) that clears the rows both ways and a God's hand that clears all of one color. And there promises to be more. There are achievements and power-ups. There is an increasing challenge to each level part that you play. Yes, it's appearance is childlike. Yes, the the music is just awful; I turned the music off and played with just the sound. Yes, the graphics are a bit garish. But... It held my interest until the demo ended and I wished I could have gone on because there were three more sins to go and it moved along quickly. No real time to get bored. And you didn't have to beat a timer! All in all, I liked it.
September 18, 2012
Great game for watching tv
It is a cute game and it is just right to play while you are watching tv.
September 18, 2012
Heavenly Game, Hot Watr!
I'm a fan of M3's and play lots of them. I hoped this would be an amusing take on the angel-deamon theme. Well the theme is there, but there's not too many pluses after that. The translation is poor and while mostly understndable, could've made directions a lot clearer a lot faster. But the most disappointing were the graphics which are cartoonish but far from cute or even clear. Objects/characters are often hard to distinguish quickly and mar what could've been a fun and challenging game. Power-ups, trophies are all there and this game really had potential but the negatives far outweigh any fun for me. Hoping the devs will take a hint and use a good platform for a much more fun experience.
September 18, 2012
It is an ok match 3 game
The story is realy nice, the graphics are ok, but not grandious. I like this theme, but they could make something better, more interesting and more beautyful tiles. It is ok, not the best one, not the worst one.
May 17, 2013
Too many minuses for me
The first thing I did, after 5 minutes of playing this game, was look around for the Tardis. I thought I'd been taken back to the nineties. I think some dev forgot this was in their closet, only to find it last week. It's hard to see the charactors because the back ground. The red background was the worst. I might buy this, will have to think about it. I suggest trying the demo for your self, you might like it.
September 18, 2012