Sticky Linky
Millions of years of evolution have led to this: colored globs bobbing above and below the ocean, attempting to develop into a higher form of life. Your job: Match the globs to create new creatures and then save them before a hungry fish swallows them whole! Can you beat every level to become the king of the globs?
Cute characters
Class and Zen modes
Point-and-click controls
Game System Requirements:
OS:

Windows XP/Windows Vista/Windows 7/8

CPU:

1.8 GHz

RAM:

2048 MB

DirectX:

9.0

Hard Drive:

56 MB
Game Manager System Requirements:
Browser:

Internet Explorer 7 or later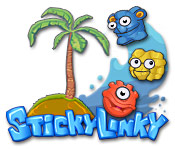 NEW299
The Big Fish Guarantee:
Quality tested and virus free.
No ads, no adware, no spyware.

Reviews at a Glance

Sticky Linky
0
out of
5 (
0
Reviews
Review
)
Customer Reviews
It grows on you
I played this on the original websight where it came out and was quickly hooked. Try to get 5 or more of same color linked and you're rewarded with a creature. Only limited number of clicks to accomplish getting enough creatures. Extra creatures get extra points. Attempting to time your clicks to take advantage of breezes or wave action keeps me coming back to up my score. I'll be buying it as soon as my game credit comes around this month.
October 16, 2012
Fun and very different
I wasn't too sure what to make of this game at first but quickly found myself having a great time. Upbeat music, funny creatures, bright colors -- its great for relaxing. Its a very different sort of game. You click on "blobs" and if there are 5 or more linked you get a creature. Then if the creature is linked to a blob of the same color you can save it. There's no timer, instead the number of clicks you use is counted. You get more when you save a creature. If you use up the available amount the level ends. The style of game play could have been taken way too seriously but instead the designers went for humor. That's what made me buy the game. I just wish there were more levels. I already played through once and am doing it again. Its just as fun the second time. If you want something unique and funny, buy this game!
October 15, 2012
Good for a few minutes of distraction
Sticky Linky On the opening screen You choose between Play & Zen Mode. Zen is locked until you have reached 400,000 coins. Along the bottom of the screen there are 5 symbols. 1.Gears-choose between 2 picture icons, a TV with arrows shooting out or a speaker. TV with arrows is for the game stretching to fit your screen. The speaker allows adj the music & other sounds. I looked for this symbol immediately, as the happy, cheerful, music became very annoying rather quickly. 2. Awards box- scoreboard for the regular game or Zen mode 3. Player list- slots for 5 players 4. Achievements- 32 available achievements. An example is the "Zebra achievement" is earned for collecting creatures alternating between 2 colors. Not all are difficult as the "Charmed achievement" is earned by not touching anything on the game screen for 20 seconds. Many achievements deal with gaining of creatures according to their color. 5. "i" icon -names of development team, testing crew, etc. The screen set up is very basic graphics. The molecules keep having new segments arriving and adding onto the structure, that reminds me of chemistry science lab when creating molecule clusters of various elements. As pieces are added the structure may become too heavy, out of balance, drop into the ocean or just sink and be lost. When under water there is the added risk of fish swimming by and eating a part of the structure which can disrupt any planning you may be doing. You start with 100 mana in your beaker. Each click depletes your mana or energy level by 1. The goal is to gather creatures in various color patterns. Once there are 5 or more creatures of the same color in a cluster, you click them, they will evolve to the next size up creature cluster, or blob. Once that creature is once again part of a cluster and you click on that group then that creature is added to the vine.in the upper right hand side of the screen. There are 5 diff colors gold, red, blue orange & purple. The gist of the story is these units are the basic parts that will evolve in the theory of evolution. They are changing and evolving into higher life forms. Story is not well developed , seems they just needed something to base the game on & chose this idea. Easy to pick up and play for just a few minutes here and there through the day, but is only saved at the completion of a level. Seems rather simple. Has very poor instructions, but seems easy to learn and play through trial and error. Some achievements will be harder to get. Give it a try!
October 12, 2012
PLEASE add instructions?
Whew! Played the demo for 30 minutes~ the idea is interesting, esp. the way it links. It's kinda like Goo w/out the story and with color. Figured out some of it, trial & (Much) error, but I got the buzzer so often and don't understand what precisely my mistake is. I even watched the video-let several times, but there's only one buzzer on there and what it was for isn't clear (at least to my old eyes!) I think it's supposed to be intuitive for pre-readers, but it goes so fast from the beginning that I think kids would get frustrated too. I see a lotta complaints about the fish, and there is a quick frame of info that says to click them so they don't eat the critters. It was REALLY a quick frame tho; if I'd blinked I'd'a missed it. If there were instructions on the basic process, I might buy it!
October 16, 2012
Sticky Linky
When I first downloaded this game I didn't think I was going to like it at all. The play instructions were pretty much non existent and it was trial and error throughout! However, having started playing it seemed strangely addictive. The music is dire and there is no particular story line but I found I was almost sorry when the hour trial was up. I did not buy this game as I had a game credit and had a choice of this game and another. I chose the other. I would recommend this game. Give it a go at least, you never know you might like it!
October 13, 2012
When the music is the best part.....
You know the game play is going to be seriously lacking. I do admit to having tried this one despite the reviews - never again. The reviews are generally on the money. Instructions on what to do were vague at best on this one, I found myself just frantically clicking and speeding through levels without really knowing how, I couldn't even work out what my objectives were. I did however love the music and sound (reminded me of spongebob) and the graphics were nice and crisp too. I found myself playing on despite not knowing what I was doing as there was something quite appealing about the franticness of it all but it didn't last beyond 15 minutes when I suddenly realised I was going trigger crazy with the mouse to no apparent end.
October 16, 2012
Bouncy TinkerToy Collapse--only for the strong of stomach
Imagine a cross between Collapse and a set of colourful rubbery TinkerToys on speed, and you've got Sticky Linky. You basically have to click like crazy to join little blob guys on sticks (pseudopods?# by colour before the fish eat them. If you like Collapse, you might enjoy this game, but make sure you have some Gravol on hand, because the little #self-censored)s jump around enough to make a sailor seasick.
October 13, 2012
Boring with a capital "B"
I'd rather chew broken glass.......
October 19, 2012
4 minutes too much
Watching paint dry would be more entertaining...
October 14, 2012
Boring
I could have more fun playing with a piece of string.
October 12, 2012