Sylia - Act 1
Three gigantic and mysterious cubes have landed on Sylia's main islands. Inside them, unknown creatures are plotting on how to take control of the lands and extract the planet's energy. The only thing that stands in the mysterious invader's way are a hardy group of adventurers. Will Sylia unite during this conflict and repel the alien invaders or will the planet be drained of life forever?
Bright, colorful graphics
Adjustable battle speed
Multiple endings
Game System Requirements:
OS:

Windows XP/Windows Vista/Windows 7/8

CPU:

1.6 GHz

RAM:

128 MB

DirectX:

9.0

Hard Drive:

117 MB
Game Manager System Requirements:
Browser:

Internet Explorer 7 or later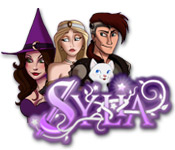 NEW299
The Big Fish Guarantee:
Quality tested and virus free.
No ads, no adware, no spyware.

Reviews at a Glance

Sylia - Act 1
0
out of
5 (
0
Reviews
Review
)
Customer Reviews
Great fun and well worth it
I've already played this game from elsewhere so I don't know where episode one ends, but wherever it does, I bet you'll be eager for the second part. The storyline isn't your usual RPG cliche; for one, the first thing the human heroes do is comprehensively lose against the villain and are then out of it for the whole game. Instead, you have the weirdest party you are ever likely to get, and it brings a whole new dimension to the game play. There are lots of optional characters you can collect on the way, all of which bring something useful to the table. There are the things that you'd expect from this developer: lots of side quests, artifacts with special qualities to find, gorgeous maps, and quirks and twists in the plot. The dialogue is often funny. There are multiple possibilities for the ending and it's up to your final choice how that plays out. I really enjoyed playing this game.
September 21, 2012
Sylia, Act 1
[it's the cat's meow!] What troubles me, as I write, is that if you've not ever been exposed to an RPG [Role-Playing Game], it's not likely that you'll find this review. But if I could convert players from any type of gaming to anything else, it would be an RPG. It's true, there's not the up-to-date animation, but more and more have original soundtracks. Basically, the mechanics are simple, and, once known, are very easy to remember. The player uses arrow buttons to move the character around, "Enter" or "Space" to investigate something, and "Esc" to find the Main Menu. You can upgrade armor, find specially made crowns, find better swords... all for a price. Every "civilization" you come to will have an Inn [where you can rest and regain your HP [heart points/power] and your MP [mana (magic) points/power.] You can climb levels quickly or spend your time exploring... There is a main quest, and hundreds of "side quests," a lot of favor trades, original conversations... [/rant] So - Introduction. Four very powerful Priestess/Warrior/Knight/Magic User have been rescuing their planet from the threat of Aliens, whose leader is a Witch named "Lady Godiva." Yes, I know. The name isn't so original. The team tries valiantly but could not beat her, and so Lady Godiva turns all the humans on the planet to stone. Which introduces your two main characters, Katie, the cat, and Nestor, the dog. Realizing what has happened, they set out to defeat Lady Godiva because wouldn't it be cool for animals to save the world for once? If you're a veteran of RPG, you'll already know that the traveling space is vast and there are millions of cracks in the wall to investigate, magical things to be sought, and miniature quests to go on. These games usually take hours and hours and hours. In this way, they are much more fun than your standard three to five hour game that has only one goal. As I said, I wish that other gamers would try a ride on the RPG train, it's LOTS of fun, even though it requires your brain to work much harder. I'll be getting this as soon as next month rolls around and I'll have money to buy games again!
September 23, 2012
HUGE Game, Totally Worth the Effort
I'm not surprised this game has been broken into "Acts": it's MASSIVE. It's also very challenging and full of surprises. I strongly urge anyone planning to play it to also get the guide as it was invaluable to me when I played. The story is definitely different, and unfortunately that's all I can say because, about 10 minutes into it, it turns into something I certainly didn't expect and I don't want to spoil the discovery. ;-) I'm a big fan of Aldorlea and Ensorcelled, and they knocked the ball out of the park with this one: memorable characters, GREAT music, and a fresh and original storyline. Enjoy!!!
September 21, 2012
Realms of Sylia!
Sylia is one of the most interesting games I've ever played. It has everything a good RPG needs to have, a great storyline, non-linear gameplay, fun and exciting characters with awesome conversations that will make you laugh a lot of times, lots of characters and much more fun. This game will gve you hours and hours of enjoyment with a magical world to explore, countles relics and artfacts to find and a story will make you keep playing until the end, I definetly recommend Sylia.
September 21, 2012
CATastrophically enjoyable
I've played this whole game, too, so I also don't know where the cut-off is, but...this is one of the first rpgs I've played with non-human main characters. How can a feline and canine save humankind? If you are up for a challenge of trying to locate and *whine* to convince others to join your party, then this is it! You can expect some hilarious dialog and a challenge to your sleuthing abilities, along with the ability to change your party around. There are artifacts, relics and charms to find/make that will give you an edge down the road. There are quests to solve in order to gain some of those goodies above. The graphics are wonderful and the music is changeable and you can dictate the difficulty at the beginning of the game. Just watch out for those tricky dungeons! There are even some optional *bosses*, so go there if you dare!
September 21, 2012
Two cents
Just a few things to add... Act I ends when the dog returns in the balloon. I haven't played all that many RPG's yet, but this is the first I've seen that allows the player to customise characters. He gets to choose names for all the major animals if he doesn't want to go with the default names, and he gets to choose [male or female] and appearance of the two main characters. There's much that can be easily missed without a walkthrough or help from forums, but I suppose that's normal for an RPG. So, when is Act II going to be available?
September 29, 2012
Lovely game with addictive plot story!
Since I'm a HUGE fan of stories introducing animal characters (The Chronicles of Narnia, etc.), I particularly enjoyed this game's scenario, where pets have to save the world from a dreadful alien invasion! Geez! :) The gameplay is the one of a classical side-viewed turn-based old 2D RPG, like the old SNES FF, with many quests to do and a non-linear style of exploration, so it's all OK for me. To sum up, I would say Sylia is in Aldorlea's panel of productions, the kind of "refreshing" and entertaining games you will like to play between two parties of deeper and bigger acts like the Laxius Saga or Asguaard. Difinitively worth the try.
November 3, 2012
A new edition to the RPG family
I am a big fan of the Aveyond series and a few other RPG games. However....after awhile I keep seeing the same thing over and over again. This game is not your usual RPG! The storyline is hilarious and definitely spins you around a bit in the beginning. I don't want to spoil it for you....just download the trial...you'll see! The graphics are great as far as RPG goes and the game play is simple and easy to understand. I was getting really bored of HOGs and I am so glad that this game came out to pull me from the depths of boredom. I guarantee that if you like RPG games - you will enjoy this.
September 24, 2012
Fun Fun Fun
Aveyond-esk. Very fun, also bought guide. Can't wait for Act 2. Hopefully Big Fish will have it available. Disappointed that I haven't seen second part of Fated Haven. I hope that doesn't happen with Sylia, since much better than Fated Haven, not as good as Aveyond.
October 7, 2012
Sylia - Act I
Interesting characters and gameplay. Can't wait for Act II!!!
October 25, 2012