Gothic Fiction: Dark Saga
Rescue your daughter and escape a cursed school in Gothic Fiction: Dark Saga! After moving to a small town in rural England, you and your daughter, Hannah, head out to visit a local school. But the brochure didn't mention anything about the ancient evil lurking there, waiting for one last soul to complete her insidious plan. Can you rescue Hannah before she becomes part of the school's terrible legacy? Find out in this spine-tingling new Hidden Object Puzzle Adventure game!
Exciting Puzzles
Beautiful Graphics
For a more in depth experience, check out the Collector's Edition
Game System Requirements:
OS:

Windows XP/Windows Vista/Windows 7/8

CPU:

1.4 GHz

RAM:

1024 MB

DirectX:

9.0

Hard Drive:

586 MB
Game Manager System Requirements:
Browser:

Internet Explorer 7 or later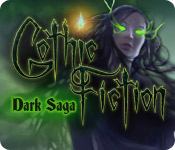 NEW299
The Big Fish Guarantee:
Quality tested and virus free.
No ads, no adware, no spyware.

Reviews at a Glance

Gothic Fiction: Dark Saga
0
out of
5 (
0
Reviews
Review
)
Customer Reviews
Gothic Fiction: Dark Saga
71
71
Based on demo
Getting right to it... - way too much dialogue for such an obvious plot. - Mini games posed no thought process (I played on the Advanced level) - A lot of to and fro though there is a map. - At times the captured will jump you to your next 'challenge'; which I found to be a con since I like having to remember where I need to use a certain weapon, gadget, and/or puzzle piece. - The villain and her camp get downright annoying after the first couple times they pop up. - I finished the demo in 27 minutes. -Visually: okay, music: nothing special.
October 9, 2012
Gothic Fiction
Cant say that I loved this game but it was not bad. The storyline was pretty good and the mini games werent to bad either but my only thing about this game is that you have to exit and go back, exit and go back constantly, this tends to get a bit boring and annoying after a while. I also think if you could of hit the question mark and it ported you to that spot I think I would of given this game an overall 5 stars. I did purchase this game but didnt spend the money on it I actually waited till I had a club credit. Kind of up in the air about recommending this game unless you try it out first.
September 30, 2012
Too much backtracking with poor hint system.
It would have been a great game without all that backtracking. At the end you have to move between endpoints and cross scene after scene, going back and forth. Add to it that the hint system says "nothing here:" and you have to go looking scene after scene until you hit pay dirt. And then you have to remember if one scene was at the end of the pier, or down the elevator, or in the main hall, going back and forth.. The puzzles were fun, and the storyline OK, although you knew the story after ten minutes, (evil witch captures chidren spirits and has now caputred your daughter) with no further elaboration. I do not mind a servicieable plot, but when you are going for doom and gloom, and try to keep people riveted so that they do not mind all the backtracking, you have to develop it more, and more slowly. It is fun for quite a while, when you can keep track of where you are and where everything is or should go, but at the end, finishing becomes a chore, not fun. Listen, developers, we play for fun. If we are not having fun, we will go do something else.
June 2, 2013
It was ok and I am not hard to please
Game was o.k. To much back and forth for my liking. You literally have to go way back and forth not just a few screens. Hint system is what aggravated me, I don't use hints much but if your really struck and you hit hint it tells you "nothing left to do here" or "look in another location" which send you back through each screen to see what you're missing. A little intrigue is always good but this is monotonous! Story was pretty cool and graphics were good, that's why 3 stars were given. It just seems your stuck more often then not and constantly going back through to find the tiny thing you missed. Maybe the CE is better because you at least have something to refer to when you get stuck. I am really easy to please with these games, I just enjoy playing them, but this annoyed me to the point I deleted it prior to even finishing. A shame really because I liked the story line and the game play and enjoyed the few HOS they had. I like a game with less HOS so they were very well balanced. They just needed to change the hint system to be more user friendly. Would only purchase if you have a freebie and alot of time and patience.
May 25, 2013
Okay game , but only with a FREE code
The graphics are good, and I was hopeful...Somehow this game just missed the mark with me. Storyline is good, and the HOS are clear and spaced out. I cant quite put my finger on just what I disliked.....Try it if, like I said, you have a free game to spend. Not a horrible choice, but definitely NOT a great one either. Happy gaming gamers!!
June 19, 2013
good game, but....
The actual game was smooth & just challenging enough to keep me moving. I found that the acting was overblown & slowed down the play of the game. The need for the smoke & laughter escaped me. But I do not play games for the storyline but for the game itself. That said, based on the demo only, the scenery was quite nice, a little creepy in keeping with the storyline, & the play itself moved right along at a fairly fast pace.
September 22, 2012
cute but predictable, as usually
I would have liked a story in which a father rescues his son or daughter. This would be more appropriate to the classical role of men in society, as fighters and defenders. Too masculine the mother.
August 11, 2013
Pure puzzle adventure, ok story,
Just finished my second playthrough - it took me a little over three hours this time with me skipping a few puzzles (more on that later). The story starts off simply and dumps you right into the action: You've gone to England to find a school for your daughter, and naturally you pick the one that hasn't been open in forty years (should've checked their web page...). Much mayhem and mischief ensues. The game is a mixed bag for me, so I'll try to break it down: THE GOOD: Graphics and sound are top notch, even in 2014. It's an ERS title and it shows. Voice overs and voice acting are spot on, but I could do without the cheesy title announcement at the start. The story is a tried and true formula - evil witch whisks off daughter and mom's left to save her. The details got a bit repetitive as the story went on - might be great for kids around eight or so. Probably just the right amount of 'scare' for them, too. The puzzles (and the closest thing to an HOS in the game is picking up pieces of glass in a room) vary in difficulty from incredibly simple to maddeningly complex. I have the feeling that some of them were harder than intended. Example similar to one in game: swapping pieces of three pies to make three 'complete' pies isn't too bad. Making me guess which pie plate each of them goes on just turns it way up. Most inventory items are used almost as soon as they are found. There are those obstacles though that you find early but won't 'solve' until much later. I think they hit the right mix on that one. You have a 'journal' that records info in the order you find it (something I like), as well as a book you collect pages for that tells the 'backstory' of how these things came to be. Finally, the map: Informative, showing objectives and where things could be done (generally, anyway), but not a 'jump' map. You do get help with transportation from time to time, but be prepared for some walking near the end of the game. THE BAD: The repetitiveness of the plot. Without giving details away, you'll find yourself responding to things the same way multiple times as you go on. The walking around, while not bad in the beginning where everything is within four to five 'hops' of each other, become tedious as the game progresses and the map grows larger (though stills miles better than other titles I can think of). I'll say it again here - some of the puzzles were just needlessly overcomplicated and tedious to solve. Brute forcing your way through a host of combinations isn't challenging - it's just tedious. Some of the puzzles were challenging, and exceedingly so - one where you needed to arrange tiles not only in order but with the proper physical orientation, with only a limited way to 'adjust' them, comes to mind. Note: most of the puzzles were in the right range of difficulty, and you do have that skip button, which can be turned on after the game starts if you find you need it. THE UGLY: Near the end, the map just stopped being informative. Every room had the 'nothing to do here' hint, with no objectives or guidance marked anywhere. I had to turn to a forum thread to get back on track at one point. BOTTOM LINE: It's a fun game to kill a few hours with. It might be a nice scary game for the kiddies - for the grown-ups I think there's enough to keep it interesting, while not taking itself too seriously. The ending was rather abrupt, but it does end conclusively - no being cheated out an ending for buying the SE. For all its flaws, I still recommend it - it's still better than a lot of what's coming out today. I'd give it three and a half stars, but it's not quite enough to round up to four. Maybe a year or two ago...
July 9, 2014
A bit of hair pulling with this one.
I just finished re-playing the game after about two years of getting used to playing better games. Although its a good game there were a few times where I just couldn't remember just exactly WHERE I needed that item. The hint only tells you "there is nothing to do here", and with no map, I find that to be a problem when I'm completely at a loss and there are so many rooms near the end. At one point I just ran around each and every room hitting the hint trying to find what I needed to do, once trying every room and getting nothing, resorting to the walkthrough only to find that the next action was in a room that said "there is nothing to do here". I'm no novice at these type of games but sometimes need a hint so this less than helpful hint system made me lower my rating otherwise I would have given it a 4. A directional hint would have made this a better game.
October 31, 2013
Good production, but bad game
As usual for this developer, the production is first rate with live actors. Too bad the rest of the game is bad. To begin with, the story is awful and is poorly told to boot. Game play is totally confusing - back and forth again and again. The HINT button is more than useless, it is wrong at times. There is a map, but it is also useless, showing some locations where action is needed but ignoring others. At random times, some girl pops up to show you a jump path opening - dumb. There aren't any HOS and the puzzles are simple. The game is long, too, making one wish the thing would end, please. I suggest one use a walkthrough just to avoid frustration. Better yet, avoid this dog.
December 12, 2012
The Apple logo is a trademark of Apple Computer, Inc.