Gothic Fiction: Dark Saga
Rescue your daughter and escape a cursed school in Gothic Fiction: Dark Saga! After moving to a small town in rural England, you and your daughter, Hannah, head out to visit a local school. But the brochure didn't mention anything about the ancient evil lurking there, waiting for one last soul to complete her insidious plan. Can you rescue Hannah before she becomes part of the school's terrible legacy? Find out in this spine-tingling new Hidden Object Puzzle Adventure game!
Exciting Puzzles
Beautiful Graphics
For a more in depth experience, check out the Collector's Edition
Game System Requirements:
OS:

10.8/10.7/10.6/10.5

CPU:

1.4 GHz (INTEL ONLY)

RAM:

1024 MB

Hard Drive:

560 MB
Game Manager System Requirements:
Browser:

Safari 4.0 or later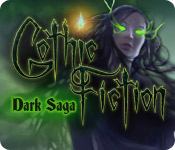 NEW299
The Big Fish Guarantee:
Quality tested and virus free.
No ads, no adware, no spyware.

Reviews at a Glance

Gothic Fiction: Dark Saga
0
out of
5 (
0
Reviews
Review
)
Customer Reviews
Gothic Fiction: Dark Saga
71
71
For adventure game lovers who hate HOPAs
I'm a big fan of "adventure" games, and was glad there were no junk-pile HOPAs to wade through. Beautiful graphics, and this game had a lot of potential, but a few issues keep it from being a 5-star, especially the lack of assistance in the "help" (it was so non-helpful, it actually made me aggravated, and I had to close out and look at the BFG Blog walkthrough several times). : The good: -HOPA-free adventure game -Nice graphics and a fine soundtrack--no extra weird sounds to distract you while playing -You never hold too many inventory items at one time, so you can more easily keep track of -For selected (and honestly random) moments, when you collect an item required to complete a task, a ghost shows up and makes a portal to jump right to the location. I LOVED that part and wished they had more of those. -Lots of different types of mini-games, and none is too annoying. I was only felled by one, so that's not bad The "meh" -story line is tired, and quite silly - you are not always able to skip through dialog (sometimes are, sometimes aren't) -I must be the only BFG player who finds the live actors annoying in these games...if you like 'em, what I can say is that the acting isn't as ridiculous as other games -Mini-games were way too easy overall, so if you like a challenging brain-teaser for your mini-games puzzles, be warned that you won't find them here The bad: -totally useless help system -weird map that doesn't always keep track of outstanding tasks (there were things I knew I still had to finish but marks wouldn't appear on the map) -no ability to jump to locations on the map--you had to wait for a ghost to open a portal for you if you wanted to jump -a LOT of running back and forth, and of long distances between locations, so be prepared to use your mouse-clicking finger I don't regret getting this game, but it isn't one of my favorites. That said, I hope they make more games like this in the future, since I loved the fact that there were no HOPA junk piles, and I don't usually mind the back-and-forth of most adventure games.
September 22, 2012
It's OK,
The game play is fairly good although another one of these back and forth back and forth games... BUT if you are from Britain it WILL annoy the heck out of you. It's set in England although the makers don't seem to have a clue about anything English... so why bother? Why have an American school bus with a driver on the left, why have a school principle, why not do some research first? I may buy it as a daily deal but it's just tooo annoying to spend more than that on.
September 22, 2012
developer made better games...
I love the developer of this game and I playd a lot of other games they put out. Unfortunatelly this one did not rise to the standards they set up a while ago. As usual, I'll detail everything on parts. It was not a bad game, but the 3 stars i gave were mostly for the weird programming and the graphics. STORY: The storyline is beautifully made. You have your daughter kidnaped by an ancient witch. You have to save her, kill the witch and save the souls of other children. At first I didn't catch the relation name-game, but you have to find the pages of a gothic book that details the story of the witch. You find everything along the way, the game being pretty long. GAMEPLAY: Not the best idea to crowd the scenes like that. it made the scene changing heavy and the overall progression slow. The game area is huge and you have no instant map. You have a map indeed, but it just tells you the objectives and where you are. At one point it gets confusing with so many scenes involved. You have to run a lot here and there for items, so an instant map would have been a wonderful idea. The other thing I found a little weird, was the inexistence of logic between the actions you had to do and the story. A lot of weird unnecessary steps. At least you have a pretty detailed strategy guide that you can check if you get stuck. PUZZLES: Just puzzles. This game has absolutely NO hidden object scenes. is strictly an adventure puzzle game. If you're a fan of the classic hos, then this game is not your best option. The puzzles are indeed very ingenious and in a big variety. Most of the items you need are hidden in the scenes without much fuss to find them. All you have to do is find where they belong. You'll get to a point when your inventory will be incredibly crowded, but personally that didn't bother me too much. GRAPHICS&SOUND: Big mistake from the developer to mix video manipulation with painting. The actors used were extremely bad at what they were doing and they did not blend in the scene at all. Your daughter in the game is presented as real recorded person in the main game and digitally painted in the bonus gameplay that did not even look like the same person. The scenes were beautifully made, very vibrant and clear, but the mix they did ruined my overall visual experience. The game is also full of creepy sounds that I absolutely loved being a fan of the genre. I did not care much for the soundtrack because it was very repetitive and I prefered to turn it off. EXTRAS: You have a bonus gameplay, is pretty short, but in a completely new area: on route 999. The change didn't make much sense at first, but I enjoyed it because it looked so much better than the main game. You also have wallpapers, concept art, soundtrack and screensavers. The CE was worth it for the bonus game. I hope the devs learn a lesson from this game they made and try not to mix everything like that and make it a little lighter. I loved the story, but I think they could have done better. It still stays one of my favorite game makers.
September 24, 2012
Not the normal high standard from this stable.
I did something with this game which I rarely do and that is to buy it without playing the trial version. I won't say it was a complete waste of my free game but I should probably have taken my normal cautious approach to buying games. It sounded good and as it comes from the makers of such greats as Puppet Show so I thought I would have a pretty good chance of liking this game. But in reality, I'm not that crazy about it. The map is not particularly useful and doesn't really seem to tell you what actions can be taken at that moment. There are things called "Objective" and "Main Quest" but it is somewhat confusing as to what these actually mean. There doesn't really seem to be a clear objective to the whole game and I don't really like having to collect, say, 5 or 10 items like "mystic energy" without really knowing what I'll need it for. The cursor is also perhaps a bit too fancy which makes it difficult to tell when you can perform an action. The one thing on the plus side though: I like not having hidden object scenes to trawl through every 5 minutes as it is really more about the puzzles with me. There are also a few small niggles which I'd like to point out like the American style school bus when this is supposed to be Somerset. And also the rain! I know it adds atmosphere, but really, it does not always rain in England despite what the British would tell you.
September 26, 2012
Good Puzzle Only Adventure
BASED ON COMPLETED GAME This is NOT a Hidden Object Puzzle Adventure, although there are LOTS OF PUZZLES, there are NO HO SCENES. The first thing I noticed about this game was the colours. Eerie iridescent green and black, highlighted occasionally with gold. VERY creepy and atmospheric. Also, of course, very dark, and that is one of the downsides of this game. Although the GRAPHICS are GOOD, they are NOT UP TO this developers usual STANDARD, and as a rule are too dark. Also on the downside, the STORY is not carried through the game play. You lose all sense of purpose as you simply struggle to find your way around and collect the items you need to solve each of the PUZZLES, which range from SIMPLE to IMPOSSIBLE. In the beginning you get a good briefing of the circumstances and what is happening, but then little is said after that about WHY you?re doing all you?re doing. Don?t get me wrong: this is a decent game, but there is a third complaint I have. The MAP, which is NOT A JUMP MAP, and is very complex, consisting of 6 smaller maps, is confusing as all heck. There is a circular symbol which is supposed to represent ?location?, but what that means I could never work out. It was not where action was required, or had active tasks or anything else I could understand, so for all intents it was also NON-INTERACTIVE. HINT is of the ?there is nothing in this area? type. That is, ALMOST USELESS. On the plus side we have some ENTERTAINING & UNUSUAL PUZZLES, many ORIGINAL, some of which I simply had to SKIP, because they were too difficult. Also, the monsters you must face and defeat were very IMAGINATIVE & suitably CREEPY; depicted well, and defeated satisfactorily. In all, NOT A BAD game, but not as good as some of the PUZZLE ADVENTURES we have seen lately.
June 15, 2013
Bad Mapping setup
I liked the game, but felt that the map was almost useless. I had tasks that need to be completed, but the map didn't show them. This caused me to go in circles until I gave up on the map and started my own log with pen and paper.
October 10, 2012
Game was interesting but not overly challenging.
This was not a hidden object game. It was more problem solving. It had an interesting storyline but actions were a bit random and didn't always seem to make sense with the storyline. Mini games were not very challenging though some were enjoyable. There were a lot of neat things going on visually but they also didn't always seem to be cohesive with the storyline. It is nice as a free game and nice way to spend an hour or two but there are more challenging and exciting games out there that are worth purchasing..
October 18, 2012
NO HOS'S
We found this game difficult to navigate unless you used the walkthru. The game is also advertised as a HO game, WRONG, we play the full hour of the demo and never had one HOS. I don't recommend this game but that's just us, others may like it. I will say that the graphics are very good.
September 22, 2012
if you like walking around... this is the game for you...
This is one of the games where an interactive map would have been a great help. There is a map involved but it is not interactive. So most of the time is actually wasted on walking back and forth, back and forth, up and down, up and down... again and again. Since most of the locations have the same overall dark look I got really confused. Like 'well, let me think, there was a fitting box somewhere in a dark dungeon but which one was it...' In the end I did not even finish the game since it seemed that I missed one of the book pages and simply did not want to search over all of those locations again. Talking about locations - this game is said to be situated in England - why then get so many details wrong and why do the actors have that broad american accent... The minigames are a bit too easy, even for my taste. The more complicated ones require a lot of clicking action but that's it. Endurance tests rather than anything else. The hint option is not really helpful. All you get is 'well, there is nothing to explore here anymore'. Great. Without a walkthrough I would have been completely lost several times. Sorry, developers, I've played better games made by you. This one did not get your full attention, it feels kind of sloppy. Don't know if I want to recommend it or not. However, the graphics are quite nice and the idea of the game is good, too. So, yes, recommend it for some entertainment. But don't expect too much.
September 23, 2012
Try It For Yoursefl!
I don't have a whole lot to say. I did play the trial before I purchased it & decided to buy it. It did have a map. However, it wasn't interactive. At certain times throughout the game, assistance was given, as a portal, to send you to a location where you could use your collected tools. That was very helpful. The 4 criteria were met. But in my opinion, it was all average. I do, however, still recommend you play the game first & then decide.
December 27, 2012
The Apple logo is a trademark of Apple Computer, Inc.
The Windows logo is a trademark of Microsoft, Inc.