Tales of Terror: Crimson Dawn
A group of hooded, shadowy figures abduct your brother right before your eyes in Tales of Terror: Crimson Dawn! Your search for him leads you to a remote mansion plagued by a sinister secret. Can you unravel the mystery and rescue your brother from eternal darkness? Find out in this thrilling Hidden Object adventure game!
Game System Requirements:
OS:

Windows XP/Windows Vista/Windows 7

CPU:

2.0 GHz

RAM:

512 MB

DirectX:

9.0

Hard Drive:

288 MB
Game Manager System Requirements:
Browser:

Internet Explorer 7 or later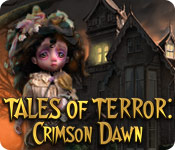 NEW299
The Big Fish Guarantee:
Quality tested and virus free.
No ads, no adware, no spyware.

Reviews at a Glance

Tales of Terror: Crimson Dawn
0
out of
5 (
0
Reviews
Review
)
Customer Reviews
Tales of Terror: Crimson Dawn
54
54
REVIEW OF COMPLETED GAME
This is an iHopa and a rather good one, though too short at only 3 hrs. The graphics are good - no visual feasts, but well done. The HOS are interactive and though a little dark, also well done. I had v/os all the way through, so maybe some people have forgotten they muted their sound. The story is not new, but I was fine with it. It has some interesting features that set it a little apart from just the usual iHOPAs. The music was not annoying. The hint button is fast and very good at pointing out the necessary direction and showing me things I missed. The skip button is extremely fast, and most of the puzzles are doable. Technically it is very well executed and played smoothly and quickly. I wish devs would realize what better reviews and reception their games would get if they just added that extra hour. It really makes all the difference. Overall, I enjoyed playing it and think they did a good job.
September 22, 2012
Good but short
I Beta'd this game yesterday, it's out today... This review based on the SneekPeek/Demo. Gave good feedback, no problems, a HOPA, good graphics, good puzzles, mini games. I liked the video cut scenes with real people in it, voice overs. Story kept me intrigued, although more of the same 'rescue kidnapped victim from a dark sect in a mansion'. My only possible negative it might be short. Got through 1 and some chapters in less than an hour and I'm usually slow. I looked at the walkthrough and there seems to be not much more, 4 chapters. I recommend but short.
September 22, 2012
Evil hooded men, kidnapping, brother missing !!!
Played 20 minutes casual - 3 modes, casual, expert, professional - Live characters - Note book - Good graphics - You interact in HO, easy, not many items to find - Easy mini games - Hint is always full in casual mode or it refills so quickly that I didn't notice - Skip button, as quick as the hint one Had a strange feeling of deja vu while playing the demo, I'm sure I have already seen this game. Brother kidnapped by hooded men, will you rescue him ??? Checked All Game Forums but don't see a CE, I only play and buy my games here, this puzzles me ! Well worth a punch card credit....
September 22, 2012
Totally & Utterly Forgettable
GAME COMPLETED TWICE I have just completed this game again and for the life of me I can?t think what appealed to me enough for me to buy it. I am even having trouble remembering what it?s about right now. Its biggest impact is in the opening moments ? loved that. Unfortunately that was the best part of the game. The story (I think) was typical - lame brother gets in over his head with some seriously evil dude trying to rule the world with magic. And of course you?re the only one who can stop him, there?s some magic artifact you have to find, etc. All totally predictable. There was one thing that I liked but I don?t want to do a spoiler. But, interesting things with mirrors. Oh, and no black side bars ? dark red corpuscles instead. Does that rate as an improvement? What I can tell you is that there were a fair number of HOs, and all the puzzles were familiar ones. Except the colourful skulls door lock (see free screenshot on this page), which was a lot of fun as well as something new. There was no map and no colourful extras. Just a straight forward B grade low budget HOPA. The voiceovers weren't particularly well synced with the live actor scenes, but I don?t understand why other reviewers get worked up about that. I just ignore their mouths. The music and ambient sounds didn?t register on me at all. The graphics were much the same mediocre ? at no point actually bad ? performance. I?m straining my brain, but I really can?t imagine who this game might best appeal to . Nothing suggests itself. And even though it is far from the worst game I?ve seen, I wouldn?t even recommend it as a Daily Deal.
March 19, 2013
Look Mom, Another Tee-Shirt!
What do you get when you put Car Crash, Kidnapped Brother, Hooded Figure and Scary Mansion together?, a very well worn teeshirt. I admit, the formula is the same and at one point I was so sure I had played this game before but I am almost certain that this is a new game. Anyhow, to be fair, I did enjoy the demo and will purchase it with one of my several club award credit lying about. It looks like it has potential and starts off as a good Interactive HOG; although I think that it may just as well be a HOPA, with heaviness on the Puzzles. I do like the graphics, sharp and well done with live actors and voice-overs. The annimation is almost life lile in some scenes and I also enjoyed the sound effects. There are three playmodes and hardcore players will be pleased with the advance mode. There is a journal but no map and the hint system did refill rather quickly. As I was playing, I really was hoping that there would have been some extras like morphing objects or collectables and wonder why the devlelopers did not go down that route which would have made the gameplay more interesting. Too bad because generally gamemechanics involves alot of picking up this and picking up that, a few HO scenes that are interactive (on the easy side) and mini-games that vary from easy to the need of some elbow grease. Overall it is not a bad game and will not make my top 20 list but nevertheles, I did have a certain degree of enjoyment during the first hour and my curiosity is piques at finding out the story behind the kidnapping, so what the heck, I will just add this to my "car crash, kidnapped sibling and haunted manison" pile of games and keep it for a rainy day.
September 22, 2012
Great Hidden Object Adventure
There was a ritual, your bother was kidnapped, chasing kidnapers causes a car crash (sorry folks), and you must find your brother who has been taken to a mansion. Three levels of play: Casual - Quick hint refill and sparklines Expert - Twice as long hint refil and mini game skips Professional - No Hints, skips or sparklines You have a diary, but no map that I found, great appropriate music, cinematic characters, excellent audio and no click penalty. The mini-games have been mixed in well with the hidden object games. Mini-games are fun but typical with a few variances mixed in. Hidden object scenes are well drawn with large objects, some items have to be combined, and there is no click penalty. Demo ends once you gain access to the mansion. Very well done - good job game developers!
September 22, 2012
Well made HO game!
I played my hour & couldn't wait til it was up so I could buy this game. Every thing about this game was great; the graphics, music, HO's, etc. The hint button tells where to go next, but it doesn't tell you what to do. That's fairly simple. I highly recommend this game to anyone.
September 22, 2012
Nice, but too short and easy
I finished the entire game in barely 5 hours. The graphics are good... music plays in a loop... no voiceovers... no sound effects. No map, but you don't really need one. Few HOS which only appear once and are very easy to complete. In the beginning of the game, there is some interaction in the HOS, but later on, this is no longer the case. Puzzles and minigames are of the usual kind (sliders, saigon tower, ...). I found only one or two of them a bit challenging, but all in all they are way too easy. The storyline isn't very interesting and the acting of the real actors is very amateurish. The hint button refills quickly, even in advanced mode. When you are "stuck", the hint button leads you in the right direction. To conclude, the game in itself is not too bad, but I wouldn't really recommend it, especially not for experienced players.
September 22, 2012
Enjoyed this Game
Even though it may have been shorter than some expected or wanted, AND even though the storyline has been done before...this game was fun and had enough differences from other games that I really enjoyed it. The HO areas were good - not too hard or too easy. I like abit of adventure game thrown in - and this did just that. I do want to know why I ended up with some cheese in the end...but I can live with that! lol! I didn't time myself playing the game so I'm not sure how long it took me, but I can say that it was an enjoyable time and I'm glad I got it.
September 23, 2012
not bad, but nothing special
this game opened up in wide screen, and you are given three levels of difficulty to choose from. i selected the middle, and there were no sparkles to indicate HO scenes. the hidden object scenes have some interactive items to find, some of them need more than one step to complete. the items were not difficult to find, not blended into the background, but not so easy that you can find them without referring to the list. you have a journal, where every step you take is recorded. in a half hour, there were over 20 pages. you do not have a map. there are no voiceovers, just text to read that you can click through. the puzzles are standard fare, and nothing too challenging about them. overall, it's not a bad game. there's nothing unique about it and it's not challenging, but I'll still purchase for something to do since the HOPA scene has been pretty dry lately save for collector's editions.
September 22, 2012
The Apple logo is a trademark of Apple Computer, Inc.