Tales of Terror: Crimson Dawn
A group of hooded, shadowy figures abduct your brother right before your eyes in Tales of Terror: Crimson Dawn! Your search for him leads you to a remote mansion plagued by a sinister secret. Can you unravel the mystery and rescue your brother from eternal darkness? Find out in this thrilling Hidden Object adventure game!
Game System Requirements:
OS:

Windows XP/Windows Vista/Windows 7

CPU:

2.0 GHz

RAM:

512 MB

DirectX:

9.0

Hard Drive:

288 MB
Game Manager System Requirements:
Browser:

Internet Explorer 7 or later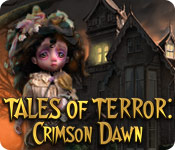 NEW299
The Big Fish Guarantee:
Quality tested and virus free.
No ads, no adware, no spyware.

Reviews at a Glance

Tales of Terror: Crimson Dawn
0
out of
5 (
0
Reviews
Review
)
Customer Reviews
Tales of Terror: Crimson Dawn
59
59
awesome game!!!!!
the graphics in this game are just awesome!!!!!!! they are so plain and the scenes are not crowded and junky!!!!! i was just amazed that it was like this. the hint and skip button recharge quickly. the hint tells you where you need to go next when you are not in a HO scene. there is a journal/diary that helps you and keeps clues available. i played on casual as i always do and i don't use sound but i did hear a little and the VOs were ok. didn't really hear the music so my rating there was on the graphics. not overly long but a good game no the less. i would highly recommend it to someone new to this genre of games to get them started. few games have the HO areas as plain as this one.
November 16, 2012
Good but short
I Beta'd this game yesterday, it's out today... This review based on the SneekPeek/Demo. Gave good feedback, no problems, a HOPA, good graphics, good puzzles, mini games. I liked the video cut scenes with real people in it, voice overs. Story kept me intrigued, although more of the same 'rescue kidnapped victim from a dark sect in a mansion'. My only possible negative it might be short. Got through 1 and some chapters in less than an hour and I'm usually slow. I looked at the walkthrough and there seems to be not much more, 4 chapters. I recommend but short.
September 22, 2012
Evil hooded men, kidnapping, brother missing !!!
Played 20 minutes casual - 3 modes, casual, expert, professional - Live characters - Note book - Good graphics - You interact in HO, easy, not many items to find - Easy mini games - Hint is always full in casual mode or it refills so quickly that I didn't notice - Skip button, as quick as the hint one Had a strange feeling of deja vu while playing the demo, I'm sure I have already seen this game. Brother kidnapped by hooded men, will you rescue him ??? Checked All Game Forums but don't see a CE, I only play and buy my games here, this puzzles me ! Well worth a punch card credit....
September 22, 2012
Look Mom, Another Tee-Shirt!
What do you get when you put Car Crash, Kidnapped Brother, Hooded Figure and Scary Mansion together?, a very well worn teeshirt. I admit, the formula is the same and at one point I was so sure I had played this game before but I am almost certain that this is a new game. Anyhow, to be fair, I did enjoy the demo and will purchase it with one of my several club award credit lying about. It looks like it has potential and starts off as a good Interactive HOG; although I think that it may just as well be a HOPA, with heaviness on the Puzzles. I do like the graphics, sharp and well done with live actors and voice-overs. The annimation is almost life lile in some scenes and I also enjoyed the sound effects. There are three playmodes and hardcore players will be pleased with the advance mode. There is a journal but no map and the hint system did refill rather quickly. As I was playing, I really was hoping that there would have been some extras like morphing objects or collectables and wonder why the devlelopers did not go down that route which would have made the gameplay more interesting. Too bad because generally gamemechanics involves alot of picking up this and picking up that, a few HO scenes that are interactive (on the easy side) and mini-games that vary from easy to the need of some elbow grease. Overall it is not a bad game and will not make my top 20 list but nevertheles, I did have a certain degree of enjoyment during the first hour and my curiosity is piques at finding out the story behind the kidnapping, so what the heck, I will just add this to my "car crash, kidnapped sibling and haunted manison" pile of games and keep it for a rainy day.
September 22, 2012
Adventure lovers will like
My review is based only on the demo, though I will probably end up buying this game. I've read some reviews that said that the game was bad because there was no sound, but I just finished the demo and there were plenty of voice-overs. The acting was pretty good too. The voice acting is usually hit or miss, but for this game it was a hit. The visuals were pretty good, though not as sharp and clear as in other games. Be prepared to play a really dark game...literally. I really liked that the game leans more on the adventure and puzzle aspects rather than HOS. The HOS tend to be your usual junkpiles with some interaction. There are 3 modes to play: casual, expert, and professional. I played on expert because I didn't want to play without a hint system in place just in case I got stuck. I only used the hint button once. The story isn't really that captivating. Your brother gets kidnapped by some hooded figures, and it's up to you to find and rescue him. I've been playing these games for so long that a good story for me is a requirement. Still, it seems to be a fun game with a lot of adventure and puzzles so I will probably buy it for that alone. I will say that it is starting to get old the way a lot of these games paint witches to be evil, one-dimensional characters. I understand that Halloween, or Samhein as I would say, is right around the corner, but still. It really wouldn't hurt to develop a game about good witches as there are many of us out there that fall into that category. All in all, it seems like a fun game for a day when you just want to relax, so I will recommend it.
September 24, 2012
Nice game for the weekend
Based on the demo, this looks like a good HOPA. The music is repetitive but soft, the storyline is a common theme but we are already used to that, right? There is a VO in the beginning but seems not after that. There is a journal that pratically tells you all you need to do. The hint button refills very fast. The graphics are ok, the HOS ok as well, and right from the beginning a few puzzles not so hard also. I find it a good entertainment for a relaxed week-end.
September 22, 2012
This looks like a good one!
You are looking for your brother who has been snatched by some hooded figures in a spooky mansion. Your mission is to find and rescue him and do whatever is necessary to accomplish the task. There are 3 modes of play, casual, expert and professional. This is the first time we've seen this mode. There are normal settings. I had to remove the custom cursor unfortunately because it was a pretty one. There is a hint and a skip, a journal, no map. I do wish you could adjust the brightness of it, however, it is so dark.. Navigation is easy, the puzzles are different. I had to skip both puzzles due to time constraints and one HO scene that was so dark I had to use the hint twice to finish it. The game is nicely doe with beautiful graphics. The music is appropriate but monotonous as it just keeps playing the same thing over and over and over. This is an exciting HOPA worthy of a buy.
September 22, 2012
Pretty Good
The voice overs were slightly Corney, but the game was very fun. I would buy it for half price or coupon. It had some interesting puzzles. The back ground noise was great and music not annoying.
September 28, 2012
A nice tidy game
I enjoyed the demo on this game. Clear graphics, the storyline and playability are all good. Good clear instructions, hint recharge is quick, mini games are fine. The only bear bug, I had to remove the custom cursor for things to work properly. Not a big problem and not the first time I've needed to do this. Plenty to do, but not an overly difficult game, just a very pleasant 40 minute demo.
September 22, 2012
New Devs are on the right track...
TITLE?Tales of Terror: Crimson Dawn VERSION?Standard Edition (full game) DEVELOPER?Deep Shadows (with Big Fish Games) GENRE?Interactive Hidden Object Puzzle Adventure (supernatural) STORYLINE?As you're about to meet your brother Jason, he's suddenly abducted by a group of hooded figures, one of whom knocks you unconscious. When you awaken, you have only a photo and Jason's cryptic message as clues to find him. They lead you to an eerie mansion where, you soon discover, you'll play a pivotal role in the ongoing battle between good and evil. OVERVIEW?I acquired Crimson Dawn with a free game coupon after playing the demo because I thought the graphics and animation were beautiful, the mix of adventure/iHOs/puzzles was just right, and I was intrigued by the storyline. There was a lovely twist which I thought should have been played out further, and I wish there had been a denouement; these endings are always too abrupt for my tastes. Devs, please go look up the word "denouement" and give us a satisfactory segue to a sequel! GAMEPLAY?Point 'n' click adventure with iHOs, puzzles, and mini-games. The interactions in the HOs are of the "move this to reveal that," "unlock this to find that," etc. variety, and all are clearly rendered. The puzzles range from simple and familiar to difficult and unique. (Oh, how I long for the death of the "swap pieces" puzzle!) SPECIALS?None noted. INTERFACE?JOURNAL: Keeps track of clues and your adventure. MAP: None. HINTS: Find items in the iHOs and direct you in adventure mode. SETTINGS?Music and effects volumes can be set separately. There are three modes of difficulty: casual, expert, and professional. Custom cursor and full screen are available, but no wide screen correction. GRAPHICS?Eye candy. Gorgeous colors and textures. Realistic without being photographic. CUTSCENES?Live actors and 3D rendering make for fairly realistic interludes, although the lip-synching is off. In-game animation is very realistic. For once, the screws turn the right way when you're using the screwdriver! LOL MUSIC?Dramatic and spooky, but somewhat repetitive, though not overly annoying. SOUND?Ambient sounds as appropriate. I didn't notice much in the way of game sounds. Perhaps I was too immersed. VOICEOVER?Range from extremely well-done to oddly out-of character. SUMMARY?With a few tweaks, this game would be perfect. There were some translation errors. "Football" turned out to be a billiards ball, for example. I think the game could have been longer as well. But I did enjoy playing it, so I'll recommend it.
May 2, 2013