E.P.I.C: Wishmaster Adventures
Sue grew up on her Uncle Fred's bee farm. As many young girls do, she often dreamt of a charming prince who would come and take her far, far away. On one very ordinary morning, something extraordinary happened - a massive starship landed in the middle of a field, taking Sue on the first of many incredible adventures. Join Sue as she faces mysterious puzzles, riddles, harsh challenges and difficult decisions. Fend off ravaging monsters, greedy slave traders and ruthless Horror Soldiers to become the captain of a space ship. Find Sue's long-lost, beloved father and learn the mystery of her birth in this hidden object puzzle adventure game - E.P.I.C.: Wishmaster Adventures.
Expert and casual play modes
11 Exciting mini-games
20 Unique characters
Game System Requirements:
OS:

Windows XP/Windows Vista/Windows 7

CPU:

1.2 GHz

RAM:

1024 MB

DirectX:

9.0

Hard Drive:

516 MB
Game Manager System Requirements:
Browser:

Internet Explorer 7 or later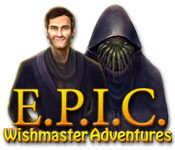 NEW299
The Big Fish Guarantee:
Quality tested and virus free.
No ads, no adware, no spyware.

Reviews at a Glance

E.P.I.C: Wishmaster Adventures
0
out of
5 (
0
Reviews
Review
)
Customer Reviews
E.P.I.C: Wishmaster Adventures
43
43
Took Me By Surprise
At first galnce I was completely put off at the opening scene and the graphics of this game. Visuals were at best mediocre, graphics were cartoonish and blurry: nevertheless I began my journey. The storyline has an interesting plot where a young girl is abducted and finds herself on a spacecraft held captive by two very odd looking aliens. Following an unexpected crash, she finds her self on what appears to be a planet and there her adventure begins. Game menu offers custom cursor as well as an option that allows your diary entries to be previewed on screen. There are two modes of gameplay whereby advance mode offers a more challenging gameplay with HO scenes and puzzles. E.P.I.C. is a HOPA that completely took me by surprise from the moment I began to play. Once you get pass the initial opening scene and find yourself on the planet, the graphics get better and the real Adventure begins. I have to say, I was thrown by the challenging gameplay and it wasn't long before I was hooked. It took me the whole hour just to figure out how to collect my inventory objects, combine them in the right way and use them. The first HO scene was crowded as I played in advance mode and also interactive. Some of the objects were way too small to see. After I completed my first task that is listed in my notebook I encountered my first mini-game which I have yet to accomplish and I will now immediately buy this game because I am loving this game. I anticipate that Hard-core adventure gamers will find this game a pleasant surprise as grey cells will be used alot and there is no hand-holding. The hint system does offer some guidance but I have a feeling that I will be needing a walkthrough because Ireally am stumped at the first puzzle. Had there been better graphics, voice-overs and a map, this would have been a fantastic game. EPIC is certainly a pleasant surprise and I do look forward to finding out what happens next
September 25, 2012
REVIEW OF COMPLETED GAME
It is fitting that this game has the word E.P.I.C. in the title. What a fantastic game! It took me 6 hrs and I thoroughly enjoyed every minute of it. It is the most fun I have had on my computer in a very long time. At first the graphics do not seem like much but once I got inside everything changed. The graphics are marvellous. The mechanics are flawless. Even the music is good. There are not many HOS but they are extremely interactive and take quite a while and I liked that. The puzzles have just the right degree of challenge. The story is terrific- a Sci-Fi filled with wonderful planets and amazing characters. The ending was just so well done, it could not have been better. There has not been a game from Tiki's Lab in ages and I hope they do not disappear again. I want more from them. They are talented, creative, innovative and so imaginative, they put other devs to shame. Wonderful, wonderful jobs, you guys. Please, keep them coming. You rock!
September 26, 2012
A LITTLE UNUSUAL
An unusual game ? graphics are different than what?s normally expected and the story is certainly an entertaining diversion from the usual car crash, kidnapped person, or ghost stories. Good mix of adventure and puzzles. Imaginative artists, quaint scenes. Touch of mystery. The cursor frequently changes to a hand, even though there is nothing to pick up. So it can be a little confusing until you get used to it. Hint highlights the area in which you can do something. Not really my cup of tea, but if you?re looking for a visual experience and unique tale that?s a change from the usual, this game might appeal to you.
September 25, 2012
Terrific game
When you first start playing this game, you think "Ho hum, this is going to be your standard HOG". NOT!! I don't want to spoil it by telling too much about it, because part of the fun of this game is the surprise events. You have to figure out what to do next, but it's not frustrating. All you have to do is put yourself in the main character's situation and reason out what you would do next. This is such a refreshing change of pace from the grim, spooky, demon-themed fare. There are some slightly gross moments, but this is a fun game. I highly recommend it!
September 25, 2012
A nice change!
From the start I fell in love with the scenery and the little characters I came across. Any one who is thinking about doing more adventure type games will find this one a good start. Unlike hard core adventure games that leave you out there on your own, this one offers guidance anytime you need it. I like the fairy tale feel of the game and who doesn't want to help save a little girl who has been kidnapped by bad men. For those that still want Hos then you will be happy to know they are there as are the mini puzzles. I think just about anyone will enjoy this one.
September 25, 2012
WOW! Love it
There is one tiny problem with this game, the HOs tend to be junk piles, and a little blurry. After that every thing's good. I like that the hint, which fills up quickly, only gives hints on what to do next, like Tiny Bang story. I've never liked hints that held your hand. Takes too much fun out of the game. It came as a surprise in the first HO, but I really liked the things that turned or popped up so you have more places to look in a HO. Music is good, and the storyline is interesting. With only these two small things, menchioned at the start, this game has every thing I like.
September 25, 2012
Hidden Objects Way to Small
I really enjoyed playing the free hour. I found it challenging and the story very good. I have only one complaint; the HOS was way to cluttered with so many tiny objects in the scene. The REASON I say this is because so many seniors play these games and and our eye sight is not as it once was. It can become very frustrating. I have not bought games that have that problem, and I buy a lot of games. So game developers need to take this into consideration. I do not want the items real easy to find but I would like to be able to sort through the tremendous amount tiny items they cram in there and find it without my eyes 2 inches from my monitor. More is not always the best when it comes to cramming so many tiny items together. So I am split on recommending this game. I want to enjoy ALL the game, not just part of it.
September 25, 2012
A TRIP TO REMEMBER --- HAVE FUN
Graphics great. Story so-far very intriging. HO very hard to find, for very well hidden in plain view. I have only done the trial right now, but, am pretty sure when I can plan on thinking more, to purchase. Very well done. Everything makes sense once you figure it out. Which you won't without a hint.
September 25, 2012
Extremely entertaining
This review is based on my actually finishing the game. (I have noticed that quite a few people think they can submit a useful review based on playing for less than an hour, and I think they might be missing out on some really excellent games and also perhaps causing others to miss out as well.) This game had a very interesting story line, a space adventure, much much better than average. It really pulled you along. Very good sound effects, music not annoying. There were not that many HOS, which to me is a good thing, and they were interactive and not that hard. I have pretty terrible eyes and I had no problem. But the HOS were the least interesting part of the game. The puzzles were very innovative - there were actually quite a few I have never seen before, and some were moderately challenging but certainly not insanely difficult. Mostly, though, it was a point and click adventure game - find something, figure out where to use it. This part was very well done - logical in hindsight but took a creative leap. It was very long and loads of fun and I am sure I will want to play it again.
October 5, 2012
What a wellcome change
Even if the graphics are not top notch, the game has all it needs to make it one of the best I have played lately. It's funny, the storyline is quite good, and it's challenging. You don't have a map, but you don't need one. The notebook provides you with ample information about what to do next and the hint button is very effective. HOS are interactive and challenging. Some objects are really hard to find and you may need the hint button. There are few minigames, but you get a lot of challenging interacvtive things to do. The length of the game is good. All in all a game that I highly recommend. Wish there were more like this one.
September 26, 2012