E.P.I.C: Wishmaster Adventures
Sue grew up on her Uncle Fred's bee farm. As many young girls do, she often dreamt of a charming prince who would come and take her far, far away. On one very ordinary morning, something extraordinary happened - a massive starship landed in the middle of a field, taking Sue on the first of many incredible adventures. Join Sue as she faces mysterious puzzles, riddles, harsh challenges and difficult decisions. Fend off ravaging monsters, greedy slave traders and ruthless Horror Soldiers to become the captain of a space ship. Find Sue's long-lost, beloved father and learn the mystery of her birth in this hidden object puzzle adventure game - E.P.I.C.: Wishmaster Adventures.
Expert and casual play modes
11 Exciting mini-games
20 Unique characters
Game System Requirements:
OS:

Windows XP/Windows Vista/Windows 7

CPU:

1.2 GHz

RAM:

1024 MB

DirectX:

9.0

Hard Drive:

516 MB
Game Manager System Requirements:
Browser:

Internet Explorer 7 or later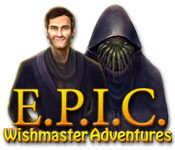 NEW299
The Big Fish Guarantee:
Quality tested and virus free.
No ads, no adware, no spyware.

Reviews at a Glance

E.P.I.C: Wishmaster Adventures
0
out of
5 (
0
Reviews
Review
)
Customer Reviews
E.P.I.C: Wishmaster Adventures
43
43
Outer Space Fun!
Tried the game and bought the game! Love it! EXCEPT there was no walkthrough!!!! That means I missed some very important instuctions and had to start from the beginning-- Had to get it from another site, thank goodnes they had a WT. I am enjoying it very much! I love the premiss of floating islands with atmosphere! there is a strong female lead and a delightful robot!!!
September 26, 2012
Adventure for your Brain!
First, this reveiw is based on the free trial. The graphics in the beginning are really poor but as game play continues they do improve. This isn't your typical HO, puzzle, adventure game. Once aliens abduct you from your mean uncle's farm, your ship crashes on what appears to be a deserted, floating island. You must search for items and some that you aquire must be combined with other items before you can use them. So, as I aquired items, I immediately tried to combine them with all other things in my inventory. I can see where people may be confused on what they have to do, but this game doesn't hold your hand. You have to look around and try your inventory items on active spots -usually shown by a hand. -The two puzzles that I came across in the trial were fun but not too hard. -The HO areas -I came across 2 in my trial- are interactive. Some items are small and hard to see or are camoflauged in the background. I had to use a hint once on each of the two scenes. It makes it easier to find the items 1st that don't require an action to find them -as the ones that can't be found without an action are indicated in a different color. Then, once you open a hatch -for instance-, the things that are hidden in that hatch will change color so you know what should be hidden in there. I played the game on casual because some of the 1st reviewers indicated that it was difficult to know what to do and that the ho scenes and puzzles were hard, but I didn't find that to be true. While it does make you think, I was able to make it off of the "deserted island" where I crashed and fairly far into the next area before my trial was up. -The big con in this game for me, is that I wish there were a map. Even if it weren't interactive, I like to have a feel for where I am, where I've been and where I have to go. I think I will buy this game as I"m intrigued and I like one that is mostly adventure/puzzle and really makes me think.
September 26, 2012
What a surprise!
As others, when I first started the demo I didn't have great expectations, but I was pleasantly surprised to find that it's totally unique and a lot of fun. However, with the first HOG I spent a quarter of the demo trying to find stuff. It was pretty hard for me, especially when you could change locations in the game and the objects were small and not easily recognizable. Or maybe it was just me. Anyway, from what I played, this was a lot of fun and I recommend it.
September 25, 2012
Agree that it's different
The best thing to suggest with this game is that you play it. Adventure switches from rural farm setting, to a floating island setting to the inside of the island's computer core and a rescue mission. There are some hidden object games, but it's more of an adventure style of play - lots of walking between scenes, etc. Players who are curious about this game should play it. It's enjoyable, but odd. I also recommend that you use the hint button liberally to get to the meat of the game as it improves exponentially with play. Go on... do it!
September 25, 2012
Aliens, orphan, pendant !
Played 20 minutes, casual - 2 modes, casual, expert - Notebook - H0, you interact, for me best part of the game as they are quite inventive - Didn't come across any mini game during the time I demoed - Hint extremely useful outside H0, shows you the way, gives you tips - Cartoon graphics outside H0, very good ones in H0 Vessel coming out of the blue and crashing, kidnapping of a young orphan girl looked after by nasty uncle, space monsters to spice the lot. Probably a nice little game but not my cup of tea, got bored after a while.
September 25, 2012
I am a sci-fi lover . . .
. . . but not loving E.P.I.C. so much. I tried. I really did. I was prepared to love it. I WANTED to love it. I demo'd it and came away disappointed - a huge let down. It felt cartoony and unfinished, as if the idea was there, just not realized. No vo's, no excitement anywhere that I could find. The HOS were tiny and had too many unrecognizable items-a real chore to search them. Someone else said to use the hint button a lot to get to the meat of things. I played up to the third chapter. If I can't reach the meat of things by then, it's a no-buy for me. I appreciate that the devs tried to give us something new and unique. I view this as a first step. Perhaps the sequel will be better? Since I can see potential here, I'm hoping a sequel will hit the mark and I will be watching for one. It doesn't really deserve 2 stars because I didn't hate it but I couldn't give 2.5, so I gave 3 overall. Unfortunately, I won't be purchasing it and can't recommend it for anyone else either.
September 25, 2012
Not my cup of tea
I don't like to sound negative, especially after many good reviews on this game, but for personal taste, this game is just not my cup of tea. I prefer games where the characters audibly speak their parts and there is a scene where you click on a little ship to take our heroine forward in the ship and she runs across to wherever you have her go. It all appeared a bit too cartoonish for me. I like alot of the cartoon games, but this one just did not hit my fancy. Sorry BF no buy here. Even so, I would recommend this game for the shear out of the ordinary game approach. There are many who will enjoy it, just not on this end.
September 25, 2012
different but good!
More of a sci-fi type HOG but with different type challenges that make you use your brain! Just little twists that make you scratch your head but don't leave you frustrated. Very nice and love the alternate endings. Give it a try! It's worth a free game!
September 28, 2012
HOS with some challenge
the story line is good, quite intriguing. Sound quality is great, visuals are excellent. The hidden object games are the best I have played for a while. I have only played the demo but will be buying the game as it pulls you in with the twists in the storyline. I will definitely be recommending this game.
September 26, 2012
ok but interesting
i didnt think i would like this game.. but it is different... sci fi episode.. it is a game that makes you think.. only played the demo.. i will buy it though just to see how it plays..
September 25, 2012