Final Cut: Death on the Silver Screen
Exclusive
Unravel the mystery of your father's death and brother's bizarre disappearance in Final Cut: Death on the Silver Screen! Your father was a famous movie director who liked to invent elaborate locks and devices. A mysterious villain demands you track down the pieces to his greatest and perhaps most deadly invention of all time! If you don't, your brother will suffer the same fate as your father. Return to the family Art Deco mansion and golden era movie backlots to look for clues about a past you never knew your father had and the dark secrets behind the villain's quest for his deadly invention.
Fantastic gameplay
Stop the villain before the final cut!
For a more in depth experience, check out the Collector's Edition
Game System Requirements:
OS:

10.8/10.7/10.6/10.5

CPU:

1.4 GHz (INTEL ONLY)

RAM:

1024 MB

Hard Drive:

611 MB
Game Manager System Requirements:
Browser:

Safari 4.0 or later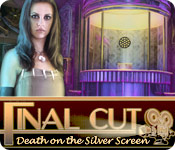 NEW299
The Big Fish Guarantee:
Quality tested and virus free.
No ads, no adware, no spyware.

Reviews at a Glance

Final Cut: Death on the Silver Screen
0
out of
5 (
0
Reviews
Review
)
Customer Reviews
Final Cut: Death on the Silver Screen
112
112
Great Game with lots to do
Loved everything about it. Graphics, HOS, puzzles, story, music. My only complaint was the little extras you were suppose to get. 20 photos, 10 cards, 6 lights. I never knew how many I had and I did not get them all so it was frustrating. I have no idea of their purpose.
July 5, 2012
Enjoyable
I really enjoyed this game and the animations/graphics within. I thought the plot was good, creepy sometimes and I liked exploring the house. There were lots of collectibles to find although I didn't find them all and wonder if there are more to find in the bonus chapter if I had bought the CE although Im glad I didn't. There was a sufficient ending in the SE and although I enjoyed the game I didn't need anymore. This is the first game that I've finished in 2 days. It moved at a pace where I wanted to keep playing as I was engrossed with it. The live bits in the game were really well done although the voiceovers could have used some improvement. The reason for 4 stars instead of 5 is because of technical things. In hardcore mode, there were sparkles to locate hidden objects and black bar tips. Also, the plot made me a little crazy because I felt it revealed what was going on and who did it a little too fast. It would have built more suspense for me to explore more and see more and wonder more of what happened then to be told and then be under ransom. It took away from the suspensefulness of the story but overall it was very enjoyable. xx
December 29, 2012
Nicely Done!
Great game. Nice, long play time. Interesting storyline. Turn it up a notch on the level of challenge and it would be perfect. Thanks for a great game.
September 27, 2012
Real potential
Could have been a really great game, except for these: Small screen on my 15" laptop. Which made the small items in HOS even smaller. The game was kind of all over the place. I kept forgetting what I was doing trying to figure out what to do next. Used the hint button a lot. There was a map, but not interactive. A LOT of puzzles, and mostly hard, couldnt understand what some of them meant. Quick skip, tho. Nice music. HOS interactive. Good story line: you have to rescue your brother from a sister that you didnt know about (seems good ole dad was a typical film producer). Good scenes, too. Really cool museums. Also, good length. 5.5 hours on casual.
September 9, 2012
It was ok
I thought the story line was just ok and usually I love lots of puzzles, but I found that I was getting sick of doing a puzzle everytime I wanted to move somewhere. Hidden objects were too easy for my liking. I played MCF: Dire Grove before this game and that was so good I think this one had too much to live up to.
September 2, 2012
Silver Screen
Enjoyed playing most of the game. Toward the end of the story line it seem to lacked the same level of difficultly it had in the beginning of the game. Wished there was a little more of a challenge to the mini-games. If you are an intermediate H.O./Adventure player this game is not a serious challenge. But all-in-all game play was entertaining and I did not regret the purchase.
September 4, 2012
Good story & graphics
I enjoyed this game, it looks good and is fun to do with lots of going here and there. The mini puzzles are interesting and fairly challenging as are the HO scenes. My biggest issue with this game is the amount of time it took to complete - too short, I'm not the quickest gamer but I completed this in a fairly short time, just over 2 hours, which does not make it a good buy for me.
August 28, 2012
Great storyline, good game play
a novel storyline.. good puzzles (but not too challenging).. yet i dun like the ending, coz it seems unfair for the girl, despite the crimes she did.. but overall one should at least try the trial, the I'm sure you'll like it ;)
June 29, 2012
Fixing Dad's Mistakes!
I got this game using one of my free credits and after downloading it, I kept putting off playing the game because the intro scene just didn't grab me at all. Finally on a snowed-in afternoon, I buckled down, and I am really glad I did so. Dad left a mess in his house with gadgets and puzzles he knows only you, his daughter, can solve. But a villain has masterminded a plan by abducting your brother to make sure you solve all the mysteries and give the coveted item over when you are done! Can you rescue your brother and protect your Dad's wonderful invention?.as well as his terrible terrible secret?? Can you?????? The best part about this game: it goes on and on and on. I kept thinking I was near the end, and it just kept on going. The puzzles were well-spaced and had a lot of twists and uniqueness which was very refreshing. Some of the puzzles were extremely difficult but still held my interest. Yes, the whole horoscope theme can get a bit tiring but it was interspersed with pirates and Egyptians and gardens and so much more. Two complaints: the hint button is a film reel that flashes. Constantly. CONSTANTLY. It was so distracting that I couldn't get involved fully in the game. I normally play my games in the evening but the bright light wiggling in the bottom right corner almost drove me crazy. I finally put a sticky note on my monitor to cover it up and was able to enjoy the game without distraction. My other complaint is something that other Big Fishies feel differently about. I absolutely can't stand the live actors/actresses that are put in the game. I don't like the switching from cartoon to real and back again; I can't relate to the characters, and it honestly takes the scare and thrill from the game?the main villain actress was so contrived, it felt very stilted and took all the danger and suspense out of the game for me. I know other people don't mind it?.I personally seek out games that have strictly animation only. So take that into account! Overall, good graphics with a fun storyline. A lot of ground to cover, so be aware the map does NOT let you fast-track?you have to go everywhere manually. But the length is wonderful and the whole game was a lot of fun! Try it!
January 11, 2014
Don't want it to end!
This is the game I have been looking for - after playing Brink of Consciousness: Dorian Grey Syndrome, I have been listlessly wandering from game to game, from disappointment to disappointment. Upon finding Final Cut: Death on the Silver Screen, I discovered that the game is very much like Dorian Grey, in that the quality is truly excellent, the story is fun, and the objects you are looking for make sense. No birds conveniently dropping a key for you, no "the mysterious gem is for some reason in the neighbour's bathroom cabinet" nonsense. This game is very well thought out, and every new door opened is exciting. You must work for each new discovery, and it's always a good pay-off. An equal mix of hidden-object scenes and puzzles, that all truly fit the situation. The hidden objects are in the jumbled back-stage world of movie sets, while the puzzles are most often intricate locks on forbidden doors. Some are challenging, while others are fairly easy. You can skip, if you like. There are two modes offered, Casual and Challenging, but no mode that takes skipping or hints off the table altogether. The voice acting is not as well done as in Dorian Grey, but it still works very well for the game. The graphics are lovely, and the art work is simply gorgeous. The colours are clear and edges are clean and precise. I didn't find anything too dark or out of focus. Art Deco and movie sets from different eras work together to make it a world I truly don't want to have to leave. The music is fantastic, and exciting. It fits very well with the story, and changes with each new area explored. It doesn't intrude, but it does give an extra something to the game play. I am almost at the end of the game, and wish I hadn't spent the whole day playing - because I wish I had saved some of it for tomorrow! So far, I have played for about five hours, and if you are an expert, you may finish in about that time. If not, this might give you up to eight hours of play. If you like intelligent, well thought out games and beautiful life-like quality graphics, with fun puzzles and HOS, then I think you will be very happy with this one.
June 30, 2013
The Apple logo is a trademark of Apple Computer, Inc.
The Windows logo is a trademark of Microsoft, Inc.