Awakening: The Skyward Castle
Awakening: The Skyward Castle tells the tale of young Princess Sophia, who awakens from a magical century-long slumber into a land threatened by an ancient evil. Braving the dangers of an unfamiliar world, Princess Sophia has travelled far to discover the fate of her exiled kingdom. Having no magic of her own in a land built with living magic, she must overcome the many foes, perils and obstacles with her wit, skill and allies. Can Princess Sophia lift the curse that plagues her people? Find out in this epic conclusion!
Complete the first Awakening series
Colorful locations and characters
For a more in-depth experience,
check out the Collector's Edition!
Game System Requirements:
OS:

Windows XP/Windows Vista/Windows 7/8

CPU:

800 Mhz

RAM:

512 MB

DirectX:

8.1

Hard Drive:

445 MB
Game Manager System Requirements:
Browser:

Internet Explorer 7 or later
Fantasy Violence
Mild Blood
Tobacco Reference
Use of Alcohol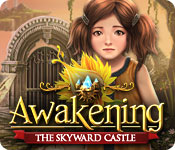 NEW299
The Big Fish Guarantee:
Quality tested and virus free.
No ads, no adware, no spyware.

Reviews at a Glance

Awakening: The Skyward Castle
0
out of
5 (
0
Reviews
Review
)
Customer Reviews
Awakening: The Skyward Castle
79
79
Awakening: The Skyward Castle
I have played all four of this series and they are by far my favorites and I am looking forward to the 5th one. The visuals are stunning and not dark, the games are challeging, but not too much that they become frustrating. The storyline is light and not gloomy like so many of this type of games. Finally...there are no clutter hidden object screens..there are little games instead.
October 1, 2012
Beautiful Of Course, But Not A True HOPA
GAME COMPLETED TWICE Story: Finally Princess Sophia discovers the refuge of her people and sets off on a winged unicorn to the Skyward Castle to be reunited with her parents. But is she too late? Some horrible evil has left only a handful of survivors, petrified in stone. You must save these people in order to find out what has happened to your family. Developer: BoomZap Release Date: Sep 2012 Extras: Pocket Dragon and Ran the Owl, Jump Map Yes, this latest in the Awakening series is all you could ask for in visuals, music and originality. Something I?ve not mentioned before in my reviews of other games in this series ? there is always a large number of original and creative variations of both hidden object games and puzzles. And this is true in particular of Skyward Castle. But the emphasis has finally shifted so far away from common HOs that it?s no longer a game I would recommend to HO fans. This is a puzzle adventure. It is also very difficult to play. The puzzles and mini-games have become so hard there were some I had to skip simply because I couldn?t understand the instructions. In fact, I skipped more than I completed. That detracts greatly from my enjoyment of the game. So, while again this is oh so much more than its predecessors, I actually prefer the earlier Awakenings.
February 22, 2013
Fun game! Good Storyline!
My 7 year old son and I played this together. Turns out he is better at some of the puzzles than I am! He also has a better memory. This was one of the first games we ever played on Big Fish. My Mom plays. She got us started :) There is only one kinda scary part for kids but it wasn't bad. All of the Awakening games are good! We have played them all out of order but it didn't matter too much. If you get stuck the little Owl helps you out & your journal. We didn't have to use the walk-thru.
October 31, 2012
Wonderful Game
I really enjoyed this game! The only thing that keeps me from giving it 5 stars is that on a handful of the mini games, the explination was vague at best and I had to skip a few because I was really left not knowing what to do. However, its a nice long well thought out game with a cute story line. Worth every penny:-)
October 8, 2012
It wasn't bad, really, it was just the small things...
I rated it the four because, right off the bat, I was wondering what was going on. I was crash landed somewhere, and was like, "how? what? when?" It turned out that it was because I hadn't bought the CE of the last game, so I didn't get the bonus gameplay, thus didn't know what was happening. So, I had an annoyed beginning. But, the gameplay perked me up, as usual. You have a map, which transports you room to room. You have your dragon and owl friends, as usual. And this time, you get to meet your people...well, not YOUR, since your kind of the only one with no magic....but the gist. The music is good, voices fine, but at least for me #and this is why the game really annoyed me, and made me rate lower# the game was really, really choosy about where you click to place/ choose/ use an item from the inventory, to the point where I thought that my mouse battery may be dying so I replaced the batteries and found that it was still making me click the same thing five, six, seven times in the same place. I was using the owl to see if it was in the right area, and it was...but it may have been my pc just doing this. Who knows. The storyline....the Princess is in her land now, but evil has been here in form of a sorcerer and a basilisk...and now the poor Princess has to go through another journey. I'm playing the SE hoping that I didn't miss out on something too huge- I know the Princess herself mentions one or two things "I'll do once that Sorcerer's gone", so she hints at some things in the CE, I think. But anyway, it's a good game, I DEFINITELY recommend you try it first in case you have the same error I had with the clicking and it annoys you too much.
August 26, 2013
Another Good One
I totally enjoy the series you never get tired of it as the locations and graphics are stunning. So well worth to buy - great replay value. I agree with other reviews this one has heaps of puzzles which I enjoy but they are quite easy but still fun to do. Thanks for reviews fishies. And great work dev - another good one to enjoy!
October 2, 2012
Good Pace and Graphics
I like the Awakening Series. Excellent graphics and a good story line. Good pace to the story and challenges. Bright not dark which is a good change of pace from some stories.
March 2, 2013
A challenging game
In this game, last in the series, Princess Sophia has been on a journey to find her people. She ascends to the Skyward Castle and is helped by various characters she encounters along the way. Each character gives her a problem to solve, and when she does she receives an important item. She also has the help of an owl (hints) and a dragon (fire). In playing the game you encounter puzzle after puzzle, all of which must be solved. There are different levels of play, however, and in the easier level there is a quickly loading "skip" button which you may use if you are stumped. There are a few hidden object scenes, but many more puzzles. This is a beautiful game, logically laid out, and not too difficult.
May 17, 2014
Solid addition, but not as good as last one.
This game continues to expand upon the story, giving somewhat of an epilogue (though there is obviously another one out and one in the making). I say this one was a bit lacking as there were a lot of puzzles, which for me can be a bit much at times. Before I knew there was a fifth game, I was a bit disenchanted by this addition, as I felt the "ending" was rushed, and since I didn't know there was a fifth one, I felt a bit cheated with a cliffhanger. The fifth game rectifies this. I recommend this game as it does wrap up a lot of things, despite being puzzle heavy and a bit rushed, in my opinion.
February 22, 2014
Solid addition to the series--slight fun issue.
First, let me just state that I absolutely LOVE the Awakening series. It's innovative, creative, beautifully drawn, and not just a HOG, which is important to me. The story for this one was one of the best, I thought. There were many scenes where the imagery was just gorgeous and well-put together. Like the Goblin Kingdom, the pocket dragon has been moved to the left hand side, and the owl/bird is once again our source of guidance. My only complaint was some of the puzzles. I noticed the quilt pattern and the tangled string puzzles were a bit monotonous. There were also a few that I skipped because I found them too tedious--something I don't usually do. Without spoiling anything, let me say that the discovery of an epilogue and its ending was a pleasant surprise, indeed! I would definitely recommend this game :)
August 15, 2013
The Apple logo is a trademark of Apple Computer, Inc.