Awakening: The Skyward Castle
Awakening: The Skyward Castle tells the tale of young Princess Sophia, who awakens from a magical century-long slumber into a land threatened by an ancient evil. Braving the dangers of an unfamiliar world, Princess Sophia has travelled far to discover the fate of her exiled kingdom. Having no magic of her own in a land built with living magic, she must overcome the many foes, perils and obstacles with her wit, skill and allies. Can Princess Sophia lift the curse that plagues her people? Find out in this epic conclusion!
Complete the first Awakening series
Colorful locations and characters
For a more in-depth experience,
check out the Collector's Edition!
Game System Requirements:
OS:

Windows XP/Windows Vista/Windows 7/8

CPU:

800 Mhz

RAM:

512 MB

DirectX:

8.1

Hard Drive:

445 MB
Game Manager System Requirements:
Browser:

Internet Explorer 7 or later
Fantasy Violence
Mild Blood
Tobacco Reference
Use of Alcohol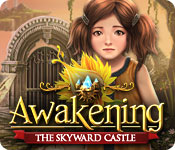 NEW299
The Big Fish Guarantee:
Quality tested and virus free.
No ads, no adware, no spyware.

Reviews at a Glance

Awakening: The Skyward Castle
0
out of
5 (
0
Reviews
Review
)
Customer Reviews
Awakening: The Skyward Castle
78
78
Could use a little more help
I enjoyed the first part of the game, graphics were good, and storyline kept you interested, but I didn't have a clue what they wanted me to do on some of the games, a little bit of instruction would have been helpful, I just skipped some because I didn't know how to even start or what to press. The cleaning of the mirrors was the same, the only hint I could get was to clean, well I cleaned and cleaned and cleaned, it took about 500 clicks before it was cleaned and that is way too much for a minor part of the game
September 30, 2012
not as good as the goblins
I disliked The Moonfell Wood, loved The Goblin Kingdom, and unfortunately I'm not a fan of The Skyward Castle. The graphics in all of the games are pretty good, and the owl and pocket dragon are adorable. But this game dragged on forever, the storyline is not at all linear so you will be running around a lot wondering what to do. The map, hint system and task list are excellent, which is good because I used them a LOT. I usually try to figure things out on my own before resorting to a hint but I got so tired of this game I used a hint every time I completed a task. The one thing I loved about it was the HO scenes, they were fully interactive and fun, I wish the regular scenes were more like the HOs! Some of the puzzles were unique but the two that kept repeating; fill the grid, and make a pattern on the quilt, were the worst. I soon learned to wait and skip. The Cpt Jack Sparrow character at the end didn't belong but was a welcome addition in my opinion, I love me some pirates! This is a popular series and it's kid-friendly and familiar, but to me it lacked quality content.
November 11, 2012
The Royal Run Around
Nice music and beautiful graphics, but otherwise, it was just another royal run around games going from location to location to find stuff in order to repair something in another location in order to solve a puzzle in yet another location. The hints were not usually very helpful "Find a way to uncork the bottle, Milady." Duh! The little girl character was annoying, "Please find a way to get my Grand pa pa back, pretty please?"
September 29, 2012
Could have been better
I loved the first two in the series, and #3 was OK, but this one is just disappointing. The graphics are well done, and it's a long game, but the storyline is almost non-existant. There are lots of puzzles, and many are different, but most have vague instructions at best. In the jigsaw puzzles, if you are not spot on with your cursor (to the very pixel) you won't be able to place the pieces. There was a connect the pipes puzzle that was full of leftover pieces and many of the correctly place pipes had open ends - usually forbidden in this type of puzzle. Eventually I started just skipping puzzles which I never do usually. I think the developers got lazy with this one. I gave it 3 stars for the quality of the graphics. Otherwise it would have gotten 2 stars.
April 15, 2013
Mixed Feelings
I'm giving this beautiful game 3 stars because it is an unusual mix of absolutely gorgeous artwork and confusing game play. You get your money's worth if you like games that last a long time, but that isn't the most important thing for me. The graphics and layout of the land are wonderfully done! Combine that with the music which is equally suitable and this final chapter in the Awakening series will quickly draw you in. That may not be enough to keep you, since the mini games are often confusing and there is no direction to even begin, you just have to jump in with point and click and hope it begins to fall in place. It's good to have the wise owl always at your side, and a saving point that the mini games can be quickly skipped to continue the story. It's not the most interesting story, but if you've gone this far you won't want to leave before finishing the series! I'll play again and see if what I've learned the first time around gives it more sense. . .
January 28, 2013
Disappointing
Having played the previous 3 "Awakenings", this fourth was very disappointing. The story line lacked substance. I was forced to use the hint button (which was very helpful) more than I would usually because there was no logical next move. Although I dislike too many HOS, a few more in this game would have added some enjoyment. There were far to many mini games and they were repetitive. I probably skipped half of them. I will mark this one "don't bother playing again" on my list of many HOGs.
January 23, 2013
I love the series but not this one
I finished playing it but had to force myself. I have truly loved the series and was so excited to see a new game. The visual quality was as outstanding as the others. Wonderful story and I love the realm the series takes place in. However, the game was boring. The puzzles were too easy and some of the quests were also too easy. It lacked the adventure I felt playing the other games in the series. There is a map but I am unsure what it is for other than a map. There was no interactive use for it. I do like that they divide the game into chapters so you hit a level of completion and move on. The pirate was a definite Johnny Depp take off and was done poorly. If you are a beginning player I would recommend this game.
November 3, 2012
annoy me and annoy me again !
very nice graphics but very annoying and nonsense puzzles.... i was happy when i've finally finished.
November 2, 2012
Puzzles
I have the series of these games. I found the first 3 to be very good, with Moonfell Woods being my favourite. However, this game was a little disappointing with the puzzles. Most of them are glyphs, some of them are extremely easy, but a lot of them are very frustrating. There are no clues as to how you are supposed to play them. I normally love the puzzles in games but these I passed on. Not like me! but they were just too mind boggling. Over all, I found the game to be visually great, but a bit choppy.
October 8, 2012
Ugh!
I thought a long while before deciding I should submit my review of this game. The short version: 7 1/2 hours of total frustration. Details: First, this game is VERY HARD. There are not good instructions for advancing the story and very little is logical or intuitive, and the hints and advice don't help. And because I play on a laptop, I had to exit out of the game every time I wanted to get help from the walk thru (which was almost ever scene). I like puzzle games, but these puzzles were just too hard. Some required a kind of mouse dexterity I don't have. Others I just never figured out what I was supposed to do to solve them. I got the impressions that there was a class of puzzles that had no logic in the solutions, just keep doing random things until it solved or skip. And skip I did - almost every puzzle after the first chapter. I skipped a lot because I just could not figure out what the object was. I also skipped many that I simply could not solve after many minutes, attempts and resets. I don't usually complain about this, but there was way too much aimless back and forth that did not add to the story. I also found the map really unhelpful, because you had to know the name of the location where you had to go in order to use it. The journal is pretty useless too, often updating after you've already figured out the information that should be there to help. And the Johnny Depp pirate?? PLEASE, NO, take it back! Overall, a very unpleasant experience, but since I had the walk thru, I had to finish it. Please make Sunhook Spire better. Oh, yes, the graphics and sound are quite wonderful and beautiful, but they don't make up for the horrible play.
November 16, 2013
The Apple logo is a trademark of Apple Computer, Inc.