Awakening: The Skyward Castle
Awakening: The Skyward Castle tells the tale of young Princess Sophia, who awakens from a magical century-long slumber into a land threatened by an ancient evil. Braving the dangers of an unfamiliar world, Princess Sophia has travelled far to discover the fate of her exiled kingdom. Having no magic of her own in a land built with living magic, she must overcome the many foes, perils and obstacles with her wit, skill and allies. Can Princess Sophia lift the curse that plagues her people? Find out in this epic conclusion!
Complete the first Awakening series
Colorful locations and characters
For a more in-depth experience,
check out the Collector's Edition!
Game System Requirements:
OS:

10.8/10.7/10.6/10.5

CPU:

800 Mhz (INTEL ONLY)

RAM:

512 MB

Hard Drive:

433 MB
Game Manager System Requirements:
Browser:

Safari 4.0 or later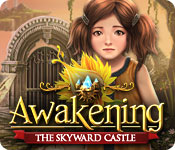 NEW299
The Big Fish Guarantee:
Quality tested and virus free.
No ads, no adware, no spyware.

Reviews at a Glance

Awakening: The Skyward Castle
0
out of
5 (
0
Reviews
Review
)
Customer Reviews
Awakening: The Skyward Castle
73
73
Ugh!
I thought a long while before deciding I should submit my review of this game. The short version: 7 1/2 hours of total frustration. Details: First, this game is VERY HARD. There are not good instructions for advancing the story and very little is logical or intuitive, and the hints and advice don't help. And because I play on a laptop, I had to exit out of the game every time I wanted to get help from the walk thru (which was almost ever scene). I like puzzle games, but these puzzles were just too hard. Some required a kind of mouse dexterity I don't have. Others I just never figured out what I was supposed to do to solve them. I got the impressions that there was a class of puzzles that had no logic in the solutions, just keep doing random things until it solved or skip. And skip I did - almost every puzzle after the first chapter. I skipped a lot because I just could not figure out what the object was. I also skipped many that I simply could not solve after many minutes, attempts and resets. I don't usually complain about this, but there was way too much aimless back and forth that did not add to the story. I also found the map really unhelpful, because you had to know the name of the location where you had to go in order to use it. The journal is pretty useless too, often updating after you've already figured out the information that should be there to help. And the Johnny Depp pirate?? PLEASE, NO, take it back! Overall, a very unpleasant experience, but since I had the walk thru, I had to finish it. Please make Sunhook Spire better. Oh, yes, the graphics and sound are quite wonderful and beautiful, but they don't make up for the horrible play.
November 16, 2013
Kitty's Thoughts: The First Hour of Play is the Best part of the game.
Hello, this is kitty, and I just beat this game. However, I had to say.... I was highly disappointed in this game. The start out was good, when you actually reached skyward castle, and you had to recover your alicorn or unicorn in the story. However, you encounter dreadmire who appears and causes destruction in the skyward land. You had to save people who were turned to stone, and at the same time find your parents that you've hadn't seen in a 100 years. So far soo good right, Well, that's what you get for the first hour. However, the interest doesn't really hold itself much with the gameplay. As I will explain each part. First the story line, I had to say, out of all the previous games, the story line seemed interesting at first. Believe me, it does start out really good. However..., the story tends to drag more as you go through the story. I even felt like when you get to one bit, it felt like the developers was just trying to drag on the story when all you want to do is finish the story. You feel like you are getting closer to the climax when all of the sudden... oh great more repetitive stuff to drag on the story. Which is my next bit... The challenge I marked at the lowest... not because it is easy.... it's because it has unbalanced puzzles with some that don't even give you better instructions on how to solve it. Which was the biggest issue in their past games. I am shocked that even up to now that they did not fix that issue about the puzzles. For example. I probably would like the patch puzzle enough if the first puzzle give you a simple diagram on what the numbers tell you. Do not be ashamed to look at a walkthrough because you'll be depending on it on most of the puzzles because the owl is completely useless. If that's not bad enough, you might find a problem with the puzzles. There's also no balance between the puzzles that take you hours to solve verses the puzzles that give you a break from those. Sooner or later, you'll get to the point that you don't even care to solve the puzzle because they throw at you a bunch of time wasting puzzles along the way. The worst part is that they keep repeating them in different ways. The only positive thing is the looks. I mean this game looks awesome and is unchanged from the last few games. As always, it feels like you're going through a nice picture book. However, the last thing I would like to talk about is the fun factor. The game would seem fun at the first hour. I mean I was pulled in and brought the game. However, when I got to the mid point I realized how much the game is not giving you much direction on what you need to do. In time, you might start depending on the owl. If it gets really bad, than the walk through. By all means, do not feel ashamed to use a walkthrough if you're a person with a life. Overall, for a kid with a lot of time may find this game fun, but if you're an adult and you only got limited time to play everyday.... this game is not for you. Avoid it at all cost because you will not have fun. If you want to play an awakening game that fits your needs. Play Dreamless castle or Moonfell Wood. Those are the best games that fit your needs. Goblin Kingdom is iffy, it has similar issues like this game, but it's not as bad. You might slide with Goblin Kingdom. It Sad because I really want to like this series. However, I won't delete this game because it was my free one. Overall, I would not recommend this game, and I believe this would probably be my last buy. I might as well save my money for the Dark Parable series. The ones that did it right. Overall, Kitty Out!
June 1, 2013
Don't waste your time with this one.
Totally illogical, mostly annoying. Useless map. A lot of back and forth with nonsensical tasks. I was determined to finish it only because I bought it based on other's reviews. Sorry I did and it took three days to complete because I was so disgusted with the whole thing. I am very disappointed in this game.
September 22, 2013
The Apple logo is a trademark of Apple Computer, Inc.
The Windows logo is a trademark of Microsoft, Inc.