Guardians of Magic: Amanda's Awakening
Join Amanda on this astounding journey between scientific and magical realms in Guardians of Magic: Amanda's Awakening! Explore 27 wondrous scenes and solve masterful puzzles to find the balance. Cast spells with your wand, build magical devices, and use technological savvy to stop Dr. Magus. With impressive mini-games, an engaging story, and an amazing ending, Guardians of Magic: Amanda's Awakening is a wonderful escape that's certain to please.
Engaging story with an exciting ending
Build magical devices to solve puzzles
Learn and cast magic spells
Game System Requirements:
OS:

Windows XP/Windows Vista/Windows 7/8

CPU:

1.2 GHz

RAM:

256 MB

DirectX:

8.0

Hard Drive:

91 MB
Game Manager System Requirements:
Browser:

Internet Explorer 7 or later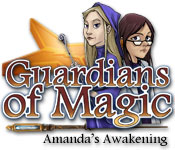 NEW299
The Big Fish Guarantee:
Quality tested and virus free.
No ads, no adware, no spyware.

Reviews at a Glance

Guardians of Magic: Amanda's Awakening
0
out of
5 (
0
Reviews
Review
)
Customer Reviews
Guardians of Magic: Amanda's Awakening
22
22
Naive and easy game. Good for beginners.
Cute story of a girl and her magician grandfather . At the beginning has VO, after the dialogues are written. Only one difficulty level You can skip tutorial, but it appear tips all the time. Well done and colorful graphics. Music calm but getting tired Mini games are easy and well known as tangram, finding pairs and they recur. As the game progresses, you gain spells. Not much emotion nor appeal, and is really easy...but it can be good entertainment for children or beginners.
September 29, 2012
SUPRISE!!!
From the looks of this I didn't expect much but got a little gift for my morning trial:) I really enjoyed this. The story is cute and keeps you involved. It's made so that you are working on several tasks at once without even realising it. It is heavy in puzzles but they aren't hard enough to scare even the beginning players. Just a light fun game. No dark corners or monster!
September 29, 2012
Puzzles and Adventure
Notice the word puzzles first - NO HIDDEN OBJECT SCENES! Skip this paragraph if you don't want to know back story. Girl (your character Amanda) loves Grandpa who is into magic, but not you not so much. He introduces you to a scientist friend, Dr. Magnus who like you is into physics and chemistry. All good until Scientist and Magician have a fight; they never see each other again. Grandpa dies, Magnus does not attend the funeral. Game begins with you at his house. While at his house, you discover a "Guardian" is captured and she needs your magic help (yes, what you are not good at) to escape. Intro graphics are comic book quality, but drawing quality improves for the game. Options are Full Screened, Windowed and Sounds. Automatic Tutorial but can be turned off in the options. Puzzles during hour demo: Find combination and use it, block slider, Memory/Concentration, Jigsaw, Tangram, round disc slider, Find the differences, scale balance and continue the pattern. These types of puzzles repeat several times. Collectibles so far: Find 8 pieces to assemble a bubble machine designed by Grandpa which will reveal pieces of magic to you and second collectible are 10 pieces of a blueprint which will reveal a new object to assemble. Level travel: After finding the secret library, as you solve the puzzle boxes you find, you get maps to constellations which can be mapped out (yes another puzzle) in the telescope to unlock a secret painting in the library. You can then use magic in the form of moving your mouse in a specified motion to transport to that scene. There are many more spells to learn besides transport such as fire, etc. When you travel through the different pictures you reveal with the constellations they seem to represent different periods in time for the same location (so far). You do have a Journal which keeps track of the Puzzles you have done (which you can replay at any time during the game), Constellations, Spells and your Journal notes. The hint button is in the form of the captured Guardian who will say "maybe you should check somewhere else". ANY time you use the hint, it will need to be recharged - about 30 seconds. Overall decent game, but not sure if I'm in the mood today, maybe I'll get this game when I'm wanting some more old-style puzzles.
September 29, 2012
Puzzlemania!
Wow, this game is just chocked full of puzzles, which I love! The story has you learning magic and using constellations to reveal new locations to explore! The storyline seems intriguing and the graphics are very bright, colorful and clear! I just think Guardians of Magic is a fun and adorable game! I would totally waste an afternoon with this little gem!
September 29, 2012
Good game, but way too short
Overall, this was a very enjoyable game. I thought the art style was great, as was the plot, dialogue and voice acting. The puzzles had a good balance of repetition and variation (there were about 4 or 5 different puzzle types, each of which showed up 2 to 3 times), although I wish they had balanced the difficulty settings better (some puzzles in the beginning were hard to figure out, while the ones at the end were easy because I already knew what to do). My biggest problem with the game was that it was too short and there wasn't enough development of the plot. I beat this game in under 3 hours, when typically games I buy here at BigFish take me at least 6 hours. I would have appreciated more dialogue and character interactions (there were a few interesting characters to be found around the world that you couldn't interact with, for instance). The villain's motivations also fell flat to me (not to mention the "reason" given for the villain's actions was bizarre given the other information given about them). The "too long; didn't read" version: This is a good game, but I can't recommend it because it just didn't have enough content.
September 30, 2012
A Sweet Little Game
Part of the appeal is you can't take it too seriously - perfect for those times when you're a little bit down and need a pick me up. Cute and cartoonlike with an overall brightness that left me with an uplifted feeling - it was an enjoyable hour of play. I found no HOS's in the demo and lots of simple puzzles which were fun to do. Is a great game for beginner's yet even the experienced can enjoy it. There is no map but the running around isn't excessive or offputting. There is a reference book with four parts to it - journal, constellations, spells and puzzles - which all have their uses. There is a hint button that functions as hint, friend and backstory. I'm having a hard time putting into words how the game comes across to me and the best word I can think of is charming. Definitely recommended to have in one's repertoire for those lazy, rainy days when a little pick-me-up is always welcomed. A solid 4 stars all around.
September 30, 2012
Busy. busy. busy....
This is a game that keeps you going every minute. . Frought with puzzles - no HO scenes- you will find yourself busy the whole time. I won't go into great detail about the story and puzzles because the other reviewers have been very thorough and in those areas. The storyline itself is invoved and continually unfolds. You are Amanda, the grandaughter of a Magaician whom has passed. You've been summoned to rescue a guardian fairy?? from a crystal ball. So begins your foray into and introduction to magical powers. The puzzles are short and there are lots of them. Pretty much the old stand-bys. The artwork is wonderful. Very colorful and charming with music to match. There are voiceovers in the beginning but they drop off into readable dialogue. Very easy to see and much appreciated. They is no choice of game mode; you're stuck with the custom cursor, too. Mine gets swimmy which I hate. There is a hint that I found helpful, a skip for puzzles, a journal, and a spellbook. You collect pieces of a bubble blower to build and pages of the spellbook that are missing. You receive spells to use as you go along. There are puzzles and things to do everywhere. This game really keeps you busy. It's a bit old fashioned in it's feel but it's charming and good fun.
September 29, 2012
For The Young at Heart
Magic versus Science is the age old battle that prompts Amanda to answer her Grandfather's plea and embark on a mysterious adventure that will change her life. With the help of Mera Whitelaw, a magical being imprisoned and who needs her help, Amanda finds herself on an adventure where she must undertake a variety of tasks in order to uncover the plans of Dr. Magus, a one time friend and now enemy of her dead Grandfather. At first Guardians of Magic appears to be a very simple Adventure-Puzzle game, designed for a much younger audience. However as I played on, I found myself being immersed into the game play which included finding blueprints and parts that needed to be combined in order to build magical machines, solving a variety of puzzles, solving riddles and helping out magical being with their demands. I also had to trace constellations in order to unlock gateways into other realms, cast spells and enter different realms and look for clues, all within the one hour demo. The graphics are cartoon style and sharp and there are voice-overs and sound effects as well. There is only one play mode and game features include a journal that provides you with notes, spells, blueprints to the machines that need building, constellations outlines and puzzles that can be re-played. The game mechanics is relatively easy, seek and find and as there is no map, expect alot of backtracking. Puzzles were very easy but fun and included finding pairs, spot the difference, weights and Tangrams. Hints are provided by your new friend Mera when needed and you also use the machines that you build to provide you with help. There were things in the game that did annoy me like the journal that kept popping up on my screen and the dialogue that passes too quickly. Nevertheless, It is an ideal game for a younger audience but I expect that adventure lovers who have a whimsical side and who are young at heart will enjoy this game. I was suprised to say that I did find it entertaining, charming and well executed. I do recommend that you try the demo and see for yourself. I you do have a punchcard sitting around, this could be well worth your while to spend a lovely afternoon with Amanda and friends.
September 29, 2012
Fun Time Waster
Cute game with tons of puzzles. Clear, colourful graphics. No HOS. Instead you must collect spells and parts of gadgets. Played the entire demo. Light and entertaining game. Great way to spend a rainy afternoon.
September 29, 2012
No ghosts or monsters - Yeah!
I really am tired of all the scary monster HOGs being offered lately, so I was pleasantly surprised at this gentle game. I liked it for a "play before bedtime" soothing puzzle game. Recommended for younger players, too, for the no monster reasons.
September 29, 2012