Dark Alleys: Penumbra Motel
Exclusive
During a road trip your friend's daughter is kidnapped by a mysterious man at the Penumbra Motel, the scene of murder and strange occurrences 50 years ago. You must head into the heart of madness to not only find the girl, but unravel the mystery haunting the descendants of the Penumbra family and the Motel grounds.
Game System Requirements:
OS:

10.8/10.7/10.6/10.5

CPU:

1.4 GHz (INTEL ONLY)

RAM:

1024 MB

Hard Drive:

431 MB
Game Manager System Requirements:
Browser:

Safari 4.0 or later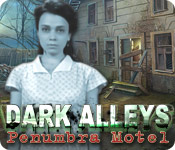 NEW299
The Big Fish Guarantee:
Quality tested and virus free.
No ads, no adware, no spyware.

Reviews at a Glance

Dark Alleys: Penumbra Motel
0
out of
5 (
0
Reviews
Review
)
Customer Reviews
Dark Alleys: Penumbra Motel
67
67
Good old point and click
I absolutely loved this game. I used to really enjoy point and click adventures and only started playing HOGs when they became interactive. I much prefer minigames to HOS and never could see the point of finding objects just to show you had keen eyesight. That said this is exactly the sort of gameplay I like. Examine a scene, find something useful then work out how and when to use it. OK I did need to use the hint button to check when I had cleared an area and occasionally had to go to the walkthrough but that doesn't bother me, I still had hours of fun. More like this please.
June 17, 2012
No HOS scenes
I really enjoyed this game. It's hidden object game without the HOS scenes. Some areas a little dark but otherwise okay. Didn't like some of the music (personal tastes).
June 16, 2012
Dark Alleys : Penumbra Motel
it had a good story about it and the graphics are great however there comes a time when I had to go threw the walkthrough to figure out where to go because the hints only said (nothing to do here ) but did not explain what to do or go next - but it is a fun game if you like hidden objects and ghostly people !!!
June 16, 2012
More adventure than anything else - A guy's review
*review based on completing the full game in hard mode* This game plays like most of the games in this genre with one huge exception. There is not one single HO scene in the whole game. That could be off putting to some but, me being an adventure addict, I managed without them quite well. It also helped that it was quite challenging in parts. The downside though, is that there aren't that many puzzles either, so I found myself missing something from this game. Another thing I found a little annoying is at times totally lack of logic. I almost fell out of my chair laughing when the game told me that I could not take a needle from a ball of yarn with just my fingers. Graphically the game is adequate. Most things seem crisp and clear with a few exceptions. Of course as with many of the similar games it is in places quite dark and grey, but it also had some brighter scenes too which was quite refreshing. Nothing special about the animations. The game uses live actors and they are nicely integrated into the scenes and do not stand out too much. The quality of the acting however leaves a lot to be desired. Music and sound could be a lot better. Not that it is too annoying, but it's not that great. Especially the lip-sync is at times awful. I actually thought it was dubbed at first, but when trying to follow lip movement it actually seems that they are speaking what is said, but just being totally off target. Also, voice-overs are uninspired and does not feel believable at all. Game mechanics and hud works well, and here the game is top notch. Also transitions between the scenes and scene-within-scenes are well made. Everything seems accurate, but at times it feels like you really have to be on target to pick something up. The story itself seems highly unoriginal, and because of bad acting/voice-overs it doesn't really engage at all. There is a little background story that unveils throughout the course of the game, but there is really nothing to tie it all together. I didn't really find much of the story making much sense at all, and the connection to the main characters is vague at best. In the game play itself there are really fun moments though, and that adds to the rating. Even with the lack of HO scenes, and sometimes being illogical, it does provoke some mind twisting and alternative thinking. Even though there weren't many puzzles, several of them were quite challenging. I wish there was a little more guidance a few times, but not a big problem. There are 3 levels of difficulty to choose from: Casual: Quick hint/skip recharge, sparkles on active zones Hard: Slow hint/skip recharge, no sparkles on active zones Advanced: Very slow hint/skip, no sparkles, black-bar tips disabled (whatever that means) Playing on hard I found the hint/skip recharge to be adequately slow. No chance for hint abuse ;o) I honestly had fun playing this game, but got a bit tired of it in the end. It should have had some more variety. I'd still recommend this game to adventure fans, who wants something to challenge their brain a little. If it was possible I would have given the game a 3.5 rating, but will go with 4 because of the enjoyment and challenge. For the guys: As far as I could tell you actually play the father in this game, though there are few times where that is apparent. It should still suit both genders. TJ
June 13, 2012
HOPA without the HO
I bought this game as a CE and now wish I had waited for the SE. I am a big fan of the developers and am slightly surpirsed at the direction that they took when creating 'Dark Alleys'. Unfortunately, to my dismay, this game is definitely not up to their usual high standard of games and the more I played, the more I felt let down. Unlike their previous games, such as the AZADA series, the challenge and fun factor that I eagerly anticipated and looked forward to just wasn't present here. Unfortuantely 'Dark Alleys' just did not thrill me nor did it offer me the challenge that I expect to find in an Adventure game. It was a long game, took me well over 5 hours but I did give myself alot of intervals. Storyline begins with a missing child #not one of my favorites#, a grusome murder of an entire family and an abondoned Hotel haunted by the past. There are many things I did like about the game and unfortunately many things that I didn't. Visually the graphics were blurry, colors sombre giving the entire game a very depressing look. I did like the artwork and there was voice-overs. Unfortunately It isn't anything we havent seen before. I did however like the live film footages used and ofcourse using real actors to play various parts added some merit to the game. As for Game features, you are given three play modes, a journal, a goal bar which did not work and a hint system that operated well. Suprisingly this game is not a IHOG that I had expected as there were no HO scenes. This game turned out to be adventure with many puzzles and mini-games to solve. I enjoy adventure games but I really wasn't thrown by the overall gaming experience. It did play lie a rountine IHOG without the HO and there was the continous backtracking, clicking everywhere for items to pick up and trying to remember where you need to use them. There were mini-games that varied in dificulty but overall gameplay soon became stiff and tedious. By the time I got half way, I lost sight of the entire storyline and got bored. In a nutshell, what is missing in this game was the crisp sharp graphics, HO scenes and most of all the fun factor. However after having completed the CE, I can say that it is a good SE game to play on a bleak and rainy afternoon.
June 13, 2012
No HO Scenes
Yep, there are no HO scenes in this game. Yeah!!! Can't remember the last one I played that did not have them. The game is good but the mini games really stumped me, but then I'm not real good at those anyway. -Bought the SE and didn't miss the bonus section -Didn't need a SG either -No map, but not needed in this game -Journal, but not needed -Music is the same thing over and over, turn it down -Real actors, that's a real nice change Enjoy Fishies
June 16, 2012
Different HOG
I've only being playing HOG for a few months now and this is the first time I've played a HOG that had no HO scenes. I found that interesting, but absolutely fine with me. Some games have ABSOLUTELY TOO MANY and it takes away from the storyline. But this one was perfect in that aspect for me. The storyline was an interesting one. But not necessarily a strong one, in my opinion. The ending left room for a sequel if they choose to do one. And although I am recommending this game, I think they should made the ending more definite. I did like the fact that you had to accumulate certain things in the game to be able to access certain doors. Very interesting. The mini games were simple to somewhat challenging. The hint meter took about a minute and a half to charge. But it was interesting because the hint meter was a b&w televison set. I thought that was cool. The visuals were good overall. It had a dark theme to it, (which was appropriate), but it didn't hinder you from looking for the things you needed to complete the game. There is no map at all. But you don't really need one. I think the only ones this game is NOT recommended for are those who like bright & vibrant colors throughout. Otherwise, I think you should at least check it out.
January 4, 2013
Good challenge
Not too much going backward and forward, great graphics and an interesting story.. some of those magic stone puzzles got a bit boring but still there is a skip button if you wait for it... Good one bigfish!
June 28, 2012
Fun Adventure Game
There are NO hidden object games in this game, but there are GREAT puzzles (I'll take a challenging puzzle any day over a HO game). The music track is repetitive and does not add to the "ghostly theme" of this game, but you can mute the music. Some of the rooms were dusty and unclear, but for the most part I didn't get lost. I played the game through on casual play and thoroughly enjoyed this ERS game. A definite winner for me.
June 18, 2013
Not a HOG/A but a Puzzle/Adventure
Let me start by saying ~ What's with all the "let's put a kid in danger" scenarios lately? Lighten up! 1- This is a straightforward Puzzle/Adventure mystery game. So if you're looking for a HOG/A, look elsewhere. 2 - The storyline is dark. A family is slaughtered and a child goes missing. Some of the action is really creepy (man being attacked by a glowing Rottweiler, for instance). Some of the scenes are disturbing (child in cage). 3 - The artwork is good, if unoriginal. A hotel straight out of "Psycho", and the run of the mill decaying town. 4 - Acting is okay, but the little girl got a bit annoying after a bit. Music is repetitive and boring. 5 - Puzzles are pretty intuitive and actually make sense within the context of the story. Recommended because the artwork is good and the puzzles fit the scenario and are just challenging enough to be interesting.
July 9, 2012
The Apple logo is a trademark of Apple Computer, Inc.
The Windows logo is a trademark of Microsoft, Inc.