Sable Maze: Sullivan River Collector's Edition
Every night you have the same nightmare. You see children wandering through a maze, crying for help. These sleepless nights are ruining your waking life. To stop them, you must return to Sullivan River Summer Camp to uncover what happened during that long-forgotten summer. Beware though, this camp isn't all that it seems. With every step, you can feel eyes watching you. Reveal the secret of the ancient labyrinth in this eerie Hidden Object Puzzle Adventure game.

This is a special Collector's Edition release full of exclusive extras you won't find in the standard version. As a bonus, Collector's Edition purchases count toward three stamps on your Monthly Game Club Punch Card!

The Collector's Edition includes:
Bonus gameplay
Full soundtrack
Wallpapers and concept art
Integrated Strategy Guide
Game System Requirements:
OS:

Windows XP/Windows Vista/Windows 7

CPU:

2.5 GHz

RAM:

1024 MB

DirectX:

9.0

Hard Drive:

879 MB
Game Manager System Requirements:
Browser:

Internet Explorer 7 or later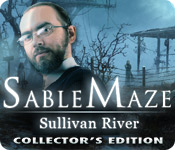 The Big Fish Guarantee:
Quality tested and virus free.
No ads, no adware, no spyware.

Reviews at a Glance

Sable Maze: Sullivan River Collector's Edition
0
out of
5 (
0
Reviews
Review
)
Customer Reviews
Sable Maze: Sullivan River Collector's Edition
82
82
Dropped off after Demo
At first appearance I was intrigued by this game. The story was enticing and I wanted to know more. When i bought it, however, it was like the entire game changed. Suddenly it started to become tedious, the story seemed to be only half there, and you know how most stories have a surprise or climax? This one didn't. I was stuck in a game that acted like a toy robot, slowly winding down, but with no key to twist. That doesn't mean it's a bad game, it just means that it was nothing like I first expected. I also regret buying the CE completely. The bonus chapter seemed, not only short, but relatively uneeded. Worse too; it seemed that any sort of ending was erased. If playing the SE you get a complete ending, the CE seemed to just give a massive cliffhanger, and I am certainly not buying any other game that's connected with this, less it winds down to a repetitive motion as well. Another weird thing about the story; sometimes it was like they were attempting to open sub-plots at random times that would drop off and remain unfinished. This made the game more confusing and you attempted to figure out what parts were important or not. In a way, it made it so, CE or SE, you never get the complete story. I am saying I would suggest this game to someone who doesn't care that much about a story and is willing to play a game that feels like every action is repeating while the story seem to disappear at times and spawn branches that break off. However, I would never suggest this to a friend, they know where to find me when it goes bad. Though I must say I did like the graphics and music. That was a plus.
November 20, 2012
A 3.5 on my scale...Review of Completed Game
I rate this game 3.5 out of 5 stars but I won't round up to 4 stars and here is why.... When this game first started, I was intrigued...a run down summer camp a lot like my favorite horror movie...Friday the 13th...and it was just a creepy new setting we don't see in a lot of other games. It started out with a person (you) going back to the summer camp to figure out why you are having bad dreams that relate to the place and then realize you need to save some children whose souls are being held in a labyrinth by an evil tree dryad who has possessed all the trees in the area and they try to block your path among other things to keep you away from the labyrinth and her secrets.... As this game progresses however, the plot becomes more and more disjointed. I longed more for a creepy summer camp then learning about a possessed labyrinth and weird tree people especially when children's ghosts started talking to me. The plot kind of fell apart in the main game. This game has an ending but its short and cuts off rather abruptly. You get to save the children BUT the bonus chapter goes more into detail about how it happened and how you save them completely. Since the whole main game mentioned this labyrinth special world, I felt cheated that I spent hardly anytime there whereas in the bonus chapter, you spend your whole time learning more about the labyrinth and the characters involved. I in turn liked the bonus chapter more than I liked the main game. On a imac desktop 10.6.8, it had full screen, no black bars. I played on the hardest difficulty level which said had no hints or black bar tips and no skips on games. There were no skips on games BUT still had hints and black bar tips...The puzzles I could all easily solve either with guidance from the strategy guide or without BUT the bonus chapter is why I rated this game so high. Otherwise, I would have given it 2.5 stars and really focused on the fact the main game fizzled out but the bonus chapter saved it... In this case, Id recommend the CE because of the bonus game but not the SE because it will leave out the best parts...
December 12, 2012
OK Game except for hints and HOS
Unlike some reviewers, I actually liked the graphics and didn't mind the story line. I marked it down because of the sloppy programming (throughout the game, some combination items in HOS had a hand to highlight them, others didn't. Hints repeatedly led in a loop -- follow the arrow and arrive in a place with nothing to do. Wait for the hint to recharge and be led back to the first place. Hint never led to the next place with action. I don't like using hints, and when they're inaccurate, it's really irritating.) If you don't mind these drawbacks, it's a good game.
November 19, 2012
Could have been better
After working my way through all of the challenges. The ending was really lame. The maze doesn't come until the end of the game. I was expecting to spend more time wandering through the maze struggling to find and release the children. Warning: This review was submitted by a 73 year old curmudgeon. :-(
December 31, 2012
Fun for Some
Liked the audio thats how I fell into purchasing it. Then I found real characters instead of 3D as well as the hidden objects where annoying. The 2 step objects are usually highlighted but in this game not all were. So I spent more time clicking then doing. It just didn't turn out to be the kind of game I keep waiting for. To FLAT, more kid's style.
October 1, 2012
I really don't know what to say about this one... Not bad, but definitely not very good, either.
"Sable Maze: Sullivan River" has been giving me headaches ever since I finished it. It's really quite puzzling. While I was playing it I was quite engrossed in it, but when I finished it, I wasn't so sure I even liked it anymore. However, I have no doubt that it is an entertaining game, that happens to have an amazing background story and a good atmosphere. Here's probably why I didn't liked it: - One of the things I have no doubt contributed to my befuddlement on whether or not I liked the game was that there are a bit too many hidden objects scenes, and when that happens it bores me incredibly and makes the game tedious; - Maybe it's the not very interesting, washed-out look. The artwork and the graphics were definitely not bad, but I have seen so much, much better and so, I think it detracted from an overall satisfying experience. - Another thing that unfortunately happens very, very frequently in these games and that just leaves me raging mad. They always end the games in a rather brute manner. Yay, you just saved the way and now everything is fine! (Not quite, since there is almost always a sequel...) And that's it. It happened in "Sullivan River" and it left me very disappointed. Here's why: the storyline is definitely the best thing that this game has to offer, and so, it was not only interesting and compelling but original, and was explored in some depth (even more in the bonus chapter). It told us about how "Sullivan River" got its name, how the Tree of Wishes came to be, who was the Dryad, and what happened all those years ago in our protagonist's life. You actually feel that the writers took their time to create such an incredibly well polished story. And then, the game ends like that. Not only in the main game but also in the bonus chapter. So much is left unsaid after so much has been given. Now here's what I liked: - The atmosphere is very, very good. Creepy alright; - The music is also very fitting to the environment and was nice to my ears; - The storyline, of course! As I have mentioned in a review before, saving children in peril were never my cup of tea, but "Sable Maze" managed to make everything different because of the amazing story. I just loved the premise of an "evil" maze where you could get lost forever and never be seen again. Just the ideia is very opressive. And it also helps that the mystery unfolds very nicely; - The bonus chapter is amazing. I liked the story better in this one, what with all the exploration regarding the Celtic heritage of the place; That's it. I give it a 3 and a half stars rating. I totally recommend that you try it before anything else because although it offers a wonderful and original story, it has nothing more worthwhile left. Nice to spend some time, though.
September 2, 2013
Where's the orb???
Game was good overall. Interesting if fantasical storyline. Map takes you places, but doesn't tell you where there are things to accomplish. Played the bonus chapter, which had a sort of slowed down pace from rest of the game. Got to the very end, but NO ORB!! HOS where it was supposed to be located never highlighted, so I could not get it. Very disappointing ending, so I abandoned the game.
June 28, 2013
Campfire ghost story
This game reminds me of the horror stories told around the campfire when I was a kid. Once you've played an hour or so, the storyline becomes predictable. Good strategy guide, but not really necessary, because the game isn't that difficult. Live actors used for the ghosts, but the most evil tree is a little too cartoony. Good vocals. Very good ambient sounds. Sad music. Graphics are grainy in HOS, but the cut scenes have great graphics. Some of the puzzles are new, others are standard.
November 18, 2012
Meh....
Big Fish Games is my go to for a mental get-a-way, so when I invest approx. $14.00 in a game I, myself want to be invested. This doesn't occur with Sable Maze. It's far to easy, even on 'Hard' mode. It wasn't challenging or exciting. I just wanted to get through it, be done, so I could move on.
October 13, 2012
Just a so so game
While others raved I expected it to knock my socks off. I played in Casual mode. It's a good game but nothing exciting and new in the trial. Positives: no penalty for over clicking in HOs, Hint button charges quickly and points where you need to go, the skip button in puzzles charges very quickly I'm still waiting for more games like Mystery Case Files 13th skull where real people talk to you, give you clues about how to help them before they will help you.
October 2, 2012
The Apple logo is a trademark of Apple Computer, Inc.