Sable Maze: Sullivan River Collector's Edition
Every night you have the same nightmare. You see children wandering through a maze, crying for help. These sleepless nights are ruining your waking life. To stop them, you must return to Sullivan River Summer Camp to uncover what happened during that long-forgotten summer. Beware though, this camp isn't all that it seems. With every step, you can feel eyes watching you. Reveal the secret of the ancient labyrinth in this eerie Hidden Object Puzzle Adventure game.

This is a special Collector's Edition release full of exclusive extras you won't find in the standard version. As a bonus, Collector's Edition purchases count toward three stamps on your Monthly Game Club Punch Card!

The Collector's Edition includes:
Bonus gameplay
Full soundtrack
Wallpapers and concept art
Integrated Strategy Guide
Game System Requirements:
OS:

Windows XP/Windows Vista/Windows 7

CPU:

2.5 GHz

RAM:

1024 MB

DirectX:

9.0

Hard Drive:

879 MB
Game Manager System Requirements:
Browser:

Internet Explorer 7 or later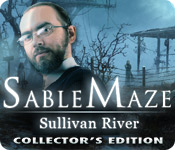 The Big Fish Guarantee:
Quality tested and virus free.
No ads, no adware, no spyware.

Reviews at a Glance

Sable Maze: Sullivan River Collector's Edition
0
out of
5 (
0
Reviews
Review
)
Customer Reviews
Sable Maze: Sullivan River Collector's Edition
82
82
Boring to death
This game is just simply average. It does not feature anything new. The story line is boring to death. The game environment is way too small. Anymations are questionable so the sound FX. I did not even bother playing the bonus chapter. C+ is a fair rating.
November 22, 2012
fun but not woth the CE edition
i found this game very fun but it was not anything of what i thought it would be first of all it only had about 20 hidden object scenes and it did not last as long as i thought it would in about 17 hour i beat it overall it was a ok game
October 6, 2012
Don't know
I really can't say much about this game but It has a good story line and that is about it I have been playing for about 20 min and I can't play it any more cause the game its self is lame. I wished I haven't spent my money on it Its is not worth it save your dime.
October 2, 2012
Sable Maze: Sullivan River
I feel this game deserves a better rating, but I cannot give it one myself. :/ My experience with what looked to be a spooky, promising hidden-object game was severely marred by just how exasperating gameplay turned out to be; and even if it weren't for that, the plot itself was kind of...off. Thus my possibly disjointed or inaccurate summary, as I wasn't even sure what was going on! Plot: You've begun having traumatic memories of something horrific that happened at a camp you stayed at as a child. Your therapist suggests you return to the camp to figure out the mystery behind a group of children who went missing--the source of your traumatic memories. Once there, you discover the ghosts of the children, pleading with you to help them escape a strange creature which has captured them. What is this being's interest in these children, and what is its connection to a mysterious Celtic labyrinth on the campgrounds? Okay, firstly, the exasperating gameplay. Even on casual/easy mode this game isn't very intuitive, and I was often left wondering what to do next. But even that could've been tolerable had it not been for the minigames. ALMOST EVERY minigame was of the "Put all the items in their correct places" type, where moving one item ends up moving all of them, so once you have one item in its place, everything else you've arranged is again out of place. So frustrating! After struggling through a few, I ended up turning to the integrated strategy guide the moment I was confronted with such games, resigned to cheating my way through them...unfortunately, some of the games are random, so even looking at the guide can't help you, and you have to either solve them or skip them--the latter meaning you forfeit gaining an achievement. Speaking of achievements, the game cheated me out of one! There's one for finding three objects in a hidden-object scene within three seconds. I accomplished that repeatedly--but never earned the achievement. And even the hidden-object scenes were frustrating. It said that items listed in one color were in plain sight, whereas those listed in another color needed an action performed on them or were hidden from view--yet repeatedly, there were items listed as being in plain sight which were NOT in plain sight, and/or needed an action performed on them first! Plus, sometimes the #system# cursor turned to a hand in such scenes--indicating an interactive area--but other times it didn't change, and I had to click around at random before happening upon an interactive spot--thus forfeiting the "No misclicks" achievement. AGGHH!! Now, the plot. The reason I bought the game was the plot seemed so mysterious and intriguing--a long-lost Celtic labyrinth and its hold over the main character's past. But in the game, the plot just fell apart and made little sense. Firstly, the entire deal with the main character's trauma and memories was highly glossed over--after the intro with the therapist, not much else was brought up about how it had affected him/her. #Even the deal with all the missing kids is treated like, "Meh."# Secondly, there was a lot of emphasis placed on one of the missing kids being bullied by the others, and his connection to another lost boy, *and* his crush on the camp nurse, AND the nurse's relationship with the camp counselor#?#, AND! the nurse's connection to another female character...yet none of that was ever adequately addressed; so why was it all brought up? Thirdly and most annoyingly was the labyrinth itself. Based on the dialect and accents of the characters, I'd guess the story is set somewhere in America...so what's the deal with this ancient Celtic labyrinth being hidden upon the campgrounds? How did it get there? No explanation is ever given. Even the characters seem blase about this and never question its presence. This lack of detail was beyond strange, and I hope it doesn't overly mar my experience with the sequel. The artwork, cutscenes, and environments were gorgeous #unlike other reviewers, the little fireflies/butterflies and whatnot didn't bother me at all#, and in fact are the reason I regret having to give the game such a low rating. Hopefully, somebody with a fondness for frustrating minigames, and an ability to overlook the muddled plot, can gain more enjoyment out of the game than I did...as for me, I'd often find myself logging in, playing for a few minutes only, then logging out again in irritation and finding something more fun to play instead. I was glad to get this one over with...and kind of leery of starting the sequel. :/ The Collector's Edition of the game includes wallpapers #alas, they usually choose the gloomiest shots#, concept art, an integrated strategy guide, music clips, and a bonus chapter; the bonus chapter continues the plot from the main game so it might be in a gamer's best interest to invest in the CE as it ties up a few loose ends. I can neither recommend nor not recommend this game, but will err on the side of recommending it, if only because of the great graphics and interesting storyline...however muddled it is. There is a second game in this series, "Sable Maze: Norwich Caves," which I plan to play next...here's hoping it's not QUITE as much of a letdown as the first! I obtained my copy of "Sable Maze: Sullivan River Collector's Edition" directly through Big Fish Games. The game folder takes up 855MB on my hard drive. I ran this game on Windows 7 with no problems.
April 16, 2014
Really dull!
I played about 40 mins of the demo before I deleted. I was just bored! The graphics were grainy and dark, the puzzles were not challenging and all the same as we have seen so many times in other games. The HOS were okay and were interactive but again easy. Not for me I'm afraid.
October 2, 2012
Boring
This game is not worth the price of the collector's edition. The graphics are grainy, the action slow and the maze is a joke as is the ending. It is a long game and the HO'S are inter-active but that's it. I forced myself to finish it. What a let down. Obviously others thought differently. Oh well !!
November 14, 2012
Murky graphics, murky storyline, murky game play
This is a somewhat older game and this is reflected in a somewhat grainy look on the screen. I don't mind the graininess if it's accompanied by something interesting to look at but in the case of this game the scenes are done in a flat style using very drab greys, browns, and the occasional dull green. The combined effect gave me eyestrain even before I got to the HOS. The story has our character revisiting a kid's camp where he witnessed the kidnapping of several other children when he was a child. The camp seems to be a typical American camp but, for some reason that is never explained, there are Celtic ruins there. It made no sense. After arriving he "remembers" that one child was bullied a lot and discovers that this child had a crush on the camp nurse who also had a second admirer in one of the other counselors...or something. I couldn't tell why any of these details were important and the story never got clearer as I went through the game. Game play involves a greater than average amount of running back and forth most of it with no idea what you're supposed to be doing. The tasks are non-intuitive and the objectives are completely unknown. The journal is of no help in fleshing out what is going on. The hint button worked a few times and then began simply reporting there was nothing in that area to do. Hint buttons that do this are of absolutely no help whatsoever. The HOS are very easy and have these annoying little tasks in them that make about as much sense as the rest of the game. The puzzles made me grit my teeth in annoyance and the UI for them is often clunky. Overall, this game features murky graphics, a murky storyline, and murky game play. It was so obscure I couldn't wait to finish the demo before uninstalling it.
August 6, 2014
This is a game for children. Adults this is a yawn fest!
Not a game for adults, just way to simple. Have no idea why there is a strategy guide. I rated two of the four as ok. I used the hint button just to move as quickly as possible through the HO scenes as fast as possible huge yawn factor. There needs to be a challenge level rating on these games. I'm just getting tired of these HO games that are thrown together for the quick buck. Apparently that is the big seller on this site so that is why there is 25(+or-) new HO games per month. The key contributors have me dumbfound here. Based on my skill level I do not recommend this game.
May 2, 2013
If you have Motion Sickness - Beware!
Those fireflies (or lightening bugs, depending on where you live) - what a nightmare for me. The demo I was able to play was fun. The graphics and cutscenes were great. The level of challenge was good. Had a nice map and SG. But . . . flying around the hint button in the lower right corner were these fireflies and they flew constantly. They just never stopped. I started feeling motion sickness from them. I tried to ignore it but it kept getting worse, to the point that I HAD to stop playing. If it wasn't for those dadgum fireflies I would have bought the game as I was really liking everything else. But because the fireflies made me sick to my stomach and dizzy, I give the game 2 stars. If not for the fireflies, I would have given it 4 stars. One other criticism, which is really very minor, is the voice of the therapist sounds very mechanical. It can be overlooked though. If you suffer from motion sickness be sure to demo before you buy.
September 30, 2012
Extremely plain stupid
just illogical. cut a net with a lobster. put a lantern to a stick besides a campfire in order to light the lantern instead of using the stick on the fire to get it on fire and then light the lantern. and so on and so on... this ain't no fun, this is waste of time. not even the hint works correctly. in some situations he drives you back and forth between two screens. and - worst of all - no wide screen correction. i do not recommend this game.
November 7, 2012
The Apple logo is a trademark of Apple Computer, Inc.