Where Angels Cry
Strange events are taking place in an isolated medieval monastery, set high in the Alps. Monks are vanishing without a trace, mysterious persons are being sighted running through the dark passages of the monastery and there are even reports that a statue in the center of the village is crying the tears of blood! A Vatican Cardinal has chosen you to travel to the monastery, undercover, to investigate these bizarre occurrences. Your duty is to reveal the secrets of the monastery, and monks who inhabit it, freeing this once sacred place from the evil forces currently in power. Embark on an amazing adventure and prove that your keen investigative instincts are up to this formable task in Where Angels Cry - a challenging and exciting hidden object puzzle adventure!
Unique atmosphere
Perplexing puzzles
Earn achievements
Game System Requirements:
OS:

Windows XP/Windows Vista/Windows 7/8

CPU:

1.4 GHz

RAM:

512 MB

DirectX:

9.0

Hard Drive:

525 MB
Game Manager System Requirements:
Browser:

Internet Explorer 7 or later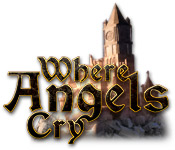 NEW299
The Big Fish Guarantee:
Quality tested and virus free.
No ads, no adware, no spyware.

Reviews at a Glance

Where Angels Cry
0
out of
5 (
0
Reviews
Review
)
Customer Reviews
Very strong at start, petered out to abrupt end.
Based on completed game in Hardest of 3 Modes called "Challenge". First the Likes/Observations, followed by dislikes. Likes/Observations: True Challenge Mode - No glimmers, glints, winks. Loved it! Concept - Appointed by Cardinal to investigate Angel status crying blood at Medieval Monastery surrounded by friends and foe . Very cool! Sense of Humor - There were some very clever and funny little bits throughout until the final scene. Thanks! No HOS! :) NONE. ZIPPO. Mini-Games - Not much new, but packaged very cleverly. In challenge mode it was not always obvious where the mini-games could be found or what needed to be collected which added interest. Graphics - Very clean & crisp allowing very small objects to be hidden in plain sight, sending me to the strategy guide more than once. VO good & Characters interesting Opening Doors - Access was typically mini-game or key. No back and forth to find a shape that plugs into a box to get another shape to plug in to somewhere else and on and on..eventually leading to opening the door if you can remember where it was. Thanks team! Map & Area Clear: There was no map and no "area clear", but no need based on the way the game was organized. Areas and even portions of the scene were inaccessible when not needed. Little to no backtracking - yay. Awards for those who like them: Find 21 angels to unlock various mysteries about the storyline. I found 19. :( Many other awards given for not using hints or skipping games, etc. All can be viewed at any time. Dislikes: Short Game - It did not take long to play and, despite the initial promise of the storyline when it felt to be about mid-way through the game I was actually at the finish. Concept not fully developed- The Angel, who looked more like a gargoyle to me, crying blood is a minor character & referenced as part of a puzzle at beginning of game. That's it. The game is exciting until acquisition of "the first" precious artifact. Wow. What will be next? Almost nothing. No more artifacts acquired. ????? What was left of the game was brief. It included mini-games, one that is timed, a trip through a labyrinth for which we are given the map leaving no challenge, chit-chat about the mystery, then a very abrupt, disjointed ending. It was so great not to be on a deserted island or castle or ghost ship. There was such potential. Everything had been really fun and interesting with an abrupt about face. What happened team? Was there a time crunch pushing the game out which shortened and confused the storyline? A change in designers/developers? Did I somehow take a short-cut path causing me to miss half the game? Journal - Of limited use as it contained hints and answers. Sometimes needed for reference. Also, kind of a nit, but an irritant nonetheless, The journal did not increment itself when entries were added.The journal would signal a new entry, but when opened it was still on the previous entry. I do recommend the SE of this game because the first part is fun and interesting and by using a Monastery they took us away from castles and islands. Perhaps the CE will have more meat on its bones.
November 3, 2012
short game made me cry
Had I known that the game could be completed in just an hour, I would not have purchased it.
October 3, 2012
This Angel cried over the final Puzzle
Review based upon completion of the game. I did the Beta and was looking forward to the release of another True Adventure. They did change a bit around - if I remember correctly the third chapter used to be the second one. The 20 tomatoes had to be collected individually. The tone of the game remained unchained though. The Good: + HD graphics + helpful hints in stages (did not use, can be turned off) + difficulty adjustable individually + lots to do The Neutral: o walkthrough provided by the developer on the page and as a separate download absolutely not useful o game length a bit short for a true adventure The Bad: - some achievements not really explained - no clear story advancement - you see the culprit for the first time during the showdown and do not interact with him Bottom Line: The game is passable, but not much more.
October 31, 2012
Disappointing
I wanted to like this game more than I could. You are a priest looking into what may be a miracle: A statue that cries blood. No HOS but you collect throughout the game. Need blue marbles? Green marbles? Keep on the lookout for them because they are there, somewhere. There are angels to collect, not to unlock anything, just for the challenge of it. I did not find them all. I may replay this on a rainy day in a few years & will find them then. What I disliked the most was it tapped into the whole "Priests are not always Holy" idea. Hated the ending! Maybe it was a girl-thing but completing the final task made me hesitate. Visually OK, VO all right, music so-so. If you get it as a freebie then you will get your money's worth. Beginners may like it.
October 13, 2012
Way too short
I just finished playing this game. The storyline was a good one and if done differently would have created and awesome game. It was way too fast, short, not a whole lot of interaction..well..besides the HD graphics and storyline..it wasn't very good at all. Save you pennies for a game with more than approximately 10 scenes of play...yawn
October 6, 2012
HOGs, what HOGs?
Something seems to be missing from this "HOG"...oh, there were no HOGs! Do they show up somewhere down the line? I got through the demo with 32 minutes left, beginning chapter 4 and still no HOGs. Nice graphics and game play. A lot of shoe leather was used on this one. Music nice, items easy to find (not talking about HOGs, because I haven't seen any yet), games not difficult. Nice hint system. Didn't care for the overly explanatory chatter from the monks. Your replys were quite short and somewhat bland. Nice voice overs for the monks, but needed some from player as well. Something seems to be missing...besides the HOGs. It just didn't grab me and make me want to buy it. It wasn't very challenging for me. Nice little game for beginners, but as I say, try it for yourself and you decide. We all have different tastes in games and you may like this one a lot. Thanks for the reviews.
October 2, 2012
MADE ME CRY
Review based on about 2 to 3 hours of gameplay. Animation and VOS were stilted. Voices came out very slow. Accents seemed forced and phony. Just couldn't get into this game. Found it to be tedious. I wanted to do something more than just pick tomatoes and plant seeds. Never did like gardening anyway. LOL Perhaps it was the frame of mind I was in at the time. I do own this game after all and can try to play it again. Nice to have that option. :-)
May 17, 2013
Good but short
I enjoyed the game, worth a bargain price, my pet peeve is that it is too short. Loved the story, reminds me of a movie I loved The Name of the Rose, with Sean Connery. Mysterious atmosphere set in medieval, well rendered. I liked the VO, liked the cut scenes, liked the horse cut scene. There are no HOS but you still have to find things. There are mini games, collectibles. Had a good time, just too short, maybe 3 hours, I'm slow too.
January 28, 2013
Ruined by anachronisms
Based on the demo. I really thought this would be a game for me; just puzzles, no junk piles to sort through to find that one item you need to progress. Indeed this was the case and very refreshing it was too. Can't comment on the sound quality as I always turn it off, but it's the total lack of basic historical accuracy which ruined it for me. If developers choose, as these have, to set a story in a very specific era they should keep to that era. They haven't. Tomatoes in Europe? In the 13th century? Really? Not to mention a greenhouse which looks like an escapee from the Eden project. Technically impossible for several centuries to come. Then there's the monastery itself, it's about as Italian as I am; northern style and a much later date. No, I'm not an architectural expert, but I've visited enough such buildings to know when something is really wrong. Lots of other wrong stuff, but I don't want to sound a total nit-picker. The gameplay is OK if a little simplistic, as far as i've played its been walk around, pick up objects, work out where to use them, solve puzzles to open other areas: rotating discs, towers of Hanoi. Not a problem, but nothing to give real sense of achievement either and certainly don't enough to overcome my irritation with the setting. So, sorry, nice concept, but for me not worth buying. As to the moral dimension which has so exercised a previous reviewer, I haven't got that far so can only comment in general terms, but the level of distress is so palpable that I can't let it pass. It's fiction, it's one way we as a species sort out right from wrong. Learning about and confronting nastiness is an important part of growing up. Far better to let your children play the game with you and then discuss the unpleasantness. See what they think and what they would have the character do in reality. What they would do in that situation and why. Do they think it's essential to the story or something there only to shock? You could be pleasantly surprised by their response.
October 6, 2012
As a 'Free Game' Purchase
It filled up an hours worth of time. Choosing the HD graphics, still looked to be a 1999 dated game. I used Challenge mode, but really no challenge and really boring to go to the same places over and over.
October 13, 2012