Where Angels Cry
Strange events are taking place in an isolated medieval monastery, set high in the Alps. Monks are vanishing without a trace, mysterious persons are being sighted running through the dark passages of the monastery and there are even reports that a statue in the center of the village is crying the tears of blood! A Vatican Cardinal has chosen you to travel to the monastery, undercover, to investigate these bizarre occurrences. Your duty is to reveal the secrets of the monastery, and monks who inhabit it, freeing this once sacred place from the evil forces currently in power. Embark on an amazing adventure and prove that your keen investigative instincts are up to this formable task in Where Angels Cry - a challenging and exciting hidden object puzzle adventure!
Unique atmosphere
Perplexing puzzles
Earn achievements
Game System Requirements:
OS:

Windows XP/Windows Vista/Windows 7/8

CPU:

1.4 GHz

RAM:

512 MB

DirectX:

9.0

Hard Drive:

525 MB
Game Manager System Requirements:
Browser:

Internet Explorer 7 or later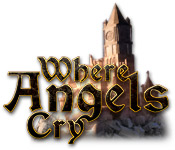 NEW299
The Big Fish Guarantee:
Quality tested and virus free.
No ads, no adware, no spyware.

Reviews at a Glance

Where Angels Cry
0
out of
5 (
0
Reviews
Review
)
Customer Reviews
3.5 stars...
I actually think that the concept is really really interesting! The 3D art is something new to me, and the somewhat medieval setting is very cool for the plot too! But I only played the trial... it is sad that I still have 15 minutes left to play but the free chapter is up... Good points that I really love - the setting, the background, the story and the voice actors are great! And also the option to read what the main character is asking feels like an RPG! I almost gave it a 3 star because... I don't really enjoy the text that shows up when you click on items... It's pretty awkward, or maybe I have a bad sense of humor. The visuals aren't very helpful without sparkles. But I gave it a 4 star because I like the story...
December 1, 2013
Average game, not really inviting. Only 30 minutes free trial!
An investigation of strange events, including a statue "crying blood," in medieval Rome. Story is not bad, the graphics are well done, VO ok. Sound is boring, but you can turn off . No HO Scenes ... (at least in free trial). The required objects are found throughout the game. Several mini games - easy and well known. Three game modes. It has a journal, tasks (and if you click on it, it has more tips). The best is - Collect 21 angels to unlock achievements. I love to collect! The main problem is that the game is very slow: lengthy cutscenes (the worst is the horse in the snow!), excessive dialogues and loading takes too long. Worth the half hour free. It might be good for beginners.
October 2, 2012
3 stars for length but it's a good adventure with all the extras!
Cateia games (hotel, crystal valley) are clever as they realise there are people who want to try pure adventure games but find LF daunting so they do easier games and here is obviously trying to appeal to the HOPA player who is looking for something different but familiar enough not to feel lost and this is a bridge game (bridges the gap) This does not mean more seasoned adventure players don?t enjoy their games it?s just a different type of game and change of pace. The one major thing I have to point is the ending. If you are expecting a ?nice? family friendly plot with no darkness in it then the ending will disappoint. I thought it was daft to do an ending like that as they are reducing the amount of players for this game and there was no indication in the short demo that it would be like that and even if you didn?t have a problem with it, I thought the plot ending was not good as you?d never guess it or see it coming and thought it would be more reasonable or tie in with the main story better. I bought this with a coupon as I knew it would be short, as I did the demo in about 35 mins and I felt it was pretty far through the game but I did get nearly 3 hrs out of it, playing for all the achievements. I don?t recommend any games under 3hrs and very rarely around that mark, but because this game had 21 collectables (angels) and 20 achievements (one of which is finish the game in under 3 hrs!) I do recommend it if you are that type of gamer or don?t mind re the time so much but if you liable to skip a lot of puzzles or dialogue etc then I don?t recommend it for you. There is a journal, with to do tasks, as well as general information of how long you?ve been playing how many achievements you have etc. There is quite a few of find ?x? items in the game but it?s never a separate scene it?s in the game. There are 20 puzzles ranging from easy old school which were all at the beginning; move stack of boxes from one pile to another, rotating circles to make a picture, 2 easier nonograms, they repeat the ?get every light to the same colour a few times by pressing on them? to a couple of hard ones and I must have spent at least 15 mins on one! The quite rare thing about this adventure game is you can skip the puzzles and also you don?t need to manually save the game it auto does it for you. . You have three choice of gameplay or a fourth ? custom where you can choose to have or not ? sparkles, fast hint/skip charge, extended tutorial. Another thing to make it easier for you is that a character has a large ?I? above his head if you speak with him. Some CONS ? -You have to collect the same bucket 3 times in the game, why you don?t keep I don?t know. -Some very well blended objects -Slow load times between chapters -Would love the option of manual save, as I messed up a puzzle for an achievement and had to replay the whole game again -Short especially if you are a fast player -A few items were hard to find as were very well blended in and I don?t even have problems with my eyesight -achievements I don?t like replaying a game to get them all and prefer it on once screen so it?s easier to see than scrolling PROS -Collectables -Achievements -Fully customisable gameplay as well as audio and video -Crisp graphics -Very enjoyable gameplay If only they made it about an hour longer it would have made all the difference and more people would have bought it but thanks for a good adventure.
November 3, 2012
Very strong at start, petered out to abrupt end.
Based on completed game in Hardest of 3 Modes called "Challenge". First the Likes/Observations, followed by dislikes. Likes/Observations: True Challenge Mode - No glimmers, glints, winks. Loved it! Concept - Appointed by Cardinal to investigate Angel status crying blood at Medieval Monastery surrounded by friends and foe . Very cool! Sense of Humor - There were some very clever and funny little bits throughout until the final scene. Thanks! No HOS! :) NONE. ZIPPO. Mini-Games - Not much new, but packaged very cleverly. In challenge mode it was not always obvious where the mini-games could be found or what needed to be collected which added interest. Graphics - Very clean & crisp allowing very small objects to be hidden in plain sight, sending me to the strategy guide more than once. VO good & Characters interesting Opening Doors - Access was typically mini-game or key. No back and forth to find a shape that plugs into a box to get another shape to plug in to somewhere else and on and on..eventually leading to opening the door if you can remember where it was. Thanks team! Map & Area Clear: There was no map and no "area clear", but no need based on the way the game was organized. Areas and even portions of the scene were inaccessible when not needed. Little to no backtracking - yay. Awards for those who like them: Find 21 angels to unlock various mysteries about the storyline. I found 19. :( Many other awards given for not using hints or skipping games, etc. All can be viewed at any time. Dislikes: Short Game - It did not take long to play and, despite the initial promise of the storyline when it felt to be about mid-way through the game I was actually at the finish. Concept not fully developed- The Angel, who looked more like a gargoyle to me, crying blood is a minor character & referenced as part of a puzzle at beginning of game. That's it. The game is exciting until acquisition of "the first" precious artifact. Wow. What will be next? Almost nothing. No more artifacts acquired. ????? What was left of the game was brief. It included mini-games, one that is timed, a trip through a labyrinth for which we are given the map leaving no challenge, chit-chat about the mystery, then a very abrupt, disjointed ending. It was so great not to be on a deserted island or castle or ghost ship. There was such potential. Everything had been really fun and interesting with an abrupt about face. What happened team? Was there a time crunch pushing the game out which shortened and confused the storyline? A change in designers/developers? Did I somehow take a short-cut path causing me to miss half the game? Journal - Of limited use as it contained hints and answers. Sometimes needed for reference. Also, kind of a nit, but an irritant nonetheless, The journal did not increment itself when entries were added.The journal would signal a new entry, but when opened it was still on the previous entry. I do recommend the SE of this game because the first part is fun and interesting and by using a Monastery they took us away from castles and islands. Perhaps the CE will have more meat on its bones.
November 3, 2012
short game made me cry
Had I known that the game could be completed in just an hour, I would not have purchased it.
October 3, 2012
This Angel cried over the final Puzzle
Review based upon completion of the game. I did the Beta and was looking forward to the release of another True Adventure. They did change a bit around - if I remember correctly the third chapter used to be the second one. The 20 tomatoes had to be collected individually. The tone of the game remained unchained though. The Good: + HD graphics + helpful hints in stages (did not use, can be turned off) + difficulty adjustable individually + lots to do The Neutral: o walkthrough provided by the developer on the page and as a separate download absolutely not useful o game length a bit short for a true adventure The Bad: - some achievements not really explained - no clear story advancement - you see the culprit for the first time during the showdown and do not interact with him Bottom Line: The game is passable, but not much more.
October 31, 2012
Disappointing
I wanted to like this game more than I could. You are a priest looking into what may be a miracle: A statue that cries blood. No HOS but you collect throughout the game. Need blue marbles? Green marbles? Keep on the lookout for them because they are there, somewhere. There are angels to collect, not to unlock anything, just for the challenge of it. I did not find them all. I may replay this on a rainy day in a few years & will find them then. What I disliked the most was it tapped into the whole "Priests are not always Holy" idea. Hated the ending! Maybe it was a girl-thing but completing the final task made me hesitate. Visually OK, VO all right, music so-so. If you get it as a freebie then you will get your money's worth. Beginners may like it.
October 13, 2012
Way too short
I just finished playing this game. The storyline was a good one and if done differently would have created and awesome game. It was way too fast, short, not a whole lot of interaction..well..besides the HD graphics and storyline..it wasn't very good at all. Save you pennies for a game with more than approximately 10 scenes of play...yawn
October 6, 2012
HOGs, what HOGs?
Something seems to be missing from this "HOG"...oh, there were no HOGs! Do they show up somewhere down the line? I got through the demo with 32 minutes left, beginning chapter 4 and still no HOGs. Nice graphics and game play. A lot of shoe leather was used on this one. Music nice, items easy to find (not talking about HOGs, because I haven't seen any yet), games not difficult. Nice hint system. Didn't care for the overly explanatory chatter from the monks. Your replys were quite short and somewhat bland. Nice voice overs for the monks, but needed some from player as well. Something seems to be missing...besides the HOGs. It just didn't grab me and make me want to buy it. It wasn't very challenging for me. Nice little game for beginners, but as I say, try it for yourself and you decide. We all have different tastes in games and you may like this one a lot. Thanks for the reviews.
October 2, 2012
Enjoyed but seemed to end suddenly
I played this game based on recommendations from people for more adventure less HOG type games. I enjoyed it and the puzzles were pretty good. All in all it's worth playing but the ending seemed to be so sudden. I was suddenly finished when I thought there was more to come. If you are looking for non-HOGs this one will entertain you but isn't best in class.
January 12, 2014
The Apple logo is a trademark of Apple Computer, Inc.