Where Angels Cry
Strange events are taking place in an isolated medieval monastery, set high in the Alps. Monks are vanishing without a trace, mysterious persons are being sighted running through the dark passages of the monastery and there are even reports that a statue in the center of the village is crying the tears of blood! A Vatican Cardinal has chosen you to travel to the monastery, undercover, to investigate these bizarre occurrences. Your duty is to reveal the secrets of the monastery, and monks who inhabit it, freeing this once sacred place from the evil forces currently in power. Embark on an amazing adventure and prove that your keen investigative instincts are up to this formable task in Where Angels Cry - a challenging and exciting hidden object puzzle adventure!
Unique atmosphere
Perplexing puzzles
Earn achievements
Game System Requirements:
OS:

Windows XP/Windows Vista/Windows 7/8

CPU:

1.4 GHz

RAM:

512 MB

DirectX:

9.0

Hard Drive:

525 MB
Game Manager System Requirements:
Browser:

Internet Explorer 7 or later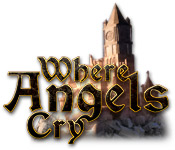 NEW299
The Big Fish Guarantee:
Quality tested and virus free.
No ads, no adware, no spyware.

Reviews at a Glance

Where Angels Cry
0
out of
5 (
0
Reviews
Review
)
Customer Reviews
Not worth the time
Story moves too slow, too many moves between scenes to get nowhere and too easy. I did the demo in 20 minutes. No hidden object scenes,
October 7, 2012
Missed chance...
Storyline was really very interesting and original, based on the famous novel "The Name of the Rose", and could have made of this game a masterpiece if all the rest would have been on the same standard. Unfortunately that was not...graphics are poor, background and characters static, gameplay repetitive and not challenging. Puzzles are too easy and you have no HOS, that you need for your adventure you can find directly in the scenes, always the same 3 or 4, clicking randomly on things following your intuition or simply the luck. If developed by Elephnat or ERS i'm sure could have been a terrific game, but like this is only very disapponting... what a shame...
February 16, 2013
Where Angels Cry
I wish I'd seen Rebr2009's post before I bought the game, so disappointing in how easy and quick it was to play. I was at the end credits before I knew it.
October 9, 2012
Should have tried the demo
I usually try the demos first, but didn't this time. That was a mistake. The storyline description caught my attention. I played 15 mins. (maybe) and quit. One reviewer said it seems old and clumsy. I agree! I'll be trying demos before I buy from now on.
October 7, 2012
Not worth it
I found the accents overdone and offensive. The game was tedious and poorly executed. I played the free hour and bailed.
October 28, 2012
Very Slow Game.
Vague and very wordy. Terrible voice overs with weird phoney accents. I don't care for games that make you run the cursor over every inch of a scene waiting for a hand to appear to grab something. 2 thumbs down.
October 18, 2012
Not my Cup of Tea
No buy for me. Too much jumping around, no HOS, and -- call me silly -- I hate when you have to "Resume Game" if you minimize or pause the game. Just stop and save, already! I found this game to be blah......
October 16, 2012
Not great
I was quite looking forward to playing a good old fashion game as I have found myself whizzing through some of the HOGs of late. I found this game very easy and over all ended far too quickly. There are only a few locations to wonder round and collect objects. Initially I had high hopes when it allowed you to play in HD, but the graphics were nothing out of the ordinary. This would be an easy introduction to point and click type games if you wished to try them.
October 6, 2012
Angels may cry but I weep as this game was not for me!
I can't really put my finger on why I can't get into this game but for some reason I can't. I downloaded the game but could only play around half of the free demo and then just got bored with it. For me there didn't seem to be any flow within the game and I couldn't follow what I was suppose to be doing from one scene to the next. I just couldn't really get the storyline, and I knew the final death knell was when I was pressing hint time after time and not really following the game. The VO was good, the graphics were good, and from other reviews I should have liked it more than I actually have done. I don't think it was the fact that there were no HO but possibly perhaps because there were no mini-games (certainly not in the short space of time I played), so perhaps after being 'conditioned' for a year with BFG and mini-games and HO scenes, I have 'lost' my old fashioned pure adventure game-playing abilities. I would try it as others have really liked it, and normally I like these type of games, so perhaps for me it is just this game, that I can't seem to get to grips with. I would not suggest buying this 'blind' as it were and would defiantly try before you purchase.
November 8, 2013
shocked beyond belief
The majority of people will disagree with me on my review. First of all the Pros of the Game. Great voice overs beautifully done graphics no hidden object list fun mini games I was so excited about this game that I purchased, until toward the end of the game, the gamer is forced to make a decision of life or death. The majority of people who rated this either do not care about the morality of where there imagination takes them and what they are forced to do if they finish the game, or they did not reach close to the ending of the game. . The Game ended at that point for me as I admit I was shocked! I will not allow my imagination to take me where it was being forced to go for the sake of a game. I am a Mom that has always monitored what Games my Children play. A Game I thought was so innocent and fun, doing tasks working at a monastery undercover as a Monk to solve the mystery of a statue of an Angel that looked as if it wept tears of blood. It was fun doing the tasks. The voice overs were well done. Graphics beautifully done. I was really enjoying the game until nearly at the end of the game when it was ruined for me and removed from my computer. When I was given instructions of what must be done with no way out of it, I sat stunned. I will not reveal it here otherwise to people it will not offend it would spoil the surprise for them. I refused to do it and regret buying the Game. Everyone has a line of morality, at least they should have and this crossed mine. My Children will never play this game! I am glad I did play it first so I can protect them. Everyone has to make their own decisions how far they will allow their imagination to take them for the sake of playing a game, and I have made mine. I regret buying the game but how else could I warn others. If anyone wants to know what the Game Developer wants the Gamer to do in order to win the game email me. I have to admit I have played many games but never saw anything like what is asked for the gamer to do . In my opinion and no one has to agree with me, it is highly offensive. For now on I will be more cautious before rating a game. There was no warning I really was caught off guard and thought it was a innocent game. In my opinion it is not. To my BFG Members please do not be offended this is my opinion and I had to write it because I shudder how many bought the game because of my previous rave reviews. I apologize to everyone who writes me and lets me know they purchase games after reading my opinion of a game because they trust my reviews. On BFG Forum I wrote how much fun the game was but that was before the Game took a turn for the worse evil in my opinion. Why I am giving this Review instead of staying silent. There will be people who read this and care and will warn others. There will be Grandparents, Mothers and Fathers that need to know before you allow your Children to play this game that seems so innocent but is not. There are people like me that would have wanted to be warned and would not have bought the Game if they had known. This is why I am writing this review if it only helps one person it is worth the price of the Game. Everyone has an opinion and this is the first review I have ever written like this.
October 3, 2012
The Apple logo is a trademark of Apple Computer, Inc.