Farm Tribe 2
Help Annie build a farm and prepare for her wedding in Farm Tribe 2! This time around, you'll need to restore a once glorious mansion and return an old farm to life, all the while earning enough money for Annie's impending wedding ceremony. You'll be in charge of hiring and training workers, creating a thriving market and even building a farmyard! Farm Tribe 2 is an excellent strategy game with a fascinating plot and an unexpected ending!
Unique gameplay
Discover the secret of the old mansion
Prepare for the wedding!
Game System Requirements:
OS:

Windows XP/Windows Vista/Windows 7/8

CPU:

800 Mhz

RAM:

512 MB

DirectX:

9.0

Hard Drive:

86 MB
Game Manager System Requirements:
Browser:

Internet Explorer 7 or later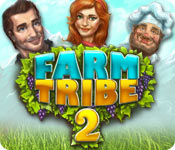 NEW299
The Big Fish Guarantee:
Quality tested and virus free.
No ads, no adware, no spyware.

Reviews at a Glance

Farm Tribe 2
0
out of
5 (
0
Reviews
Review
)
Customer Reviews
Mixed Feelings
Pros.. Great Graphics, cute characters and land. I like games like this. Where there are no timers.. just a management type of game.. Relaxing.. No clicking as fast as you can to try to keep up with a timer.. thank goodness. Big plus. You can also sort your characters by mood or how hungry they are. You can move a character to do something else like pick up trash and then just click on an icon in your menu bar to send them someplace else. Negatives.. Cannot buy helpers when I want even though I have the money. Cannot build houses and place them where I want too... Hand holding.. follow and complete tasks as given. And, build or repair things when told and have enough tech points and money to do so. I want more freedom... I want to decide where I want to plant corn. etc.. I want to be more included in the fixing of the mansion instead of it just happening. I do get to gather stained glass fragments. I want to explore and try different areas and try to figure out what i need to do or who i need to put on the project to get it done... It is a very linear game in that aspect.. Way to much hand holding.. So, I am disappointed but I still like the game at the same time.So, I may buy it this weekend on the special deal. Please Devs... More freedom, More non-linear game play, More Mystery, More problem solving... This game could be so much more fun. Still deserves 4 stars though in my opinion.. Could of been a 5 star game.
October 6, 2012
My new favorite game
This is a wonderful resource management strategy/sim game and an excellent standalone follow-up to it's predecessor. The basics: - drag workers to various tasks such as clearing trash, gathering resources, farming, researching and so on - craft recipes to sell in a market stall and use the funds to upgrade your estate - grow various crops - research/study, complete tasks, learn new recipes - manage limited inventory space - take care of workers' individual needs This game will appeal to fans of Virtual Villagers, Artists Colony, Gemini Lost and other similar resource based worker sims. Graphics and sound are great. The setting has changed considerably from the first game. There is plenty to keep you busy with multiple simultaneous goals to achieve. The game runs smoothly. It's easy to learn how to play as the tutorial is integrated into the early game and gradually introduces different aspects. Improvements to the interface and artificial intelligence makes this a sequel worth getting. It looks and plays beautifully. You don't need to try the previous game to play this one. I bought it without trying the demo and I'm not disappointed! It's exceeded my expectations.
October 6, 2012
A Decent Sequel
If you liked Farm Tribe, you'll probably enjoy this one, too. It's not a time management game, but more of a worker-management game. There's no timer. You move workers around to do tasks, like repair buildings and pick fruits and vegetables. You use the foods they collect to complete recipes to sell at a farmer's market stall. You use that money to build more buildings, and continue the cycle. Pros: - Cute graphics. - Nice tutorials/instructions. The game is really easy to pick up on. - There's a variety of things to do. - Customers arrive automatically and basically serve themselves, so you don't have to deal with that. - The game gives you a few quests at a time, so there are multiple things to work on. Plus sometimes customers give you extra tasks that are optional. Cons: - Lots of clicking. - You must make all of the prepared foods yourself. You have to click the storage button, and then click to make the various recipes each and every time you need to make food to sell. It gets old. - The game starts to feel repetitive, as you basically do the same task over and over, just in a slightly different way. All in all, this game can get really boring really fast, but it feels like it'd be good in small doses.
October 6, 2012
YaY New Edition ! :)
Lotta Fun ! Same Game mechanics as Farm Tribe 1, but in a new setting... Fix up Gather, etc Music ok.. Storyline is a continuance from FT 1, with a new adventure for the girl. Same quality of Graphics as #1, as well as same degree of challenge ((This is one of the few Time Mamagement games I truly Enjoy )) It's Fun, get it :)
October 6, 2012
Even Better Than the Original!!
If you loved Farm Tribe, then you are going to go wild for Farm Tribe 2!! The storyline is well written complete with a villain. You are getting a ruined mansion fixed up, and earning money to pay for your wedding. It's tons of fun. Enjoy, especially because we're not getting many TM/Strategy games lately. This one is fantastic! Highly recommended!
October 6, 2012
New Farm, New Fun
Based on the 1st hour of play. I loved Farm Tribe 1, and was excited to try this one. Graphics great, and a better look for workers. I believe we even get to change their clothing later on. We are on a run down estate, so work area is larger. New buildings to build and repair, as well as Annie and her Fiancee's run down mansion. To assign a task, you just click on the appropriate button next to the worker's name, and they go to it. New type of pests to squish, although I felt sad, as the first ones are so cute! We have a market to sell our goods, and a new, and I think better, set-up in the storage menu. So far I'm having a ball discovering the new buildings, setups, menus etc. I don't think that any lovers of the first Farm Tribe will be disappointed in this on. In fact, I think, as with myself, they will be thrilled with the changes.
October 6, 2012
A great way to while away a few hours
I've been yearning for a game similar to The Promised Land, and had discovered Farm Tribe not long after, which helped fill the void. Farm Tribe 2 is much improved - there is enough going on to keep one busy, yet only one task is timed (one hour to complete!!) that you can glide through this game at your leisure. The essence of the game is to manage your people, storage and whilst satisfying customer requirements and the game objectives. There are numberous demanding customers dropping items such as business cards for you to hunt for, or wishing you to find items to fulfil their hobby. Again as these are untimed, you can do this whilst you are waiting for your workers to stock up your storage. It definitely has some replay value as well since there are a number of ways you can play this game.
October 7, 2012
Excellent folow up
I was a big fan of the first one and this doesn't disappoint. It is very similar game play but with a few good changes. Products you make are automatically bought by customers from your market stall which prevents the storage from becoming filled up so quickly. Managing your staff has been improved too. The story line is cute as you are preparing the farm for a wedding. If you liked the first one or games such as The Promised Land you will enjoy this one too.
October 7, 2012
gorgeous graphics and lack of a timer are appealing
this is an entertaining people-management/strategy game featuring lovely graphics with a fairy-tale like presentation. in this game, you and your fiance have purchased a falling down wreck of a farm and are rebuilding it to earn money to pay for your wedding. to do this, you must manage your workers, resources and space efficiently, grow crops and prepare food items to sell in your market. at the same time, you are restoring or constructing several buildings and other structures. this is not a "beat the clock" time management game; there is no timer. it's more relaxed than that. graphics: absolutely superb. the reason i purchased this game was because i fell in love with the graphics (well, and also because this game was on special offer!) gameplay: orders arrive automatically and customers wander around without you having to actively serve them, although they do shout at you if you accidentally try to grab one. they do drop rubbish on the grounds, lose business cards and ask your assistance in finding items they need, but meeting their requests is not a timed thing. workers can be directed to do different tasks by either dragging and dropping them on the task or clicking on icons in each worker's individual task window at the bottom of the screen. the worker's task window also shows how "happy" or "hungry" s/he is, so you can take steps to meet their needs. unfortunately, as i played this game, my frustration with its structure outpaced my appreciation for the graphics. in short, this is a management/strategy game but it provides a very limited framework for you to actually manage stuff. for example, i was annoyed to discover that, regardless of how much money i've saved and "tech points" i've accumulated, workers cannot be hired when ever i want/need them nor can structures built where ever i wish to place them. the other annoying aspect of this game is its repetitiveness. on one hand, the repetitiveness makes this game easy to leave and return to even after a fair bit of time, but you might get an RSI if you try to play it all in one go. storyline: this is a mystery (although it's not very mysterious). i have difficulty believing that any fire chief or insurance claims adjustor would not be suspicious of the frequent fires on this property. my interaction: i own this game. overall, this is a beautiful and relaxing game that new gamers in particular might enjoy. however, if you are seeking a time-management/strategy game, or wish to have the freedom to make your own choices, this game will disappoint you.
December 19, 2012
Excellent- A lot of fun!
Thoroughly enjoyed this game, I am a big fan of the first Farm Tribe & this one was even better! Great visual quality, the little people have lots of buildings to build & improve & recipes to make & sell for profit, lots of things to collect as well as restoring the mansion & grounds ready for Annie's wedding, plus a mystery to solve, which I love & fun story line. Not a challenging game really, for me, but I kicked back & spent a whole rainy day & part of the next day playing it as I was totally hooked! My only complaint is there aren't more Farm Tribe games!
October 8, 2012
The Apple logo is a trademark of Apple Computer, Inc.