Farm Tribe 2
Help Annie build a farm and prepare for her wedding in Farm Tribe 2! This time around, you'll need to restore a once glorious mansion and return an old farm to life, all the while earning enough money for Annie's impending wedding ceremony. You'll be in charge of hiring and training workers, creating a thriving market and even building a farmyard! Farm Tribe 2 is an excellent strategy game with a fascinating plot and an unexpected ending!
Unique gameplay
Discover the secret of the old mansion
Prepare for the wedding!
Game System Requirements:
OS:

10.8/10.7/10.6/10.5

CPU:

800 Mhz (INTEL ONLY)

RAM:

512 MB

Hard Drive:

46 MB
Game Manager System Requirements:
Browser:

Safari 4.0 or later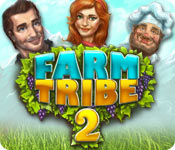 NEW299
The Big Fish Guarantee:
Quality tested and virus free.
No ads, no adware, no spyware.

Reviews at a Glance

Farm Tribe 2
0
out of
5 (
0
Reviews
Review
)
Customer Reviews
Like This One!
I've played many of these adventure games and I really like this one because it's more interesting (to me) than the usual ancient quest-types. Haven't had any load or sound/graphic issues and I'm really enjoying it! I'll have to get the first one too! D. Wilson
October 9, 2012
A fun, cute game
I've only played the 1 hour trial so far, but based on that I feel this is an enjoyable game. You have a group of people working to restore an old estate, while establishing a farm and farmer's market. As others have mentioned, there is no timer in the game...you simply go through assigned tasks, such as repairing buildings, establishing crops, picking up trash, etc. In the meantime, you're creating recipes such as applesauce and popcorn, to sell in your farmer's market. Although the workers are autonomous, you can make them take coffee and social breaks to improve their productivity. This is not a fast paced, fly by the seat of your pants game, but I feel it's much more engaging and interesting than a game such as My Tribe. From the brief time I played it I would say the pluses for this game are: Beautiful, crisp graphics. A worker management system that keeps you engaged, but not overwhelmed. The cons would be: Little to no storyline. Workers have no distinct characteristics or personalities. No real strategy involved in the game. I feel it would be a game worth purchasing as a relaxing, enjoyable diversion.
October 14, 2012
Good game to pass time...
Good game to pass time... Usually I don't get all the way thorough the game but this I liked enough to lol
October 20, 2012
Hard to stop
Not overly complicated buy entertaining enough to grind away at. Some of the most challenging hidden object sections.
February 17, 2013
A Decent Sequel
If you liked Farm Tribe, you'll probably enjoy this one, too. It's not a time management game, but more of a worker-management game. There's no timer. You move workers around to do tasks, like repair buildings and pick fruits and vegetables. You use the foods they collect to complete recipes to sell at a farmer's market stall. You use that money to build more buildings, and continue the cycle. Pros: - Cute graphics. - Nice tutorials/instructions. The game is really easy to pick up on. - There's a variety of things to do. - Customers arrive automatically and basically serve themselves, so you don't have to deal with that. - The game gives you a few quests at a time, so there are multiple things to work on. Plus sometimes customers give you extra tasks that are optional. Cons: - Lots of clicking. - You must make all of the prepared foods yourself. You have to click the storage button, and then click to make the various recipes each and every time you need to make food to sell. It gets old. - The game starts to feel repetitive, as you basically do the same task over and over, just in a slightly different way. All in all, this game can get really boring really fast, but it feels like it'd be good in small doses.
October 6, 2012
gorgeous graphics and lack of a timer are appealing
this is an entertaining people-management/strategy game featuring lovely graphics with a fairy-tale like presentation. in this game, you and your fiance have purchased a falling down wreck of a farm and are rebuilding it to earn money to pay for your wedding. to do this, you must manage your workers, resources and space efficiently, grow crops and prepare food items to sell in your market. at the same time, you are restoring or constructing several buildings and other structures. this is not a "beat the clock" time management game; there is no timer. it's more relaxed than that. graphics: absolutely superb. the reason i purchased this game was because i fell in love with the graphics (well, and also because this game was on special offer!) gameplay: orders arrive automatically and customers wander around without you having to actively serve them, although they do shout at you if you accidentally try to grab one. they do drop rubbish on the grounds, lose business cards and ask your assistance in finding items they need, but meeting their requests is not a timed thing. workers can be directed to do different tasks by either dragging and dropping them on the task or clicking on icons in each worker's individual task window at the bottom of the screen. the worker's task window also shows how "happy" or "hungry" s/he is, so you can take steps to meet their needs. unfortunately, as i played this game, my frustration with its structure outpaced my appreciation for the graphics. in short, this is a management/strategy game but it provides a very limited framework for you to actually manage stuff. for example, i was annoyed to discover that, regardless of how much money i've saved and "tech points" i've accumulated, workers cannot be hired when ever i want/need them nor can structures built where ever i wish to place them. the other annoying aspect of this game is its repetitiveness. on one hand, the repetitiveness makes this game easy to leave and return to even after a fair bit of time, but you might get an RSI if you try to play it all in one go. storyline: this is a mystery (although it's not very mysterious). i have difficulty believing that any fire chief or insurance claims adjustor would not be suspicious of the frequent fires on this property. my interaction: i own this game. overall, this is a beautiful and relaxing game that new gamers in particular might enjoy. however, if you are seeking a time-management/strategy game, or wish to have the freedom to make your own choices, this game will disappoint you.
December 19, 2012
Cute
I played through the entire hour and enjoyed it, but I won't spend money on it. There's very little to challenge you, but it is a fun character-management game with a good story line. I was also disappointed that the screen was stretched with black bars at the top and bottom on my widescreen monitor, and there was no option to change the resolution.
October 6, 2012
Decent game, but too many interruptions.
The premise of the game was interesting enough and I really liked the game overall. The graphics were nice, and I was really enjoying it however I became annoyed at all of the useless dialogue interruptions. I would be trying to complete a task and then the neighbor would interrupt with dialogue that I didn't really need at the moment. Or I would be working on one task and then get interrupted with another task while trying to click on the workers I needed for the first task. It just became too annoying to keep getting interrupted. It would have been much better to just have a message indicator alerting of a new task or event occurring instead of hijacking the entire screen with constant interruptions. I would have bought the game except for that one huge annoyance. I recommend this game if being interrupted constantly doesn't bother you. Otherwise you should pass.
October 19, 2012
Different style of play from FT1
This game is quite different from FT1 and a lot easier, therefore not as fun or interesting. I managed to complete it in 4hrs with minimal 'waiting time' - although I haven't collected all the stained glass pieces. It plays like a typical farm sim game with challenges, but the challenges are really easy to overcome. If you've played FT1 before, then you'll know how to assign workers to certain skills and so on, and from there it's just about filling orders or reaching targets. There wasn't much mystery compared to FT1 either. In fact, there wasn't much of a plot at all. The entire premise of the game is essentially Annie setting up a farm to pay for her wedding. It was fun for a lazy Sunday afternoon but I'm glad I didn't pay full price for it. It passed the time. Maybe I'll try to beat my time in the future but for now I'm done.
July 6, 2014
It's an OK game
The game is fun. It suits to people who want to spend some time relaxing and entertaining.
January 27, 2013
The Apple logo is a trademark of Apple Computer, Inc.
The Windows logo is a trademark of Microsoft, Inc.